Digital Marketing Degree Programs
Digital marketing degree programs are a wave of the future. Many companies are looking to enter the digital marketing realm and are hiring digital marketers to do so.
Digital is the Future of Marketing
The Field of Digital Marketing Keeps Growing!
With today's unsteady job market, many people are left looking for jobs.  Even though most of today's news about the job market is negative, there are still some rays of hope shining through the grey sky.  Digital marketing degree programs are just that!  Digital marketing is a growing field and just about every company is looking to enter this profitable realm.  This provides many job openings.
Many schools are now offering digital marketing degrees.  U of M - Dearborn, NYU and IE Business School are some of the top schools that currently offer digital marketing programs.  These programs teach students the core concepts of digital marketing.  They also require students to actively participate with projects that involve ranking sites on Google, keyword research and coming up with creative digital marketing ideas in real life situations.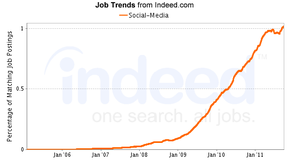 Indeed.com shows the growth in social media marketing jobs in the past 5 years.  Take a look at this graph and keep in mind that social media is only one aspect of digital marketing.  The field is much bigger that this.
Most traditional marketers are not educated in digital marketing, so companies are looking to hire young specialists who are experts in Web 2.0.  If you are considering a new career path or looking for a job, consider enrolling in a digital marketing degree program.
Topics Covered In a Digital Marketing Degree
Core Concepts of Digital Marketing
SEO (Search Engine Optimization)
SEO is the process of acquiring a natural rank in search engines, such as Google and Yahoo Search.  The main goal of all SEO's is to reach be the highest ranked site for a given keyword or set of keywords
Analytics is the process of understanding how consumers reach your site and how they interact with it.  Tools, such as Google Analytics, help provide this data.  Search marketers can used this data to better optimize their sites.
Viral marketing is a very effective marketing technique that involves creating content relating to a product with the intent of it spreading to many viewers.  This content can be a video or post that is engaging or funny.  If done right, viral marketing can have enormous benefits.
More and more people are using the internet socially, and digital marketers can take advantage of this.  Sites like Facebook and Twitter provide great marketing opportunities.  The future of social media is social commerce, which will also be covered in a digital marketing degree.
These are just some of the topics covered in these amazing degrees.  Digital marketing is a huge field with lots of potential.  There are many more areas that these, but these are some of the big ones.
---
Disclosure: This page generates income for authors based on affiliate relationships with our partners, including Amazon, Google and others.