Don't look like a fumbling tourist
by Marylol
Top tips to dress like a local at your tourism location of choice. How to get noticed for the right reasons and avoid an embarrassing trip.
It used to be the consensus that what was worn abroad stayed abroad. Nowadays, with most mobile phones having top-rate digital cameras and no end to the number of social networking sites to upload onto, your choice of outfit becomes a lot more important – even if you're on the other side of the world!
No matter what individual style tourists adhere to, there is always a tell-tale sign somewhere that lets the locals know when a foreigner is in sight.
These are some sartorial tips to avoid being instantly recognised as the person about to ask for directions:
In Asia and the Middle East women should cover their shoulders and knees, particularly in religious surroundings. This does not mean wearing an overcoat in the heat of summer, but a three-quarter length sleeve and linen trousers will be more socially acceptable – and help avoid sunburn.
Be respectful
Partying in Ibiza means it's OK to walk the balmy streets in a bikini top and denim hotpants, but depending on what culture tourists visit, it is important to be aware of the appropriate attire.
Research fashions
Most of the time, holiday makers have spent most of their hard-earned cash on flights and a hotel, and might not plan on buying a whole new wardrobe to pack. However it is worth knowing what style will make you fit in more easily once arriving at the destination.
American tourists are often seen in trainers and tracksuits. Whilst socially acceptable in the States, Europeans tend not to dress sportily unless planning on going to the gym. This often makes tourists stand out from a crowd so jeans or trousers are often a better bet and a day sandal can be just as comfortable as trainers.
This will be more in keeping particularly with the style of metropolitan cities such as London or Milan, although there are always exceptions. High tops and converse are often considered stylish and baseball caps have been seen on runways in the past.
The key is to combine the casual elements with smarter accessories.
In South American countries flaunting designer labels or lots of jewellery is considered ostentatious so it immediately attracts attention from locals. Understated pieces which are easy to wash and dry quickly will be more practical and less obvious.
Less is more
The temptation is often to reach for bold colours and garish jewelery increases in hot climates, particularly being far away from the responsibilities of work life and dress codes. Although a splash of colour can uplift an outfit, piling on the neon can lead to a tacky look. By using neutral palattes as a guide, a pink headscarf or a turqoise clutch can add some fun without making the clothes look cheap.
Sunburn is also a giveaway. Typically, people who live in warmer climates have more resilient skin and need to use less sun protection, but coming from a less sunny environment means tourists need to use higher factor sun lotions. Aside from standing out from the crowd, a bad sunburn or sunstroke can also ruin a holiday and any chance of going home with a tan.
Be safe
Some countries and cities have higher rates of muggings, particularly to tourists. It's worth researching the area before arriving, that way tourists know what to look out for.
Contrary to popular belief, a rucksack or bumbag is not safer than the handbags the locals carry. It stands out immediately and makes for a vulnerable target for crime. If the locals don't need to do it - neither does a tourist.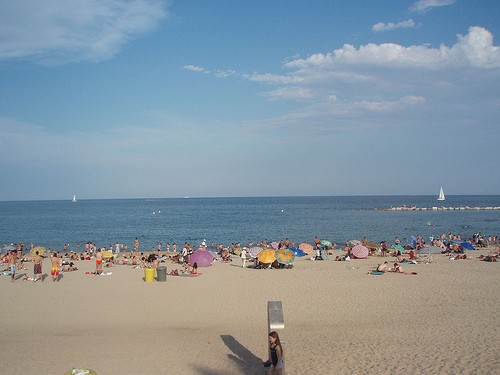 Be safe under the sun
Carrying a phrase book around is inconvenient and extremely obvious, it is a lot easier to learn French in London before dusting of the beret for a week in Paris or signing up for a Spanish course London has to offer when planning to sunbathe in Marbella for the Summer.
Learn the language
Once the outfits have been taken care of there is the obvious sign of a tourist left to tackle: the language. Whilst it is impossible to completely master a language for the sake of a two week holiday, it is worth getting to grips with the basics before heading off. It makes locals more likely to engage and avoids awkward situations.
Have you ever made a travel fashion faux pas?
Resource Box
Travel Fashion No-No's
Advice on how to dress for the destination.
7 Worst Travel Fashion Sins
Looking at the compulsion some travelers have to dress like they just don't care.
Tourist Chic: Vacation Dress Do's and Don'ts
What to wear while traveling and how to avoid fugly fashion mistakes.
---
Disclosure: This page generates income for authors based on affiliate relationships with our partners, including Amazon, Google and others.