Five Great Designs for Ceramic Tile Flooring
by ProHomeTips
There is no doubt that ceramic flooring can improve just about any room in which it is used. It is well-known that ceramic tile is durable and can be used to enhance any space.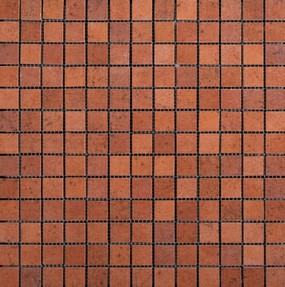 It is well-known that ceramic tile is durable, beautiful and can be used in a variety of ways to enhance any space. With patterns such as horizontal, vertical, checkerboard or brickwork used as standard flooring options, many other choices remain overlooked and underused. For more added flair, or to embellish an otherwise neutral floor and create a focal point in the room, consider a more dramatic pattern using unusual designs and bold patterns. Below are five alternatives you may want to use for your next ceramic flooring project:
Single Tile Designs
Single or one tile patterns are often used to create simple, less formal settings using only one size of tile. Whether using simple squares, rectangles or octagons, the shapes themselves can create a uniformed appearance where less attention to the floor is desired or where simple ease of use is a consideration. These designs are excellent choices for bathroom floors or areas where consistent use and cleaning are of concern. These designs can include tidy brickwork, diamond, herringbone or checkerboard patterns.
Double Tile Designs
Like those designs using a one tile pattern, two tiles can be used in much the same way but will add more interest to your flooring project. By interlacing small and large tiles or using tiles of similar shapes in specific placement you can create designs such as corridor, hopscotch, stepping stone and basket weave. These designs offer ease of use as the one tile options do but add a slightly more stylish appeal.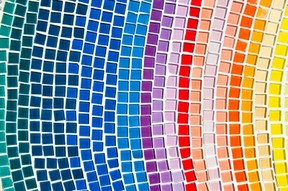 Triple Tile Designs
Using three tiles in varied shapes and patterns will substantially increase the interest to your ceramic tile flooring project. Large tiles surrounded by smaller, accent ones in various colors and sizes add a more dramatic resonance while drawing the eye to the central tile itself. Central tiles in a bolder color or type, when surrounded by accent tiles on all sides create a more stylish alternative to the single or two tile options. Or, you may want to consider using a larger, anchor tile in an offset position while adding smaller tiles on the opposite side to create a uniform pattern while maintaining a sense of traditional style. This design, called a Modular Rectangular, is excellent for bathrooms or kitchens, offering style and functional use while maintaining a traditional appeal.

Multiple Tile Designs
Multiple tile designs are excellent choices for those who desire dramatic appeal in rooms where an active interest in the floor itself is desired. Using multiple ceramic tiles, in various shapes and colors will make the entire floor the focal point of any room in which it is used. Perfect for areas where functionality and beauty are equally desired, these patterns are endless. Shapes such as hexagon, square, rectangle and octagon can interlock to create a variety of interesting patterns and designs. Cypress, which utilizes small and large squares with rectangles in similar sizes, is a favorable choice if you desire added attention to the floor while still wanting a conventional design.
Custom Designs
Custom designs can utilize a simple pattern all around the floor with a center area retained for an architecturally dramatic focal point. Best used in foyers and entryways, this design is simple in that it creates a focal point without the need for the overall room or space to be used in the same pattern. This design can be made to order and can include sunburst patterns where several ceramic tiles are specifically cut into triangular shapes and fitted together to create highly noticeable points which extend from a centerpiece usually designed in high style. This particular design is excellent for use in more formal settings where attention to the workmanship and artistry of the ceramic tile flooring design itself is desired.
How to Install Ceramic Tile
Read up on Ceramic Tile
A
tile
is a manufactured piece of hard-wearing material such as ceramic, stone, metal, or even glass. Tiles are generally used for covering roofs, floors, walls, showers, or other objects such as tabletops. Alternatively, tile can ...
Get Book Smart on Ceramic Tile Designs
---
Disclosure: This page generates income for authors based on affiliate relationships with our partners, including Amazon, Google and others.