You remember when Bubblews was the 'quick cash' option and Wizzley the 'long term prospects' one?   Well not any more, according to my spreadsheet.
I have a table which compares articles written by overall commission earned.  The result is an average pay per article for each site.  A year ago, Bubblews was miles above Wizzley.  I was seeing a much higher return there than Wizzley could dream of providing.
Today the two went level.
Bubblews has slowed down quite a bit over the past month, but that hasn't affected its overall average.  The previous fourteen months are still holding true.  What's happened is that Wizzley has seriously taken off for me.  I've been watching it creeping up, with ever increasing speed. I knew it was going to level peg Bubblews any day this week, as the climb has been that discernible.
As for actual figures, in June I wrote that my Wizzley articles are now worth $1.59 on average. I also announced that I'd made my first grand in commission here.  Today, Wizzley's average is $2.50 (and so is Bubblews).  I'm less than $300 away from my second grand. 
We did this, people. :)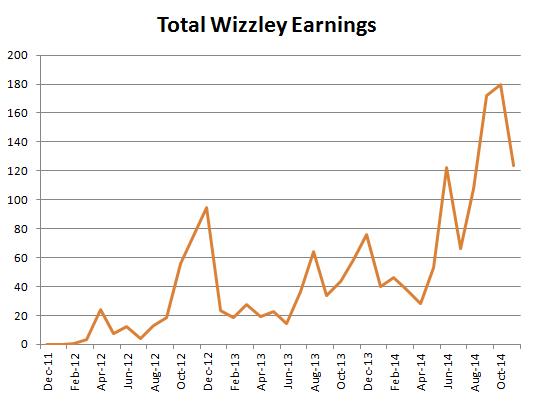 NB  This includes November 2014, but we're only on the 12th of that month at the time of writing.