Fresh Lemon Pound Cake
by Jimmie
The zing of lemons balances the dense texture of a traditional pound cake. In this recipe, you juice and zest fresh lemons for the maximum lemon flavor.
A Zippy Pound Cake for Everyday or For Company
Pound cake is one of those timeless desserts that is hard to do wrong. For company fare, you can smother pound cake in macerated fruit such as peaches or strawberries and adorn it with a dollop of sweetened whipped cream. Or serve pound cake with a light glaze that drips over the edges in a pretty pattern. For everyday eating, pound cake is really good as is -- no embellishment necessary except maybe a cup of coffee.
This version of pound cake relies on the cheerful zip of lemons -- three fresh lemons -- to give it extra character.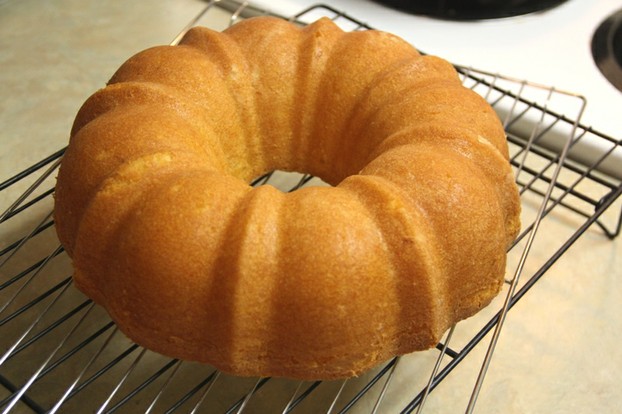 Homemade Fresh Lemon Pound Cake
Ingredients & Directions
| | |
| --- | --- |
| 2 cups flour | 1 teaspoon vanilla extract |
| 1 teaspoon salt | 6 large eggs |
| 1 teaspoon baking powder | 1/4 cup milk |
| 2 cups powdered (confectioners) sugar | 1/8 cup (up to 1/4 cup) grated lemon zest |
| 2 sticks (1/2 pound) butter, softened | 1/4 cup fresh lemon juice |
Preheat the oven to 325°F. Grease a two-quart bundt pan or two loaf pans with butter and then flour the pan. Check carefully to make sure that all surfaces of the pan are coated with butter and flour. If you missed a few spots (I almost always do), just apply a little butter in that area and toss on a bit of flour to coat.
How to Prepare the Lemon Juice and Zest
Thoroughly wash the lemons and let them dry. I set my lemons on my dish drying mat.
Limp lemons do not zest well because the peel is already drying up and getting rubbery. So choose the freshest lemons for zesting. The older lemons are okay for juicing, but not for zesting. The zest is what gives this recipe its greatest zing, so don't skimp on the zest.
For this recipe, I normally use three large lemons to get 1/8 cup of zest and 1/2 cup of juice. I use half of that juice in the cake and a few tablespoons in a lemon glaze.
How to Zest a Lemon
Using a grater, swipe the lemon across the fine grade holes with a firm, pressing motion. Once the white pith is exposed, do not grate that area again. You may be able to get two swipes, but generally a single swipe is all you can safely grate in order to prevent getting the bitter pith into your zest. 
Zesting a lemon is a bit of work. You need to swipe the lemon's peel across the grater, and rotate the lemon to expose a new, fresh bit of peel. Then continue, rotating and moving the lemon until you have grated off the majority of the bright yellow peel.
When I zest a lemon, I do a pattern of swipe, peek, rotate, swipe.
When the lemon is zested, some of the peel will remain, but it will look pretty naked. Then you can halve the lemons and juice them. I often fish out the seeds by hand and add the lemon pulp for even more lemon umph in my recipe.
Directions Continued
Mix the flour, salt, and baking powder and set aside.
With an electric mixer, beat the sugar, softened butter, and vanilla extract. Then add the eggs, milk, lemon zest, and lemon juice, mixing until thoroughly combined.
Lastly, add the flour and mix just until incorporated and smooth.
Pour the batter into your prepared pan and bake for about 50 minutes, checking at 45 minutes and every five minutes thereafter.
Let it cool in the pan for five to ten minutes on a wire rack. Then invert onto the wire rack to cool fully.
Store the cake in an airtight container at room temperature. Do not refrigerate the pound cake becuase it will get dry. This pound cake will keep for several days.
An Amazing Grater and Zesting Tool
Do You Often Grate and Zest?
Then you Need This Grating Tool
Since I've written this article, I have added a wonderful gadget to my kitchen. This Cuisipro grater is wonderful. Forget that archaic grater you see in the images above. Forget little hand held zesters. This Cuisipro grater feels great in the hand, zests/grates super smooth and fast!
In about five swipes, I had a full tablespoon of lemon zest. And my lemon was not very fresh at all; in fact, it was very rubbery and normally would have been difficult to zest. But this Cuisipro grater handled it without a problem.
More Kitchen Supplies for Making Lemon Pound Cake
More Kitchen Helps and Recipes
---
Disclosure: This page generates income for authors based on affiliate relationships with our partners, including Amazon, Google and others.