Fried chicken secrets
by habee
How to make southern fried chicken
southern fried chicken secrets
southern food
What's your favorite southern food? Fried chicken is probably the most famous southern food in the world. Of course, it's always been a big favorite with southern cooks and southern diners. We folks in the Deep South have been enjoying fried chicken for a couple hundred years, since the first slaves from Africa arrived in America. Many members of this group had been frying cut-up chickens in hot fat long before the early European colonists and settlers ever munched on a crispy drumstick.
Southerners eat a lot of fried chicken. Some people like it for breakfast, with grits and biscuits. It's often included in picnic baskets, where it's served cold. Of course, it's a big favorite for hot lunches and dinners, too. When I was growing up, we always had homemade fried chicken at least once a week. My mom would never have thought about buying take-out chicken that had been prepared by a stranger. I think she would have considered that almost a sacrilege to the southern food gods.
Fried chicken is no longer restricted to the South – people around the world now enjoy its crunchy goodness, in one form or another. These include chicken strips, fried wings, chicken nuggets, and whole chicken parts. I have friends from the North who really like fried chicken, but they never fry their own. They get takeout from KFC or a deli, or they order it when they dine in restaurants. There are few restaurants in the United States that don't offer some type of fried chicken.
I've asked these pals why they don't make their own fried chicken, and they answered that it was just too much trouble. When I pressed them, however, they admitted that they didn't know how to go about making good fried chicken at home. I guess this took me aback. Fried chicken was one of the first things I learned how to cook! I think this is true of most older southern cooks.
Fried chicken isn't really that difficult to prepare. Even though there are hundreds – maybe thousands – of fried chicken recipes, they all have the same basic premise. Fryer-size chickens are cut into serving pieces, dredged in flour, and fried in vegetable oil or hog lard. Sounds super simple, right?
Hold on there, partner – there are a few intricacies required for real success! For one thing, the chicken needs to be seasoned before it's placed in the hot oil or fat. This can be done before dredging in flour, or the seasonings can be added to the dredging flour. Seasonings can also be included in a wet marinade. Popular seasonings for fried chicken include salt, black pepper, garlic powder, onion powder, dried thyme, cayenne, celery salt, paprika, dried oregano, and dried rosemary. Buttermilk and/or hot sauce are often used in chicken marinades.
Another key factor in good fried chicken is the dredging process. Some cooks simply shake the chicken parts in flour and fry it. Sometimes that works out, but sometimes it doesn't. Dipping the chicken in buttermilk, beaten eggs, or a combination of milk and eggs will result in a better crust. Also, once the chicken has been dredged in the flour, I like to let my chicken rest at room temperature a few minutes, until the white coating gets a little pasty.
Something else that's important is the temperature of the oil. If it's too hot, you'll end up with a nice brown exterior and bloody flesh. Yuck! If the oil isn't hot enough, you won't get the wonderful crispy crust for which good fried chicken is known. Chicken should be fried at around 350-360 degrees, and this temperature needs to be constant. The pieces of chicken shouldn't be crowded into the pan, either, so it's best to cook in small batches. Since dark meat takes longer to cook than white meat, I usually fry the legs and thighs together, and the breasts and wings together. Depending on the size of the chicken you're frying, legs and thighs will take around 25 minutes to cook, and the breasts will need about 20 minutes. The wings might be done in as little as 10-12 minutes, depending on their size.
Next time you're craving some crispy fried chicken, try making it yourself. If you're unsure about doing this, you might want to start off with a batch of fried wings first. These are pretty hard to mess up. Once you've mastered the wings and feel more confident, take on the rest of the bird. The southern food gods will smile upon you!
Fried chicken
southern fried chicken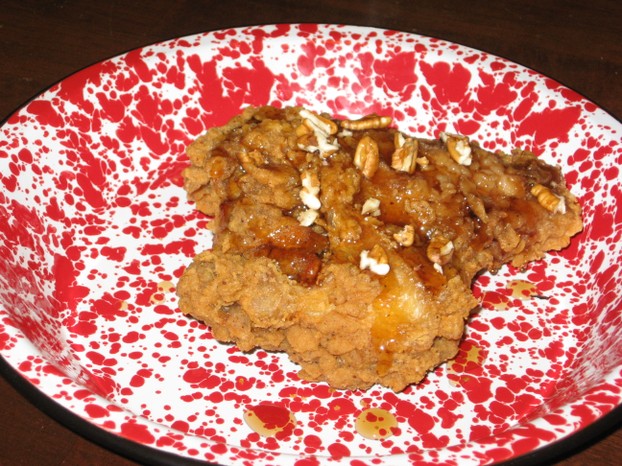 southern fried chicken with honey and pecans
Updated: 06/02/2011, habee
---
Disclosure: This page generates income for authors based on affiliate relationships with our partners, including Amazon, Google and others.