Funny Maternity Shirts | Funny Pregnancy Shirts
Since you have to walk around with a large belly during pregnancy, why not wear a shirt that makes people laugh and advertise your new baby at the same time.
Funny Pregnancy Shirts are Fun to Wear!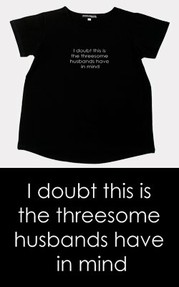 Yep, pregnancy has given you a big belly, that is sticking out in front of you for the next several months.  You might as well use your belly to have a bit of fun while wearing these funny maternity shirts.
The funny pregancy shirts on this page are all designed by Mystic Clothing, are extremely comfortable and breatheable, and have just enough spandex for some stretching.
Pregnancy is a time in your life to enjoy the growing baby, the changes in your life and family, and not the time to be uncomfortable.  These funny maternity shirts will fit the bill, with both long and short sleeve versions, good for all seasons, and comfort in mind.  These shirts make wonderful gifts for baby showers, co-workers, family, and friends who never buy enough maternity clothes for themselves.  They will appreciate the sentiment behind the saying on the shirt, as well as the gift of the shirt themselves.  To see even more choices, you can click through to Amazon to find the entire line of Mystic clothing funny maternity shirts.
Fetus, Feed Us Novelty Maternity Shirt
Swallowed a Watermelong Seed Maternity Shirt
Need a Gift for Your Pregnant Wife, Daughter, or Sister?
Novelty Maternity Shirts bring lots of laughs
Most pregnant women can get cranky from time to time, due to the rapid changes in their body, and the fact that their is a baby inside of them that seems to take them over.  These funny maternity shirts will bring the smile back on their faces.
One of my favorites is the Preggosaurus Funny Maternity Shirt which reminds me of how I felt when I was pregnant with my first daughter.  I felt huge, and pretty much as grouchy as a T-Rex.  This funny maternity shirt would have been really fun to wear when I felt like that, plus it would have warned anyone around me to stay out of my way.
There is also an entire line of "Due in" shirts like the "Due in December" shirt pictured below, to keep every one from asking you that question.  These are great Christmas gifts for anyone that is due in the winter or spring.
All His Fault Funny Pregnancy Shirt
Don't you want to blame him?
Okay, it is not really all his fault, but don't you think it is not fair that you carry the burden, while he doesn't?  The "All His Fault" Funny Maternity Shirt will point the finger at him nicely for you.  It has a big giant arrow pointing at him.  Of course, most men will be quite proud that it is their fault.
Funny Maternity Shirts by Mystic Clothing
Immaculately Conceived While I Was Sleeping Funny Maternity Shirt
Amazing how these things just happen in our sleep.  The Immaculately Conceived While I Was Sleeping funny maternity shirt is perfect for the women who just doesn't seem to have a clue.  "How did this happen?"  is the question you will hear from them.  This funny shirt will tell the world that she was sleeping and somehow just got pregnant.
Hints for the Father to Be
Keeping your pregnant wife happy
Pregnancy is not always fun, and since you are partially to blame for the condition your wife finds herself in, then it helps if you can keep her as happy and comfortable during the months of pregnancy.
Whether she is sleeping poorly, or having bouts of queasiness during her pregnancy, keeping her laughing as much as possible is a good idea.  These shirts will help
---
Disclosure: This page generates income for authors based on affiliate relationships with our partners, including Amazon, Google and others.