Thanksgiving Maternity Shirts
Looking for a fun and comfortable maternity shirt to wear on Thanksgiving? Here are some great ideas to get you started.
Look Great and Be Comfortable in Thanksgiving Maternity Shirts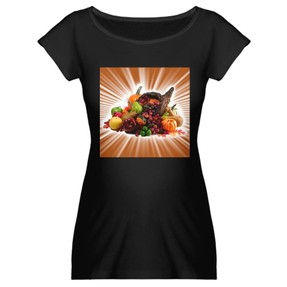 If you are pregnant this Thanksgiving, or know someone who is, you may want to take a look at these fun Thanksgiving maternity shirts.
Thanksgiving is a holiday where we gather with our families, and simply enjoy the time together while enjoying a good meal.  Some families watch football on TV, while others play football with their friends and family.  The entire day is meant to enjoy each other, be comfortable, and have fun.
This can sometimes be difficult if you are pregnant, especially in the last trimester.  So here are some very cool Thanksgiving maternity shirts that will help you stay comfortable, cool, calm, and collected throughout the Thanksgiving weekend.  Each of these shirts is easily washed, just get softer and more comfortable with time, and are really just so cute, it is hard to decide which one to buy.
Artsmith Dark Thanksgiving Maternity Shirts
Easy to Wash
I don't know about you, but when I was pregnant, I always was spilling things on myself.  I think, in part, it was just because of having more things to spill on, like my pregnant belly.  It also meant that I had no lap to put plates on.  For whatever reason, it is good to have Thanksgiving maternity shirts that are easy to care for, wash, and dry.
Thanksgiving is a holiday that is traditionally a food related holiday.  Most preparations will include some sort of Thanksgiving feast.  I know of many people that go from their mother's home to grandmother's home, then to their husband's parents' home, eating at each one.  So an easily washable outfit (or more than one) is the best bet for this holiday.
The group of shirts shown on this page are wash and wear, although like any t-shirt, I personally recommend drying them on a line instead of in a dryer to help them keep their shape, and size.
Artsmith Thanksgiving Maternity White Shirts
Fun Thanksgiving Designs
Artsmith has a wide selection of maternity shirts for all seasons, and a wonderful group of both funny and colorful t-shirt designs for Thanksgiving.  Shirts come in several colors, so you can choose the color and style that works best for you.  The most used colors are black or white in the background which will go with most any outfit, and some are comic designs, while others are a little more serious.
These will bring some holiday cheer to all of the family members at your party, and you can go from party to party feeling great.
More Seasonal Maternity Shirts
---
Disclosure: This page generates income for authors based on affiliate relationships with our partners, including Amazon, Google and others.