Giant Cupcake Cake
by thefont
How to make and decorate a giant cupcake cake
How To Make A Giant Cupcake Cake
As if cupcakes weren't perfect enough there is also a new range of cupcake pans that allow you to make a giant cupcake cake.
These make a great cake for a birthday, baby shower or any kind of celebration. 
Whether you are looking for a cupcake recipe, some cupcake icing, or just ideas to help you decide what to create it is all on this page. 
Having first seen one of these at a child's birthday party, where the giant central cupcake was decorated the same as smaller cupcakes which were on a stand around the main cake I can tell you that all of the children were absolutely delighted with this cake!
On this page, not only will you find giant cupcake pans, but you will also find videos on how to decorate your cake as well as all of the baking supplies that you will need to make a giant cupcake cake.
Giant Cupcake Pans
If you are going to make a giant cupcake cake I have a few tips picked up during my own attempts at this. 
Firstly, you need a giant cupcake pan, and also a product called cake release. These cupcake pans are large and have a reasonably intricate shape, so without the cake release it is very difficult to get them cleanly out of the pan. 
Another tip I can share is that because of the size of the cake it tastes better if you sandwich it with some buttercream icing. If not there is an awful log of cake and not an awful lot of moisture to help to stop it seeming dry. I have also at times cut the bottom section of the cake in half horizontally and added another layer of buttercream in there too, which was delicious. . 
This is the best buttercream icing recipe I have found: Buttercream icing
Here is a great cupcake recipe
For full instructions to guide you through the process of using a giant cupcake pan, please watch the video below which is very helpful.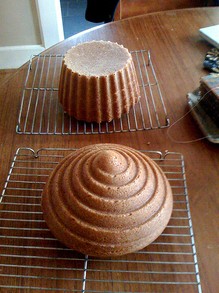 Giant cupcake
How To Make A Giant Cupcake Cake
Giant Cupcake Pans and Cake Release
Wilton 2105-5038 Giant Cupcake Pan

Creates a big 3-D cupcake for the whole party to share! Assemble top and bottom cake halves with a thin layer of icing. Professional weight, cast aluminum for exceptional ...

$18.9 $18.95
Wilton Cake Release

No need to grease and flour your baking pan - Cake Release coats in one step. Simply spread Cake Release lightly on pan bottom and sides with a pastry brush and fill with ...

$3.49 $2.86
Nordic Ware Pro Cast Cute Cupcake Pan

This 6 cup two cavity pan comes together to make the perfect single cupcake and we all know everyone loves cupcakes! Heavy cast aluminum bundt bakeware provides superior ...

Only $22.99
Decorating Your Giant Cupcake Cake
Have a look at some of the pictures on this page for fantastic ideas on how to decorate your giant cupcake cake. As a rule you need to go BOLD with a cupcake this size and bright and colorful icing also seems to work really well. Below are just a few of my suggestions:
As a toadstool. Looks great on a green cake base with mini (cupcake) toadstools all around it. 
As a giant cupcake decorated in the same way that you would decorate a mini cupcake. 
On a cupcake stand, with the giant cupcake on the top level and smaller cupcakes below it. 
With a color theme. Make it all pink, and all sparkly, or all blue and snazzy!
The giant cupcake on the right has paper around the bottom as a baking cup which looks sensational!
If you don't have paper you can pipe icing stripes on the bottom half to make it look like a colorful baking cup. 
Decorating Your Giant Cupcake
Giant Cupcake Decorating Supplies
Progressive International Baker's Decorating Set

Progressive International is your source for the widest range of functional, inventive, and fun kitchen tools and great ideas put into practice. Our in-house designers spend ...

Only $11.45
Wilton White Ready To Use Decorator Icing, 4.5lbs

Wilton makes the only ready-to-use icing that is the perfect consistency for decorating. The pure white color is best for creating true vivid colors using Wilton Icing Colors. ...

Wilton Jumbo Confetti Sprinkles

Perfectly sized sprinkles for decorating POPS and other favorite desserts. Jumbo sprinkles can be used to create characters too.

Wilton Jumbo Hearts Sprinkles

Give your cupcakes a big finish! These big and bold decorations are perfect for cupcakes, mini cakes, jumbo and king-size cupcakes, brownies and cookies. 3.25 oz. bottle.

Only $4.69
Having A Party?
Check out these gorgeous cupcake gift boxes!
---
Disclosure: This page generates income for authors based on affiliate relationships with our partners, including Amazon, Google and others.