Guacamole: Your Guide to Great Flavor
by wrylilt
Guacamole is a rich and yummy dip or spread made from avocado and many other delicious ingredients. Here's a guide to making yours even better!
I grew up with avocado. It was one of my first baby foods and as I grew older my family regularly ate it in salads, mains, dips and sandwiches. Throughout my youth and even today however, one of my favourite ways of eating avocado is still in guacamole.
I've experimented with it in different ways but nearly always came back to the same basic ingredients. In this article I plan to share some of the different ingredients you can add to the basic avocado to create delicious and flavourful guacamole.
What is Guacamole?
Guacamole is said to have been made as early as 1500 by the Aztecs. It was and still is eaten in Mexico but since those early days it has spread throughout the world and into many dishes.
Traditionally guacamole is made with mashed avocado, lime juice, tomato and salt. However even these simple ingredients can vary around the world, since they come in many varieties, styles and flavours.
Great Uses for Guacamole
Great Uses for GuacamoleGuacamole is great for:
- Dips & sauces
- On Toast
- With Tacos or Nachos
- As an attractive finisher to a dish
- Mixed with freshly cooked potato
- To help kids eat healthy
Check out more easy recipes at crazyvegetarian.com
Can you buy or store Guacamole?
Avocados lose their flavour fairly fast after being cut open - and even faster when taken out of their skins and mixed with other ingredients. Most avocado also turns from a bright green to brown very fast upon contact with the air - often within a few hours.
Because of this most commercially made guacamole is made primarily of thickeners, preservatives and dairy products. Most contain no more than 2-25% real avocado.
Even if you buy guacamole fresh in a restaurant, the avocado is usually mixed with a pre-packaged flavouring mix.
No guacamole can compare to freshly made guacamole.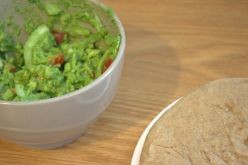 Guacamole makes a delicious dip or sp...
Basic Guacamole Recipe
The following recipe lists the basic ingredients that can be used to make a delicious guacamole. Simply scroll down to the listed item to see the various types of that ingredient below. Items not marked with an asterisk and optional extras for added flavour.
*Avocado
*Juice
*Salt & Seasoning
*Tomato
*Onions
Herbs & Spices
Dairy
Vegies
Sauces & Other Flavours
Ingredient: Avocado
There are dozens of varieties of avocado that grow throughout the world and all have unique textures and flavours. Most avocados come in a bumpy skinned pear shape and remain green even when ripe. Below are some of the more common types:
Hass - Skin turns black when ripe. Smooth, tasty texture great for mashing. My personal favourite.
Fuerte - Smooth skinned, popular avocado.
Shepard - Milky texture and is different from most varieties because it won't turn brown after being cut.
Sharwill - Rich nutty flavour - usually considered the gourmet avocado.
Wurtz - Winter avocado with milky texture.
Ingredient: Juice
Citrus juice adds a fresh, zesty flavour to guacamole.
Lemon Juice - For a slightly more sour taste.
Lime Juice - For a fruity freshness.
Ingredient: Tomato
Tomatoes come inmany varieties. Average tomatoes are great but for a more unique flavour try diced cherry tomatoes or yellow grape tomatoes. Dried tomatoes also add a rich earthy flavour.
Ingredient: Onions
Onions add a great bite to guacamole - and come with plenty of choices.
Salad Onions - Add a bit of color
Pickling onions - Try caramelising first for a unique flavour
Spring Onions (Shallots)
Chives
Garlic - Not technically onion but adds a great bite.
Ingredient: Salt & Seasoning
Salt is a must in any guacamole. You don't need to use just any standard table salt - there are plenty of flavours and types to choose from:
Sea Salt - A natural healthy alternative that gives a bit more flavour than table salt.
Herb salt - For a quick and easy mixture of flavours when you're in a hurry.
Pepper
Ingredient: Herbs & Spices
There are many herbs and spices that add flavour to any guacamole. You can try these either fresh and green or dried and pre-prepared.Only a few are listed here, to get you started.
Basil
Cilantro (Coriander)
Rosemary
Chilli Flakes
Cayenne Pepper
Ingredient: Vegies
Yes, vegies! There are plenty of things in your fridge and pantry that will add a bit of colour or texture. Try dicing up some of the following:
Carrot - Raw or cooked
Sweet Potato - Cooked
Capsicum - Yellow or Red
A dash of this, a smidge of that. Just keep experimenting till you find a flavour you like. Here's some ideas:
Sweet chilli sauce
Soya sauce
Tomato Paste
Ingredient: Dairy
A bit of dairy can make your guacamole creamier and softer:
Cottage cheese
Cream cheese
Mayonaise
---
Disclosure: This page generates income for authors based on affiliate relationships with our partners, including Amazon, Google and others.