Handmade Stoneware Pottery by SheaClay Pottery
Tracy Shea spends her days making pottery. Each piece is lovingly made by hand in her studio in Ohio.
Creating Handmade Stoneware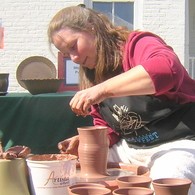 Tracy Shea spends her days making pottery. Each piece is lovingly made by hand in her studio in Ohio. You can tell when you see her handmade stoneware that she loves what she does, because each piece is simply a piece of art.
Tracy's work is sold under the company name, SheaClay. Over the years, she has developed several designs of her high fired stoneware pottery including dinnerware, bowls, platters, mugs, decorative ware. Each of her handmade stoneware pottery pieces are finished with lead free glazes, suitable for oven, dishwasher and microwave.
SheaClay handmade stoneware can be purchased at Lake Erie Artists Gallery.
Differences Between Handmade and Machine Made Stoneware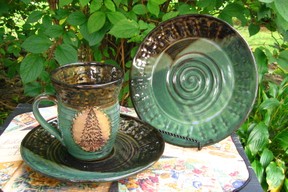 Handmade stoneware pottery is made one piece at a time, usually on a pottery wheel if the piece is round. Each piece will have slight differences because it is handmade, but it will have a uniqueness that doesn't come with manufactured pottery.
Fine crafters like potters, take the time to make their own glaze combinations. Each of Tracy Shea's pieces is hand dipped into her glazes. She creates and tests new glaze combinations all the time to find something new that her customers will love.
Pottery is truly made by hand by the potter, as you can see in the picture above, Tracy is demonstrating how she creates a piece on the pottery wheel.
Handmade Stoneware Pottery is Not Expensive
If you are giving a gift for a wedding, many people spend $50 to $100 or more for a gift.  I was surprised to learn that Tracy's pottery is right in line for a wedding gift.  Her 4 piece place setting including a mug, soup bowl, salad plate and dinner plate is only $95 for the entire set.
She makes beautiful chip and dip sets for only $45, and her mugs are only $20, including the Christmas tree mug in the picture to the right.  And her art work is just as durable, and useful as anything you would buy from a kitchen ware or gift store.
Why Handmade Stoneware Pottery?
In Tracy Shea's words:
"I strive to create joy in the simplest thing, like really good coffee in a really great cup. It's that warm moment of appreciation, like when you are struck by the beauty of your surroundings, or when you receive kindness from a stranger, that I try to capture in my work. My pursuits include a balanced overall form with a sense of movement. I try to create lots of edges and hard lines through carving, stamping, throwing marks- many places for glaze to break, change direction and create more color. I like warm, muted tones that provide a natural background for food and celebration, a form which invites you to pick it up and use it, and good function for service, which enhances the beauty of the form and realizes my initial goal for creating it."
Learn to Make Stoneware Pottery
---
Disclosure: This page generates income for authors based on affiliate relationships with our partners, including Amazon, Google and others.