Hanna Barbera Cartoon Classics: Augie Doggie And Doggie Daddy
by bev-owens
Hanna Barbera cartoons have become classics with so many people. A look back at Augie Doggie and Doggie Daddy.
Vintage Cartoon Classic By Hanna And Barbera
One of my favorite Hanna Barbera Cartoon classics was Augie Doggie and Doggie Daddy. The cartoon segments were regularly aired on the Quick Draw Magraw Show from 1959 through 1961. Produced and directed by Joseph Barbera and William Hanna this fun pair of father and son dogs were just a laugh and a half to watch. Doggie Daddy seemed a little over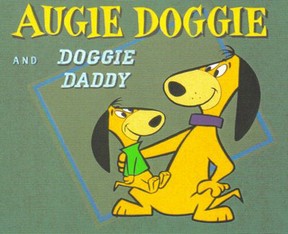 whelmed at times with his energetic and impetuous son, Augie.
Doggie Daddy, who sounded just a little like Jimmy Durante, tried to be stern and do what he thought was best for him and his son. Usually the rambunctious little pup, Augie, wanted no part of whatever his "dear old dad" had cooked up. As you might guess, Augie Doggie usually ended up in some sort of trouble or mischief and Doggie Daddy had to come to the rescue.
Typically the moral of each cartoon episode involved the general idea that "Dad Knows Best" even if he is a dog that resemebles a dachshund! Sometimes the lesson was that a son can make his father proud even if getting to that point might have been difficult.
These cartoons were really good clean entertaining stories showing situations between a father and son with hidden little messages about growing up and how a father can help a child make the better choices while doing it.
Vintage Cartoon Characters Are Available In New Products
Luckily for old fans of the classic cartoon characters like Augie Doggie and Doggie Daddy, we can still be reminded of the cartoons we watched as kids. You can find posters and other items that have the vintage characters on them to bring back a little of your childhood. Wonder how many people would fondly remember along with you about their favorite Hanna Barbera cartoon characters if they saw this poster in your office? Aren't we all still just a little bit of a kid at heart?
Poster of Augie Doggie and Doggie Daddy
Classic Hanna Barbera Cartoon Characters
Hanna And Barbera Created Other Cartoon Classics
Besides the father and son team of Augie Doggie and Doggie Daddy
Besides my favorite father and son team of Augie Doggie and Doggie Daddy there were other Hanna Barbera cartoons that I enjoyed. Do you remember any of these?
The Rough and Ready Show
The Huckleberry Hound Show
Quick Draw Magraw
Yogi Bear
Pixie and Dixie
The Flintstones
The Jetsons
Magilla Gorilla
Scoobey Doo
Of course there were others, but these are ones that I particularly loved.
---
Disclosure: This page generates income for authors based on affiliate relationships with our partners, including Amazon, Google and others.