How to Activate Facebook Timeline Feature For Your Profile Now- Facebook Launches Timeline For All
by Natasha
Finally, Facebook Timeline feature is available to all facebook users. Here's how you can activate facebook timeline feature for your profile.
Finally after much waiting, facebook has introduced the "Timeline" feature to all users.  This feature was in works for months and was released to selected beta users.  Recently, the timeline feature was tested in New Zeland and after positive reactions, it is now available to all.  Timeline is considered to be a big change and it will change the way you use facebook.  It will organize your wall into chronological order and you can easily see your entire life on facebook.  Also, facebook will automatically show posts and links that received the most interactions.  Anyways here's how you activate timeline for your profile.
Step-by-Step Instructions to Activate Timeline for Your Facebook Profile
Visit Facebook's Timeline Demo Site.
You will see "Get Timeline" option at the right hand corner.  Activate that option.
You will get a welcome message and you would be given a 7 day preview to review your timeline.  In this 7 days, you can add/hide/remove whatever you want.  You can also choose to publish your timeline instantly.  (Note:  Once you activate the timeline, there is no way you can go back to your old profile.  So if you are not ready for change, don't activate it yet.)

Here's how my timeline looks like:
My Facebook Timeline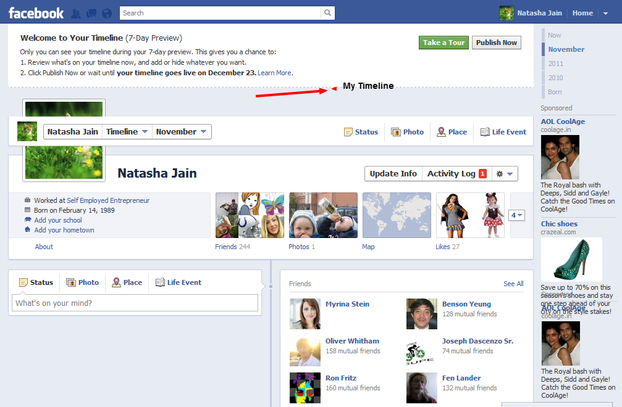 Facebook Timeline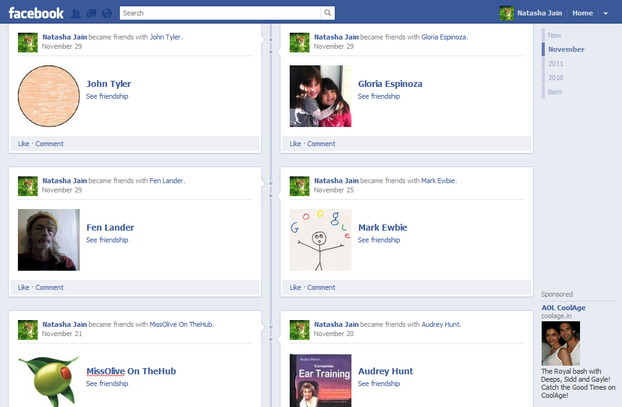 Facebook Timeline 2
The 7 day preview window is to avoid any backlash from users.  This is hauled to be the biggest change introduced by facebook and hence facebook wants the transition to be as smooth as possible.  But I am sure there would be many users who will find this timeline complicated to use and it would take time to get used to this.  
On the face of it, this timeline feature really looks interesting, but it is too early to say if it will be popular with the facebook users.  We will know of fb users reactions soon.  In the meantime, just activate your timeline and see if you like it.  I have activated mine and I know it will take me days to make it look attractive.  Let me know if you have activated timeline and if you don't mind, share your facebook timeline profile link in the comment section for us to have a look.
Also, do participate in the duel and let us what you think of this new feature.  Also, don't forget to take the poll.  It will really be useful to see how many actually like the new feature.  And if you have your own unique opinion to share, you can make use of the comment section.  Would love to interact with you.
Official Facebook Timeline Video
Do you like the new Facebook Timeline feature?
Only logged-in users are allowed to comment.
Login
No, it is too complicated
What do you think of the new Timeline Feature?
Have You Shared This Page?
Don't you want to know what your friends and family think of this new timeline feature?  Be the first to inform them and also get their opinions on it.  Likes, plus ones, tweets and stumbles would be greatly appreciated.  
---
Disclosure: This page generates income for authors based on affiliate relationships with our partners, including Amazon, Google and others.