How To Make A Dessert Sauce
by codyman4
Sauces not only give desserts a more glamorous touch but also are a quick and convenient way to create a last minute refreshment.
Dessert Sauces
There is almost nothing that makes a dessert taste better than a delicious topping poured over it.  It could be as simple as a bowl of ice cream, a warm cookie, or a slice of cake. Usually a dessert sauce is a thickened sauce, usually sweetened, and tops your dessert.  When you add a dessert sauce to the menu, it often turns a simple dessert into the star course of a menu.
The most common dessert foods served with a sauce are ice cream and sherbet.  Often a spectacular display is created by spooning flaming sauces over each portion.  Chocolate
or fruit filled sauces can be the beginnings for rich ice cream sundaes and multi-layered parfaits.
Cakes, particularly when unfrosted, and pies can also be glamorized with the addition of a sauce.  Cake that has started to dry is revived to moistening goodness by spooning a sauce over each slice.  A luscious fruit sauce with a dollop of whipped cream atop is an attractive finish to a serving of light lemon chiffon pie.
Don't forget the easy way to brighten fruit desserts either.  A thick custard or lemon sauce transforms a fresh fruit cup finale into a rare treat.  Lemon and custard sauces are also traditional crowning touches for fruit-filled steamed puddings and oven fresh cottage puddings.
Sauces not only give desserts a more glamorous touch but also are a quick and convenient way to create a last minute refreshment.  Many sauces are prepared in advance, then stored in the refrigerator.  These sauces are then served right from the refrigerator; a quick reheating brings the sauces back to their original delicious state.
Here are several dessert sauces for you to try:
Marshmallow Sauce
Ingredients:
½ pint jar marshmallow creme
¼ cup pineapple juice
Spoon the marshmallow creme into a small mixer bowl.  Gradually add the pineapple juice, beating at high speed until thickened.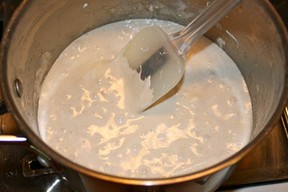 Golden Apricot Sauce
Ingredients:
1 30-ounce can apricot halves
¾ cup sugar
¼ cup orange juice
½ teaspoon almond extract
Drain the apricots, reserving ½ cup of the syrup.  Cut up the apricots and stir in the reserved syrup, the sugar, the orange juice, and a dash of salt.  Simmer this mixture for 10 minutes, stirring occasionally.  Stir in the extract and chill.  Serve this sauce over ice cream.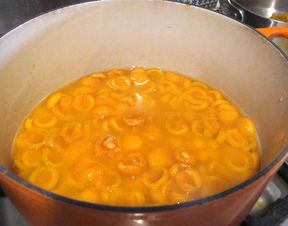 Mocha Sauce
Ingredients:
1 cup sugar
1/3 cup unsweetened cocoa powder
1 tablespoon cornstarch
1 tablespoon instant coffee powder
1 14 1/2-ounce can evaporated milk
¼ teaspoon vanilla
Vanilla ice cream
In a saucepan combine the sugar, the cocoa, the cornstarch, and the coffee powder.  Gradually stir in the milk.  Cook, stirring constantly, until the mixture is thickened and bubbly.  Remove the sauce from the heat and stir in the vanilla.  Spoon the sauce over ice cream.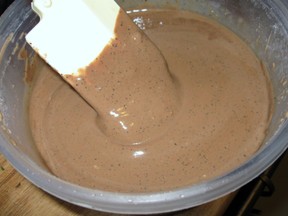 Try these dessert sauces with your next dessert and see not only how easy it is to make a sauce, but how it adds flavor and eye appeal to a simple dessert.
Related Topics
Spring Chiffon Cake
Nothing tastes better than a warm, right from the oven chiffon cake dripping with a warm glaze.
Favorite Muffins
Commercial muffin mixes are quick to prepare and can be used in a variety of ways.
Double Boiler Deals
When makin g sauces, you usually will need a double boiler.
T-fal B1399663 Specialty Stainless Steel Double Boiler with Phenolic Handle Cookware, 3-Quart, Si...

T-fal A9099694 Specialty Stainless Steel 3-Quart Double Boiler with Phenolic Handle Cookware, Silver

Farberware Classic Stainless Series 2-Quart Covered Double Boiler

This Farberware Classic Series Stainless Steel 2-Quart Covered Saucepan with Double Boiler Insert can pull double duty on the stovetop as a saucepan or double boiler. Farberware...

Stainless Steel Double Boiler Pot for Melting Chocolate, Candy and Candle Making (18/8 Steel, 2 C...

1.HIGH GRADE MATERIAL 18/8 Stainles steel, Rust Resistant, Sturdy,and proper temperature to melt things but not to destroy the nutrition, and prevent burnt, 2.SUITABLE SIZE -- 2...
Do you like eating a dessert sauce with your desserts?
Only logged-in users are allowed to comment.
Login
Yes, wouldn't eat dessert without it!
Decorate Your Home With Art From Allposters
---
Disclosure: This page generates income for authors based on affiliate relationships with our partners, including Amazon, Google and others.