iPhone 5 Review
by Natasha
iPhone 5 will soon hit the stores. Let's take a look at the expected features and specifications. iPhone 5 review 2011
Round up of iPhone 5 Reviews 2011
I am a big Apple fan and have been desperately waiting for the realease of iPhone.  I have subscribed to numerous blogs just to keep myself updated about the latest developments related to the iPhone 5.  But what I find confusing is that the iphone 5 specifications and features keep changing with new speculations being made every few days.  It is hard to keep a tab.  So with iPhone 5 release date to be announced soon, I thought I would do a round up of all the speculated features and speculations made by bloggers/sites so far.  They will most probably be included in the new iPhone 5.
Apple iPhone 5 Specs and Features - Rumored & Expected
Design:
Apple has always kept the design of the Iphone consistent and the same applies to iPhone 5.  But there are quite a few changes speculated in regards to design of iPhone 5.  iPhone 5 is expected to be the thinnest model in the iphone series.  It will come with OLED screen which will be scratch resistant.  Also, it will have a bigger screen that the iPhone 4.  Many are even guessing that iPhone 5 will be without a home button.  You can also expect white models.
Network:
iPhone 5 will support 4G, so chatting, watching videos and surfing the internet would be faster.  It is also rumored that it will come with both CDMA and GSM facility, though personally I don't think so it will happen.  It will also come with a built-in GPS feature.
Camera:
It is rumored that iPhone 5 will support HD video recording and high resolution images.  It is expected that the camera will be 8 megapixel as compared to iPhone 4's 5 megapixel.  And this seems to be true as an image discovered on flickr account of an Apple engineer shows that the image was snapped from an 8 megapixel camera.  See the image below.
First Picture Taken From iPhone 5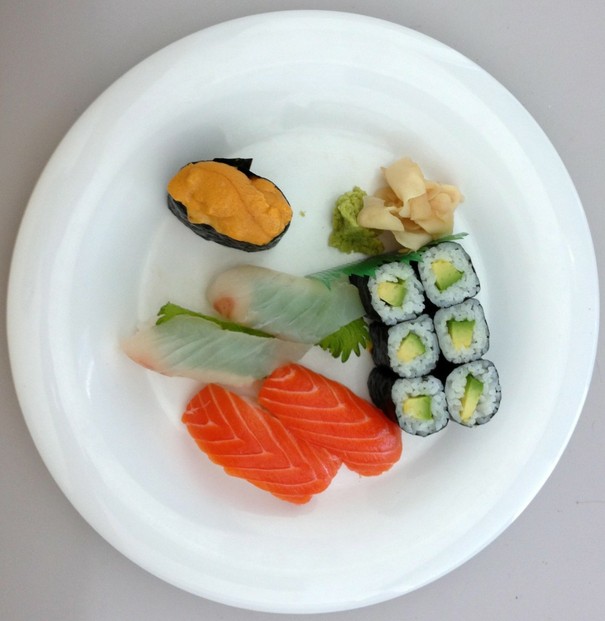 First Pic from iPhone 5
If you want to know more about this Sushi mystery, read "first picture taken from an iPhone 5".  The iphone 5  Camera will also come with face recognition feature which will stop unauthorized access to your phone.
Storage Capacity and Processor:
Speculations are rife that iPhone 5 will come with 32GB and 64GB variants which is really a good news for Apple fans as it will mean more storage space.  It is also expected that the RAM memory would be increased from the current 512MB to 1GB.  It will make the iPhone 5 more fast.  Dual core processor would also contribute to increase in speed.  Apple fans are also speculating that it will come with an HDMI port and micro SD card slot.
Operating System:
Operating system will see a major overhaul as iPhone 5 will be launched with iOS5 which is packed with more than 200 features than it's previous versions.  The main highlight of iOS5 will be the use of gesture based technology and flash support.  It will also feature iCloud which will sync your itunes library with a click of a button.  
Battery:
With so many new features, it is logical that Apple will also improve the battery time so that users can stay connected.  With the use of A5 processor the battery life of iPhone will be extended and it is expected that battery will last 14hours on 3G and 7 hours on 4G.  It is also rumored to have a standby time of 600 hours. 
iPhone 5 Review on Youtube
The Complete iPhone 5 Rumor Roundup with Picture
Will You Be Buying the iPhone 5 When it Comes out?
---
Disclosure: This page generates income for authors based on affiliate relationships with our partners, including Amazon, Google and others.