KarenTBTEN: a Life Online
by KarenTBTEN
This is my wizzography, or auto-bio-online-ography: written for the Wizzley and Squidoo communities.
The Writing Life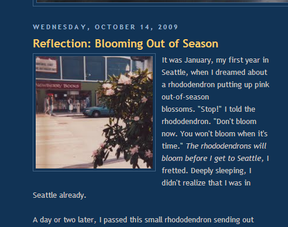 I'll like to address, first, the name.  Like a lot of people here, I have a funky name with some extra letters. TBTEN is a combined acronym made from the first letters of two websites/ web personas. One is my teaching site, the other my personal Blogger blog (who is seen there in the picture showing off its rhododendron post).  I didn't have Audio Reflections, an audiopoetry site, up yet when I joined Squidoo.  If I did, I might have been KarenTBTAREN.
Being online has meant a lot to me.  Sometimes, on the Squidoo platform, I am engaged in pragmatic activity; sometimes I am just on my soapbox, and writing for "an audience of one".  (I first heard that term in a C.S. Lewis book and have used it several times since.)  
I intend to be (mostly) pragmatic on the Wizzley site.  I was actually sent over to the platform by several of my Squidoo pages who wanted niche-mates.  At the forefront was a page called "Shabby Chic Studio Apartment" who, after a successful first month, had begun writing business plans for herself and others. Armoires and upwards! she said.
In the Beginning Were Words...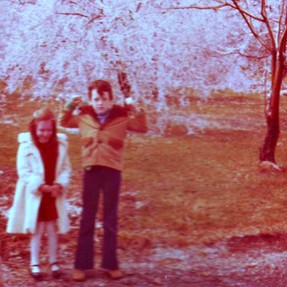 I've been writing for hire for about a year now, so that started after Squidoo.  (At the beginning stages, I used Squidoo pages as my portfolio.)  
I joke about it being a return to my roots.  When my brother was seven or eight, he started a book company.  I was two years younger, but the job pool was limited, so he hired me. I wrote for him part-time for probably a couple of years. He told me what to write: "Write about a little boy who falls out of a tree and breaks his arm... Write about a little boy who loves trucks."  I was good at following directions, as you can see from the scanned story below about a truck-loving boy.
I did like truck drivers -- or one, at least. For a fair chunk of my childhood, I revolved, like a planet in orbit, around a fictitious chimpanzee-toting truck driver known as BJ McKay. I was not interested in trucks per se, though -- that was my brother's forte. The piece below, I feel pretty confident, was a commissioned one.
The Truck Story
Story Circa Age 6
More About Childhood... and Trucks
My father was a restaurant owner, and my brother and I spent most of our time there outside of school, entertaining ourselves in a booth in the reserved section.  The businesses eventually failed, which is how we ended up moving across the country.  
We were still there, though, when the BJ and the Bear show ended.  The famed truck went through our community on its way to be retired and, if I remember correctly, was briefly at my father's restaurant.  My brother was thrilled.  (I lost interest once I realized BJ himself wasn't going to show up with a chimpanzee.)
A Life in Narration
In junior high, I did have something of a reputation, at school, for being a writer-type (not so surprising, perhaps, when you realize I had already been in the book business half my life).  But I did something you wouldn't expect a would-be writer to do. My social studies teacher gave us choice for our last history project of the year.  We could write a report on one of several topics or we could memorize and deliver John F. Kennedy's inaugral address.  I was the only person in my class who chose to deliver JFK's entire inaugral speech.  Often, I still wish for that choice!  (Will I write today... or deliver a story or script of some sort?  Alas, the latter does not bring an income.)
You can see me there at a year or so: not yet walking, but already orating -- or so it would appear. You can also see me at thirteen: an itty bitty thirteen.  That was the height of my acting days.  I did not do well as an actor in high school.  I have always been far better at acting with my voice than my body -- and I have tended to be far more at home in my voice than my body.  The high school years found me in adaptive PE.  (I can bring a rope over my head or I can jump over one, but do not expect me to perform both actions in succession without some think time in between.)
I have joked at times about how I would do well in life as a disembodied voice.  Ah, the internet where many things are possible...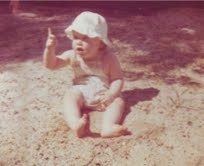 At 1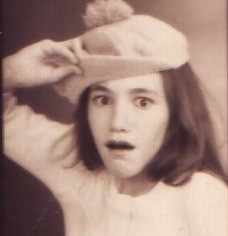 Acting-13
Online Places
Squidoo
My Squidoo profile.
The Blog Talk Radio Show
I have been doing a reading each week on a friend's show for a year now -- used to send them in, but do them live.
---
Disclosure: This page generates income for authors based on affiliate relationships with our partners, including Amazon, Google and others.