How to Make a Black Swan Ballerina Tiara
by WordCustard
Make your own Black Swan tiara to match your Swan Lake ballerina costume and makeup. Easy step by step instructions show you how to create this fun accessory.
A Home Made Tiara for your Natalie Portman Inspired Evil Swan Lake Costume
Become the Black Swan
Natalie Portman's character in Black Swan captured our imaginations, blending the fragile and beautiful ballerina with something dark and sinister. No wonder everybody wants to be Black Swan for Halloween! Of course, the perfect way to finish your Black Swan costume is with a beautiful tiara inspired by the one worn by Natalie as Odile (the evil Black Swan) in the movie's Swan Lake production. Here you can make your own Black Swan style tiara using a few basic craft items found at home.
------------------
Copyright: This tutorial, including all text and images, copyright of WordCustard, all rights reserved.
Create Your Own Beautiful Ballet Tiara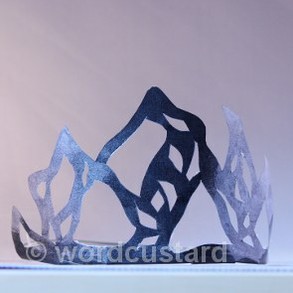 Homemade Black Swan Tiara
Step 1: Begin your Black Swan Tiara with Black Paper
Your Swan Lake ballet-style tiara begins with a simple piece of black paper. If you want to use black cardstock your tiara will be sturdier, which could be a good thing if wearing it out and about. If your paper is very thin, stick it to a piece of card for extra strength.
A Letter/A4 size piece of paper is perfect as you are going to trim it down. Mark out an 8 inch by 5 inch rectangle. The finished tiara will be about 4 and a half inches high which is quite tall. If making for a child or a smaller head you might want to scale it down a little.
Step 2: Cover with Plastic Film
This step is optional. However, if you cover your Black Swan tiara with a piece of thin plastic film it gives it the beautiful sheen you see in the photo of the finished ballet tiara.
In the UK this plastic film is available in the supermarket or DIY stores on a roll, backed by squared paper. Look out for something similar in your country. 
Cut it roughly to size, peel off the backing paper, and stick it to the front side of your black paper rectangle.
Step 3: Create a Template
This step is easier than it might look. The movie Black Swan features a very modern and abstract tiara. Yes, it will be very hard to copy it exactly. However, anything that looks jagged and is pierced with holes will create the right look.
Draw a template on a piece of printer paper. Copy my example or look at a Black Swan movie poster if you need a little help. You are aiming for a look almost like flames, with some large cut-out areas. Important - leave a space at the bottom edge with no cut outs.
Step 4: Use Template to Cut Black Paper
Hold your paper template over your black paper and then cut around the lines on the template. 
An alternative method is to cut out the template and then draw round it on your black paper using a white pencil, and then cut along those lines.
For the cut out areas, it is easier to use a craft knife. If  you don't have one, stab a hole in the center of the area you want to cut and then poke your scissors through.
Step 5: Create a Wire Circle
To keep the tiara on your head, you need to create a base for it. Do this using wire.
The best kind of wire for the job is something like florist's wire (that's what I used). This is flexible but not too thin, and is coated in plastic. It is normally dark green which is not ideal but should blend in. 
Shape your wire in a circle that will sit nicely on your head without falling down to your face. I needed 2 pieces of wire for this. Join them with sticky tape. Tape in all the sharp ends carefully (especially for a child's tiara).
Step 6: Attach Tiara to Circle
Take the bottom edge of your tiara and fold it up around half an inch (or a little over 1 cm). Unfold and cut little triangles along the fold, as in the picture, so that it will wrap along the wire.
Start at one edge and tape the first flap of folded paper up over the wire. Repeat along the entire bottom edge of the tiara.
Step 7: Add Finishing Touches
When you have taped the paper tiara to the wire circle, your Black Swan crown is complete! 
You can of course now decorate it if you wish to add some glitz and style. Personalize it with your own choice of glitter, black feathers, stick on gemstones, or anything else that you have in your craft box.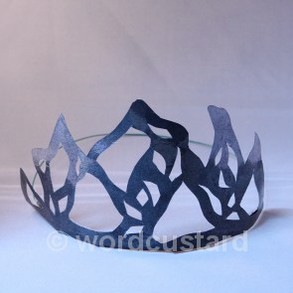 Black Swan Ballet Tiara - Complete!
Black Swan Ballerina Costume
Now that your ballerina tiara is ready, why not visit this guide to putting together a Black Swan costume and makeup. Includes a dramatic make up video to look just like Natalie Portman's ballet dancer character in the film and ideas for a ballerina tutu costume and ballet hairstyles.
You might also enjoy discovering some Swan Lake costumes for classic ballerina tutu costumes and sweet dress-up ideas for little girls. Here you will find a makeup video inspired by Natalie's beautiful White Swan look.
Be Dramatic and Dangerous as Black Swan!
Did You Have All You Needed?
Tru-Ray Sulphite Construction Paper, 9 x 12 Inches, Black, 50 Sheets (103029)

Heavy 76# 100% vat-dyed sulphite with longer, stronger fibers. Tru-Ray Construction Paper is tough enough to take scoring, folding and curling without cracking and tearing. ...

$5.99 $6.54
Decora Clear Contact Paper 3 Yd.

Clear contact paper is great for sealing and protecting. Use it on maps, for crafts, to cover notebooks and more. A grid on the reverse helps you measure accurately and cut ...

Only $29.99
Martha Stewart Craft Knife

Martha Stewart Craft Knife. Designed for comfort and stability, our soft-grip craft knife lets you cut, crop, and shape a variety of materials. The beveled tip accommodates ...

Only $40.0
Long Marabou Feathers 1/4 Ounce-Black

Be tickled pink with these 1/4 oz. packages of Long Marabou Feathers, 6 Inch .

$6.37 $0.30
Find Rare or Bargain Black Swan Memorabilia
Hey, Before You Fly Away...
---
Disclosure: This page generates income for authors based on affiliate relationships with our partners, including Amazon, Google and others.