Movember Mustaches Meet Mobile
by Flora
Movember mustaches raising awareness for prostate cancer.
Apps for Movember
Movember
The Movember movement has been gaining ground in the world's consciousness since 2004 when it began in Australia and New Zealand. The idea behind it was donning a mustache in the month of November could be a symbol for something that isn't often talked about--prostate cancer. Men shave their face clean on Shadow-een (known to the rest of the world as Halloween), and begin grooming their way to a mustache until the end of November. They ask for support and donations from their family and friends, which go to the Prostate Cancer Foundation and the LIVESTRONG foundation.
Like many other charitable causes, the folks at Movember have taken their work to a mobile platform. Movember Mobile is the official app that works with so-termed Mo Bros to help them increase donations and even give them tips on how to grow their 'stache.
MoInfo:
The MoInfo tab describes the original movement and what it's grown into. It also talks about the recipients of the money raised and what they do. If you're looking for some reasons why your friends should join you or if you just want to solidify your decision, it's the first piece of the app you should look into.
The homescreen of the app will tell you how much your supporters have donated. If you're on a team, it will also help you track your team's total donations and let you see how you're stacking up against the competition. If your office is participating, it's a great way to track your relative progress without being too obvious or intrusive into other people's mustachioed business. If you want more stats, click on the global tab, and see how your country is stacking up with the rest of the world.
MoSpace: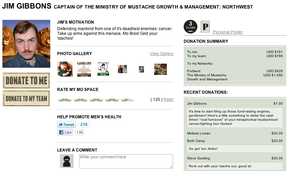 The MoSpace tab is your hub for all things mustache. You can view other members' pages and leave inspirational mustache photos and comments.
MoSpace is also a web portal available on your computer's browser, but the mobile version works just as well. The Movember website shows off the most active profiles. It's a great place to connect to other mustache enthusiasts and swap comments on your favorite brand and type of mustache wax.
The Movember app also has a space for you to send out invites to your friends and family to join your team. The pre-written email will have a description of the movement and an invitation to join in. Since you can have the Movember app all year round, it's best to send out invites in October. There are also pre-written emails inviting your circles to join you in supporting the cause.
MoFun:
MoFun's purpose is pretty self-explanatory. It shows you different types of mustaches for a little hirsute inspiration. It's a fun portion of the app, but you'll likely spend a few minutes on it and then move on.
For all the app does for you, though, it's definitely worth the download. If you're not participating in Movember this year, go ahead and download the app and hopefully it will remind you to participate in this great cause next year!
Updated: 03/07/2012, Flora
---
Disclosure: This page generates income for authors based on affiliate relationships with our partners, including Amazon, Google and others.