Nail Biting - Causes and Prevention
by Angel
Nail biting is a common practice among children, teens, and some adults. We have all found our fingers in our mouth at one time or another. But do you compulsively bite?
Nail biting affects up to 60% of children and 45% of teenagers according to recent studies.  We have
all bitten our nails at one point or another in our life.  Most of us for only a few minutes while sitting in a boring class or during an anxious moment.  There are the others that continue to bite their nails to the point of being compulsive about it.  Their nails are bitten down to the quick with cracked and torn cuticles.  These nail biters could be considered as having an impulse control disorder. Either way, nail biting can cause infections and more commonly can cause embarrassment for the biter himself. 
Reasons to Stop Biting Your Nails
Having nails that are bitten down to the quick can cause a lot of embarrassment for the nail biter.   Hands are something that many people look at while you are in conversation.  Especially if you talk with your hands.  It can cause embarrassment to the point of creating additional anxiety and stress which makes you bite them even more. 

If you bite your nails, your fingers are sore.  Cuticles are torn and skin is irritated. 

Bacteria is passed from your hands to your mouth.  There are germs under the fingernail and when you are biting your nails you are putting those germs in your mouth.  It is shown that people that bite their nails have more common colds than those that don't.
Top Reasons People Bite Their Nails
Being in a stressful situation

Being bored

Having nails that are poorly
manicured, ie.. hangnails.

Impulsive Control Disorder –
compulsive habit regardless of situation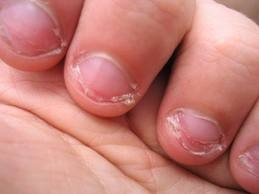 Some bite nails down in the quick to ...
Prevention
There are many different products available out there for nail biters.  Most are some sort of
colorless, odorless, nail polish that is applied to the nail.  The  taste is so bitter that it helps keep you from biting your nails.

Keep nails neatly manicured with  no hang nails.

Some more serious nail biters may require behavioral therapy to quit biting their nails.  It depends on how compulsive they are and if any of the other options work.

In some cases, using artificial nails can help the growth of your natural nail just by covering your  nail and keeping you from biting it.   Be careful as some artificial nail glue and acrylics weaken the natural nail and will not do much good after the artificial nails are removed. My experience has been that simple glue on nails are better than getting acrylic  nails.  The glued on nails can be removed every 7-10 days to reveal new nail growth each time. 

Once your natural nails start to grow out, get a manicure.  To see your nails looking so good should inspire you to not bite them.

Find something else to do with your hands.  Examples could include crocheting, drawing, writing etc  Keep your hands busy and out of your mouth.
Updated: 12/19/2011, Angel
---
Disclosure: This page generates income for authors based on affiliate relationships with our partners, including Amazon, Google and others.