Nicholas de Grandmaison
by bev-owens
A glimpse at the Russian born Canadian painter of Native American portraits.
The artist Nicholas de Grandmaison
Nicholas de Granmaison was born into nobility in Russia on the 24th of February in 1892. His lineage is of French and Russian ancestory. He studied art, history, music, and languages in Moscow until, at age 19, he entered the military. While he spent four years in a prisoner of war camp, he turned to art to help him through the tedious days of being confined.
After the war was over, de Grandmaison traveled to England and registered as an artist emigre. He preferred the life of an artist over the life of a military officer. In London he studied at Saint John's Wood School of Art and was able to use his connection to the aristocracy to get commissions to paint.
In 1923, Nicholas de Grandmaison traveled to Winnepeg, Canada where he painted portraits of children and worked for an engraver. In 1930 he had his first encounter with First Nations people (Native Americans) and a career was born.
The photo at the right is of a print from de Grandmaison's company Last Arrow  that I recently added to my own collection. The name of this wonderful "Grandfather" with the soleful eyes is Chief Coldweather or Makes-Cold-Weather. My print was graciously identified by Sonia de Grandmaison, the daughter of the artist. She tells me that Chief Coldwater was a Pikuni Blackfoot who resided in both Canada and Browning, Montana.
An Artist Records The History Of Natives Of North America
with pastel portraits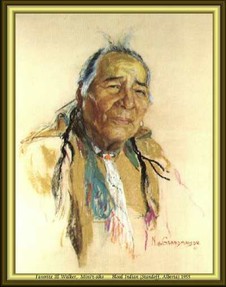 de Grandmaison dedicated his artistic career to recording the faces of the Indigenous Peoples of North America after his first trip to Manitoba around 1930. In Alberta he was introduced to the Sarcee, Blackfoot, Peigan, Stoney, and Blood Tribes and began to work his portrait magic in pastels. Nicholas de Grandmaison looked at the Plains Indians as the aristocrats of North America and felt compelled to share the rich history of a glorious people through their faces.
The image here to the left is of Favorite Ill Walker (Mini't-siko) from the Blood or Kainai in Alberta in 1955. The Kainai, are a part of the Blackfoot Confederacy.
A Peigan Portrait Of Bull Head
by N. de Grandmaison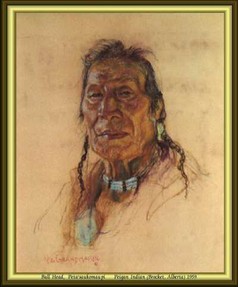 Bull Head was of the Peigan tradition in Alberta, Canada in 1959 when Nicholas de Grandmaison painted his portrait. The Peigans are a part of the Blackfoot Confederacy and live both in Canada and the United States today.
It is believed that the name Peigan is the English version of the word Apikuni which means "scabby hides" and would have referred to the imperfectly dressed robes of the women of this tradition. Bull Head's people are also sometimes referred to as the Pikuni.
Canadian Trademark of Nicholas de Grandmaison
Last Arrow LTD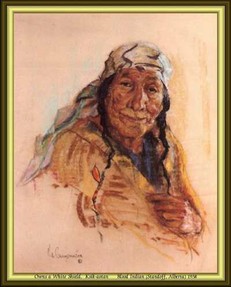 In 1960 Nicholas de Grandmaison put a trademark or copyright on his work under the name of Last Arrow LTD. It was a way for him to sell his pastel portraits and he began to reproduce some of his originals into prints to sell. He also used his trademark to obtain commissions for portraiture and other artistic commissions. I have one of the reproduction prints with his copyright information on it.
The image to the left is of Owns A White Shield of the Blood Tribe in 1938.
I want to own more of de Grandmaison's art
I am not an artist but I do so very much appreciate the gift that others share with us who are artistically challenged. I am not adept in the nuiances of the mediums used to create art. I would think that doing portraits in pastels would be rather difficult though.
What I love about Nicholas de Grandmaison's art is the fine detail. When you look at one of his portraits it almost seems to be alive. He created faces that have depth and soul. They look more like a color photograph than something that was drawn.
I so appreciate that de Grandmaison was able to document hundreds of men, women, and children who would never have been known to us otherwise. These were not people who would have commissioned a portrait. They were not, for the most part, famous. Yet, Nicholas de Grandmaison gave them respect and dignity by painting their faces for the world to know.
I will now be watching for other prints to become available to add to my new collection.
Image Credit: Nicholas de Grandmaison Portraits
Except for the first image on this page all Nicholas de Grandmaison images are from First People of America and Canada : Turtle Island a site about North American Indians. I thank them for generously allowing the use of the photos for educational purposes.
Choose a paper made for pastel art
de Grandmaison worked with a fine sandpaper
Using Pastels As His Medium For Art
Nicholas de Grandmaison preferred them over oils
What do you think of the portraits of Native Americans by Nicholas de Grandmaison?
---
Disclosure: This page generates income for authors based on affiliate relationships with our partners, including Amazon, Google and others.