Old Maps | Antique Maps | Historic Maps
Are you looking for a masculine or historic antiqued look for an office or a den? Using old maps on your walls will give it the look you are looking for.
Collecting and Admiring Old Maps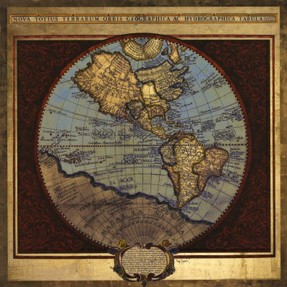 One of the most interesting items to hang on a wall is an antique vintage wall map.  You can hunt down and collect the genuine original antique wall map, or you can buy replicas of the antique wall maps that are a lot more affordable, and are in better shape than the originals.
Old maps are fascinating to begin with for anyone who has a love of history, travel, or antiques.  Antique maps make a wonderful accent for a dorm room, office, or den, especially if those spaces are occupied by a man.  Wall maps look inherently masculine, probably because most antique maps were created by men for men, for use in travel or searching for treasure.
In the collection of old map replicas on this page, you will find a range of maps from antique world maps, to pirate's treasure maps, to shipping maps.  If you want to learn more about the maps on this page or browse a much larger selection, click through to AllPosters to get dimensions, history, and framing information.
Antique British Isles Map
Antique Irish Panoramic Map
Old Maps are Not Just What is at Your Google Fingertips
Antique maps were hand drawn by a trained mapmaker
We are so used to the ease of finding out how to get somewhere today.  At a click of a button, we can get directions to most locations, and often we can take our map with us in the form of a GPS right in our car.
However, way before computers, electronics, and satellites, mapmakers had to draw maps the old fashioned way, by hand, from what they saw or explorers described to them.  Needless to say, many hand drawn maps were inaccurate, based on the belief systems of the time, yet they were still gorgeous works of art, and we can both enjoy them, and learn a lot from them.
Tenochtitlan, Capital City of Aztec Mexico, an Island Connected by Causeways to Land, c.1520
Antique Maps Were Drawn Based on Religious and Cultural Beliefs
As anyone who has taken American or European history will know, the men who discovered America thought at the time that the world was flat.  As you can see by browsing the collection of antique maps listed on this page and the pages attached to it, you can get an idea of what the map maker's belief of the world was, or at least his area of the world, when he drew the map.
There are old maps that go back to ancient times, some to cultures who developed outside of major historical centers of the world.  Some of the maps are very localized, like the map of Tenochtitlan above, while others show continents or globes.
It is obvious that the techniques of map making also developed over time.
Travel was Extremely Dangerous in Ancient Times,
Good maps were essential in order to stay alive.
While travel can still be dangerous today, it is not nearly as dangerous as it was before good communications.  Most long travel was oversea by ship, which meant that navigators were reliant on the best maps they could get.  Therefore, map makers had a very important job.
A map maker had to be educated both in map making techniques, and the geographical area of the map.  Then they had to be able to draw the area in a recognizeable fashion.  They were sort of an artist, encyclopedia, and librarian all at the same time.
---
Disclosure: This page generates income for authors based on affiliate relationships with our partners, including Amazon, Google and others.