Online Therapy Can Help Heal Bruised Relationships
Human beings live in relationships. Marriage, friendship, parent-child, many different relationships define and govern our lives.
Human beings live in relationships. Marriage, friendship, parent-child, many different relationships define and govern our lives. We build on them at least part of our own sense of identity. When we are very young, our sense of security and belonging depends largely on the presence of a strong and supportive parent. As we grow, we form friendships, begin to date, and may eventually find a life partner.
Our relationships bring us joy and a sense of fulfillment when they are healthy and all is going well. When they become troubled, the distress will often prompt us to seek the advice of friends or relatives. Although it may feel good to talk with someone who is close, this is not always a good idea. A better alternative is online therapy.
The other person in the relationship may feel betrayed if word gets back to him or her that you have talked to friends about your issues. This could cause unintended consequences. Resentment can build and further damage the bond between you and your partner or friend. Because of this, it is best not to talk to others without involving and making the other party aware that you are seeking advice.
A good alternative to seeking help informally is to engage in online therapy. This can be especially effective if the counselor can work with both people. By working with a professional counselor, it is possible to settle differences and repair the bond that has become strained.
Counseling Outside of Office Hours
It is not always possible to meet with a counselor because the office hours of counselors may coincide with your work schedule. An online therapy session can take place at any time of day or evening. This makes it easier for a couple or family to coordinate schedules and find a time that is workable.
Some people live in rural areas where it may not be easy to get to a counseling office. Others may not have transportation readily available, or may have mobility problems that make it a hardship to go to the counseling office. Being able to go online and discuss issues with a well-qualified professional counselor is a great alternative. By taking advantage of online counseling, it is possible to identify and resolve the issues that interfere with a close relationship.
Some individuals are less comfortable dealing with their relationship problems face-to-face with someone they don't know very well. They may be hesitant to say what is really bothering them and causing them to feel estranged from a loved one. A professional counselor can help this person come to terms with these issues in a safe, secure environment. Counseling is kept strictly confidential. The online counselor is an impartial listener who can help to heal the rift between two people.
Counseling when it is Needed
Relationship problems can be unpredictable. You don't know when a serious disagreement can make you feel estranged from your loved one. In the confusion and uncertainty of the moment, you might say things that you really didn't mean and that are harmful and hurtful to the other person.
Online therapy is available to help sort through the difficulties that caused the outburst and to help resolve hurt feelings. It is better to address these issues with professional help than to let the problems fester and grow. Online counseling is always available, whenever you need to reach out to an impartial person for immediate assistance.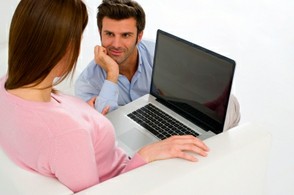 Online Therapy
Whether it is a friendship that has gone awry or the relationship with a life partner, a child or a parent, online counseling can help you to repair the rift and draw closer to the ones you love. Unlike office-based counseling, this help is always available and can take place in the comfort and security of your own home.
Mental Health & Therapy : How Do Your Emotions Affect Your Behaviors?
Tips Before You Get to the Counselor: Don't Let Your Emotions Bruise Your Relationships!
Get Book Smart on Healing Relationships
Would you be open to online therapy?
please share why in the guest comment area
---
Disclosure: This page generates income for authors based on affiliate relationships with our partners, including Amazon, Google and others.