Five Ways that Therapy Dogs Make the World a Better Place
Most people are familiar with the image of an assistance dog at the side of a person who is blind or has limited mobility. It helps them accomplish everyday tasks.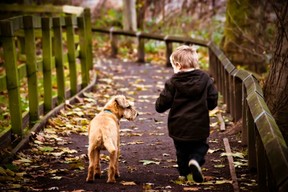 It has become increasingly common to see dogs aiding in human therapy and recovery in a wide variety of ways, with several organizations and private individuals training therapy dogs to help with a broad range of human problems.
Abused Children
Children often have difficulty trusting or connecting with strangers, and this is doubly the case for children who have suffered any form of abuse, neglect, or mistreatment. This can make it difficult for a therapist to persuade an abused child to discuss their experiences and feelings openly, in order to pursue treatment. The presence of a therapy dog can make this process much easier, because children typically view the dog as a comforting and non-judgmental presence. When training therapy dogs, a willingness to accept the sometimes clumsy affection of children is cultivated, making the dog a welcoming source of comfort.
Chemotherapy Patients
Therapy dogs are often useful for patients receiving chemotherapy or other difficult and painful treatments. The calming and relaxing presence of a therapy dog can improve a patient's morale, ease stress and anxiety, and even lessen chronic pain. Therapeutic treatments like chemotherapy take a toll on the patient's physical and mental well-being, and regular contact with a therapy dog can help patients remain more optimistic and cope more readily with the side effects of their treatment.
Veterans with Wartime Trauma
One of the earliest examples of dogs serving as therapy animals comes from World War II, when a patient's pet was brought to him in the hospital and interacted with other wounded soldiers. As doctors learn more about the psychological, as well as physical, traumas that can effect soldiers in the aftermath of combat, therapy dogs have become more useful in helping returning veterans and their families cope with the stresses they have experienced – whether resulting from a veteran's trauma, or the separation stress experienced by the family at home.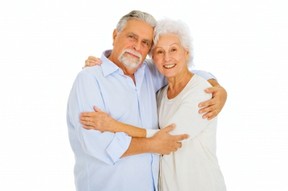 Elderly Patients in Nursing Homes
Therapy dogs can have a profound impact on the health and well-being of older patients. In training therapy dogs, the animals are taught to be a calming presence, ignoring noise and commotion and remaining with the patient. Interacting with a therapy dog has been shown to help lower blood pressure and relieve depression. Therapy dogs also provide an important source of relaxing recreation; interacting with these calm, friendly dogs can make patients happier. Particularly for elderly patients without family, or whose families do not visit frequently, interacting with therapy dogs can be a boon on many levels.
Patients in Psychiatric Institutions
The ability of therapy dogs to ease anxiety in patients finds an important application in psychiatric hospitals. Animal-assisted therapy has been demonstrated to be highly effective for institutionalized patients in reducing anxiety and distress, when compared to traditional therapy techniques. Patients with mood disorders or psychotic disorders respond well to therapy dogs and other animals, possibly because interacting with a dog does not carry the same level of social demands that human interaction does. Patients experiencing less anxiety are more likely to be cooperative and respond well to other forms of treatment, making animal-assisted therapy an invaluable element of many treatment programs.
In these and other arenas, therapy dogs play an important role in the treatment and recovery of human patients. Training therapy dogs involves acclimatizing the animal to accept strangers, rough or clumsy handling, loud noises and crowds, and learning to be calm, focused, obedient, and gently affectionate.
Have you had any experience with therapy dogs? Share your thoughts below.
Great Resources
Books on Therapy Dogs
---
Disclosure: This page generates income for authors based on affiliate relationships with our partners, including Amazon, Google and others.