Oreck Ultra Multi-Purpose Carpet Cleaner
by Angel
A review of the Oreck Ultra Multi-Purpose Carpet Cleaner.
The Oreck Multi-Purpose Carpet Cleaner
Oreck has been around for a long time and makes great products. I have only heard about their products from other people over the years until recently. I was introduced to the Oreck Multi-Purpose Machine just before Christmas by my sister-in-law. She had just purchased one and cleaned every carpet in her home with it. I was amazed at how clean her carpets were since I had seen them previously. I had to get this machine and try it on my carpets.  
Previous Carpet Cleaning Experiences
This is probably a very familiar story for most of you. You get out the Carpet Cleaner and you spend hours cleaning and dumping dirty water. It looks like it is cleaning your carpets since the water is so dirty. I am sure it is cleaning them at the moment. However, within no time the spots start coming back and your carpet is in the same condition it was. It is frustrating to see those spots and dirty carpet after you spent so much time cleaning. What is worse is actually paying for Stanley Steamer to come clean your carpets and have the spots come right back within a week. I used them to clean the carpets in our home just before moving out and they could not even get our carpets completely clean. None of my previous carpet cleaning experiences have been positive. They do an okay job at getting the carpets clean and stay that way for a short period of time.
The Best Carpet Cleaner
I was not so sure that the Oreck Multi-purpose machine was actually going to get my carpets clean since it was a dry cleaning system. There is no water to be used. You squirt a soil lifter onto the carpet and then sprinkle this carpet powder all over. Turn the machine on and let it clean the carpet. IT REALLY WORKS. My carpets have never been so clean. The smell of the powder is so fresh and all the stains and soiled areas were completely gone in no time. I have to say that I was amazed. We have four children that spill everything on our carpets and two dogs that don't make it outside sometimes. Weeks later the stains have not come back.  I now have a solution and I want to tell everyone about it. Buy an Oreck XL Multi-purpose Cleaning Machine if you need a good carpet cleaner. You will not be disappointed.   
Before and After Photos
| | |
| --- | --- |
| Before | After |
Cleans More Than Carpets
There is more to this story. This machine is called a multi-purpose machine because it sands, refinishes, strips, scrubs, waxes, and polishes all floor surfaces. This is in addition to deep cleaning your carpets. I have not tried any of these other functions but plan to very soon. I will come back and update this article with my review of its other functions.
This machine can do all of the following:
Remove grout stains on tile floors
Bring back luster in hardwood floors
Refinish hardwood floors
Remove oil and grease from concrete
Clean and shine marble floors
Deep clean carpets
The brush / pad rotates in a random orbit so that it does not leave brush marks in your carpet, gouges or scratches in your floor.
All of the chemicals used are safe for children and pets.
I have read every review about this machine on Amazon. None of them are negative. The only thing close to negative that I saw was in reference to the brush getting stuck on the machine and they could not get it off. This particular machine has a 10 Year Warranty with 1 annual tune-up included each year. All this person needed to do was take their machine to the closest Oreck store and get the brush off. This warranty is great along with the tune-ups being included.
The machine is a little expensive compared to a carpet shampoo machine from Target or Walmart. I would say it is approximately $100 more than what you would buy a good shampooer for. It is worth every single penny of it. You really can not beat it with the 10 year warranty and tune-ups being included.   
Pieces, Parts and More Happiness
There are two attachments that can be used to clean carpets. A black brush and a terry cloth bonnet or pad. It is suggested to use the terry cloth bonnet on carpets with low pile and the brush on thicker carpets. I have used both and they work great. The pad does very well on my low pile carpets while the brush does just as well on my thicker carpets. They are easy to take off and put on too.
The machine is so easy to use. All you have to do is hold on to the machine once you turn it on. You don't push or pull it. It is orbiting around while you are holding on to it.
You do need to purchase the brushes, terry cloth bonnet, and cleaning supplies separately. It does not come with any of this as standard. You can purchase specific kits for hard wood floors, tile floors, and the carpeted floor kit.
This is by far the best carpet cleaning system I have ever used or seen. If you are in the market for a new carpet cleaner you have to get the Oreck XL Multi-purpose Cleaner. You will not regret this purchase.     
Attachments and Accessories
Terry Cloth Bonnet shown on Bottom View in Picture Above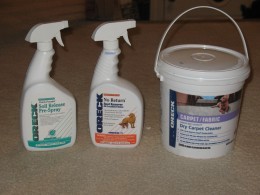 Cleaning Supplies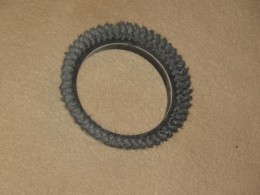 Black Cleaning Brush
Buy Your Oreck Floor Cleaner Right Here
Updated: 02/04/2012, Angel
---
Disclosure: This page generates income for authors based on affiliate relationships with our partners, including Amazon, Google and others.