Outdoor Patio Gazebos: How to Pick the Right One
by gnewby
Your ultimate outdoor patio gazebo buying guide that discusses patio gazebo types, DIY patio gazebo choices, and custom patio gazebos.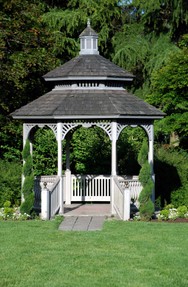 You spend a bunch of time in that fantastic backyard that you spent tons of resources landscaping and decorating, but it's missing just one more thing: a patio gazebo. All that nice deck furniture on that gorgeous patio you installed yourself isn't covered by natural shade, and it'll take hundreds of years for that shade tree you just planted to grow up and throw any kind of useful shade on your patio. Instead of baking your guests in the sun as they sit at your patio bar, here are a few options you should consider when you go out to buy an outdoor patio gazebo.
Outdoor Patio Gazebo Planning Questions
When it comes to choosing which patio gazebo works for your yard, there are several things you need to ask yourself:
Do you want a hardtop gazebo or a more tent-like structure? Metal frame or wood frame?
How will the look fit in with the rest of your yard?
Do you want it to be temporary to pull out for special occasions or are you looking for something more permanent?
Will you try to build it yourself or hire a contractor to custom build your patio gazebo?
How big does it need to be?
What does your weather dictate?
And, perhaps, most importantly, what does your POCKETBOOK dictate?
Patio Gazebo Types
Let's take a look at some of the different patio gazebos. While looking at some of the pros and cons for the different patio gazebo types, be sure to keep in mind what you want yours for and how each type may work or not work for your particular situation.
Wood patio gazebos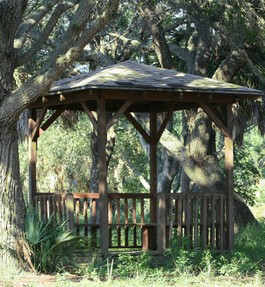 Most often, when someone says gazebo, you instantly think of the wood gazebo. These are usually the most common and are very flexible when it comes to the different applications. Western red cedar is typically the wood of choice for these types of patio gazebos as it naturally resists insects and rot and doesn't need to be treated with chemicals. You will, however, need to seal this kind of wood but, if done properly, it will last for decades. Wood gazebo plans are all over the internet, and a competent do-it-yourselfer can build a patio gazebo for just the cost of materials and time spent, but you can find gazebo kits online that require only a minimal amount of assembly. A more costly option would be to hire a contractor to build your custom patio gazebo. It might be tough for a lot of people to justify the expense, but the major upside is the same with any other custom job – you end up with exactly what you want.
Concrete/stone patio gazebos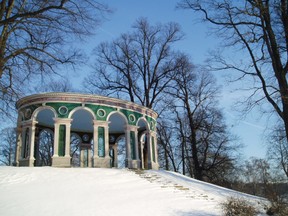 Another of the more permanent patio gazebo styles would be a concrete or stone gazebo. If constructed properly, these will last much longer than the more common wood patio gazebo, but construction and installation can be very costly. A concrete patio gazebo probably isn't what you have in mind for your everyday use, but if it matches the architecture of your house and you intend to live in that house for several more years, and, more importantly, you have the budget for it, this may be the way to go.
Metal frame with Cloth Canopy Gazebos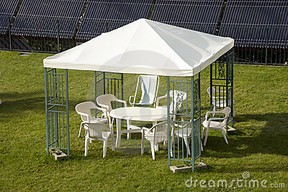 Many people looking to put the finishing touches on their backyard oasis choose to go this route with their patio gazebo. It's movable, less permanent and less expensive than your other options. They have kits that are very nice looking, so you don't have to sacrifice the ambiance of your yard to stay within a smaller budget. And, maybe the biggest plus, many of these kits are easy to find at any of your local big-box retail store. The cloth canopies don't usually last as long as your wood or stone alternatives. By the same token, if you wake up one day and decide you want a different look, replacement canopies are widely available online in multiple colors, so this option is much less restrictive once it's already installed in your yard.
Tent/portable Patio Gazebos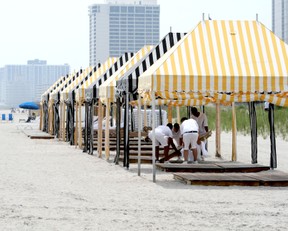 Maybe you need your patio gazebo for occasional or random events. Or maybe you need some kind of structure to take to the park or beach to give you some shade while you enjoy the outdoors. There's a gazebo for all of that. Many tent manufacturers make patio gazebo-like tent structures. They're much less permanent and a little easier to transport than your metal frame with cloth top patio gazebo. They're good to take on the road or use at home, but they're not really meant to stay up for longer than a few days or so, especially if the wind and weather get a little nasty where you plan to use it. Use caution though! If you need a grill gazebo or a structure for outdoor cooking, these tent gazebos are NOT your best option!
Screened-in/Glass Enclosure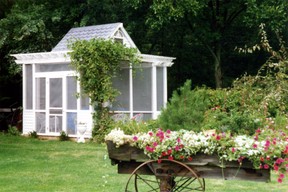 If you have a spa or hot tub on your patio or need an attractive garden shed alternative, an enclosed patio gazebo may be the way to go. They have walls made of screens or glass, and some models allow for those walls to open, allowing you to have the best of both worlds. This will also allow you to enjoy a little bit of privacy for your hot tub. Even those without a spa or hot tub may enjoy this type of gazebo. It can add another room to your house without all the added cost of full-on construction. These patio gazebos can be a little more expensive than some of the more traditional wooden gazebos, but you can get a nice one installed for a lot less money than a stone or concrete patio gazebo.
Find the Right Patio Gazebo for Sale for You
Parts of this patio gazebo online guide may seem a little obvious, but sometimes it helps to have a list of things to think about in front of you to make sure all your bases are covered. I've attempted to cover most of the questions and concerns you might come across when looking for patio gazebos online or in your favorite retail store, but if you think of something I've neglected to mention, I'd like to hear about it in the comments below!
Patio Gazebos for Sale Online
---
Disclosure: This page generates income for authors based on affiliate relationships with our partners, including Amazon, Google and others.