Packing Efficiently: Holiday Suitcase Solutions
by wrylilt
If you're planning a trip this Christmas, it's important that you make the best use of your packing space - and don't over pack!
Tip 1: Write a List
Before you get into serious packing (and strewing clothes everywhere), sit down and write a list. Divide it up into sections, including clothes, toiletaries, electronics (chargers, phones etc) and important documents. 
Fill up each section one at a time - walking into the room related to the section (such as the bathrooom for toiletries) can help you remember what you'll need.
You can update the list as you start packing, and it will give you reminders of what you're forgetting as well.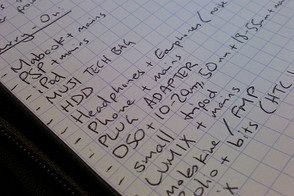 A List Can Keep You Organized And Mak...
Get Organized Outside Your Suitcase
Tip 2: Don't Pack as you Go
Although it might be tempting to just start throwing everything into your suitcase as you grab it, it can end up costing you more time and making your forget something. 
Instead, lay all the items out on your bed or floor. Once you've got all the things you know you'll need (and you've checked your list!) then you can start packing them into your suitcase. That way you'll be able to keep things more organized and will be more likely to fit more in.
Tip 3: Plan Your Outfits
Plan your outfits so you don't end up with any "orphan clothes" - pieces that don't go with anything else in your suitcase.
These types of extras just take up space anyway.
To make it easier, try following a single color theme or pack only skirts and pants that go with all the tops you're taking.
Try and plan for all types of situations as well - even if it's just one warm jacket (if  you're going somewhere hot) or one pair of shorts (if you're going somewhere cool.)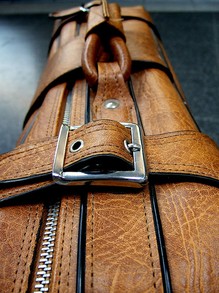 Make Sure You Don't Forget Anything
Tip 4: Pack To Avoid Damage
Although rolling everything up into balls may seem like an easy solution to fit everything in, some clothes won't react well to such treatment. Instead, lie delicate clothing flat at the bottom of your suitcase and then place sturdier clothes, rolled, on top. Fit chunky items like shoes and toiletries along the sides of the suitcase.
Tip 5: Choose Your Shoes
Shoes take up a lot of space, and you don't want to be stuck with a pair that isn't suitable or doesn't match an outfit. To choose the right shoes:
Go with neutral colors that match all your outfits, such as silver, black or brown.
Three pairs of shoes is a good number - a casual pair (or flip flops), nicer dress shoes and something for walking or exercise to protect your feet when you'll be travelling.
Tip 6: Items that Leak
When packing toiletries, it's important to make sure they're placed correctly and properly closed so that you don't open the bag to find sticky goo over everything! If you'll be travelling by plane or bus, your bag could be turned upside down or roughly knocked, so just placing them upright might not be the best position.
Try and take new packets of anything small and likely to leak, and use them before coming home.
Pressurised plane cabins can make some things pop open and leak. To avoid this, squeeze air out of containers before sealing.
Use small, sealable plastic bags to store things that may cause a mess.
---
Disclosure: This page generates income for authors based on affiliate relationships with our partners, including Amazon, Google and others.