Pinhole Spectacles
by Ralpapajan
This simple, effective method of helping improve your vision really works. It is cheap and well worth trying out. Wear a specially made pair of spectacles for 15 minutes a day.
A walk down memory lane
Remembering our past - recalling when I wore corrective spectacles

This is the view from our table as we shared lunch at Cookham in Berkshire in Southern England. A meal of piri-piri chicken to remind us of our trips to Mozambique in our youth.
I met my two oldest friends yesterday when they visited this part of England on the final leg of their five month visit to Europe and New York.  
Dave and I were inseparable when we met at high school in January 1955 in Salisbury, Rhodesia, as Harare, Zimbabwe as it was then known.  I left school at 16 whilst he went on to University.  He slipped through the Call-up net due to his attending University whilst I was drafted into the Royal Rhodesia Regiment as a rifleman.  He became a forensic chemist and I went into insurance. 
Every Friday evening after Varsity, Dave and I met, usually at my flat, as apartments were called in Rhodesia, and from there went to have a quiet beer or two or three at a hotel called the George after Britain's King's George VI near the capital.  There was a band playing at the hotel but we went mainly to listen to the trumpeter who starred in the band.  Our table for two was always reserved for us in the lounge and we took our seats at around half past seven. We never ordered and our well tipped waiter kept us supplied with Lion Lagers as was appropriate throughout the evening.
As the band played its closing number at 11h30 we made our way next door to the High Chaparral, a Greek owned Steak House, where our usual table was reserved and our usual Steak, Eggs Chips and salad was delivered within minutes of our taking our seats.  This occasionally upset other diners who had ordered well before us but the owner just shrugged his shoulders and carried on regardless with whatever he had been doing.  The meal was washed down by the last beer of the day.
This was before either Dave or I were married. When that event occurred our carefree bachelor days were numbered. All such hedonistic pleasures were truncated by our adoring spouses but we kept up our friendship and brought in the wives to share our lives.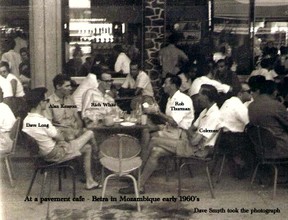 Since around 1959 we had shared many holidays and weekend breaks in Beira in Mozambique with three other friends and in many ways yesterday was sad for we realised that the two of us were the only survivors of the original five.  The last one died only a couple of months ago after getting pneumonia. (The one labelled Coleman is a young chap who rode from Salisbury to Beira on a Vespa Scooter - sailed to Cape Town and then rode his scooter back up to Salisbury - a couple of thousand miles!)
 The Army had been a pivotal point in my life in many ways.  One of them was that my eyesight was damaged when a shaft of sun light was reflected into my left eye from a bright window.  From that time at age 19 until three years ago I had to wear prescription spectacle.  Both Dave and Pat noticed that now, the first time in four years that we had met, I no longer wear them. Dave has for as long as I have known him worn spectacles.  Pat and Dave moved to Australia before Zimbabwean independence and I moved to South Africa.  Since then we have kept up a long distance relationship and have only met a few times over the years..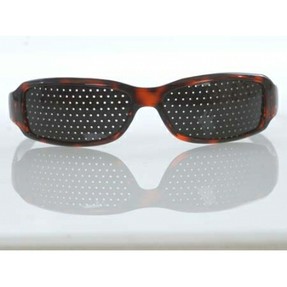 When we got around to my lack of spectacles I told them the story of how it came about.  I was in Belize a few years ago and travelled from Belize City to Corozal near the Mexican border by bus.  Bus travel in Belize merits an article all to itself but that is for another day.  Suffice to say that I asked the driver to drop me off near the Hotel Maya near the Bay of Corozal. In Belize there are no bus stops per se and the bus stops where you want it to.  
I arrived at midday and gathered up my case and laptop bag, and took off my photo greys.  The hotel owner was waiting for me and I crossed the road to greet her. As I put my specs back on I realised one lens was missing. 
A month later on I was back in England and went to the optician to get a replacement lens.  They refused to let me have one and we had a row.  I was so furious that I vowed to correct my eyesight without lenses.  
It was during my search on the internet that I came across the Pinholes, which I had first heard of in South Africa and dismissed.  I bought a pair from J D Harris in England and, rather sceptically, tried them.  The result was immediate in that I was able to focus on the TV and tiny print on bottle labels through the holes. 
The brochure said that I should wear them for only fifteen minutes a day and I stuck to that. At first there was no improvement but suddenly, after two weeks I noticed a change.  In fact, I wore my pair of clear prescriptions and found that I could hardly see through them.  
That was three years ago now and I do not even know where my old specs are!
I bought mine in England ~ I know they are the goods ~ here are a few opportunities to get them in America
Why not look at J.D Harris for full information if you need more detail. See the body of the Article
---
Disclosure: This page generates income for authors based on affiliate relationships with our partners, including Amazon, Google and others.