Pitta Bread Pizzas: Tomato Sauce Recipe and Topping Ideas
Pitta bread makes an excellent ready made base for pizza. This page features a simple pizza tomato sauce recipe and a number of tasty pizza topping suggestions.
Pitta Bread Pizza Toppings Can Be Created to Suit All Tastes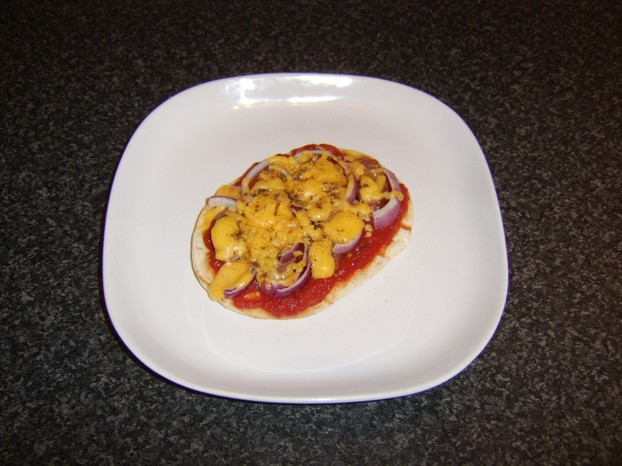 Sausage and red onion pitta bread pizza - just one of the recipes on this page
What is Pitta Bread?
(Also known as Pita bread)
Pitta bread is a very simple flat bread, common to and originating in the Mediterranean and Middle Eastern countries. It is named for the pocket in the centre of the bread, caused by steam while it is being prepared. It is for this reason that pitta bread is normally reheated, cut open on one side only and stuffed with other foodstuffs, as when making donner kebabs.
Pitta bread, however, like most simple breads, is as versatile as our imagination allows it to be and truly does make the perfect base for miniature, quick and easy to prepare pizzas. This page begins by looking at a recipe for a very simple, tomato based sauce for pitta bread pizza (or any pizza!) and proceeds with topping ideas and full cooking instructions to hopefully add a few more lunch ideas to your recipe arsenal.
How to Make Tomato Sauce for Pitta Bread Pizza
This quantity should make four pitta bread pizzas
This tomato sauce is about as simple as it gets. Take one 14oz can of chopped tomatoes in tomato juice and empty it in to a saucepan. Add salt, freshly ground black pepper, half a teaspoon of dried basil and one large, grated or crushed clove of garlic. Stir well with a wooden spoon and heat until the mixture begins to simmer.
At this stage, reduce the heat to simmer the tomato sauce as gently as possible for fifteen to twenty minutes, stirring frequently. It is ready when a lush, thick sauce has formed. Remove the pan from the heat and leave the sauce to cool completely. It can then be used to make pizzas immediately or refrigerated in a covered container for up to a couple of days.
Important note: It is absolutely imperative that you allow the tomato sauce to cool completely before attempting to make your pizzas. If you attempt to use warm sauce, it will soak in to your pitta bread and leave you to serve a soggy mess that has very little resemblance to any pizza. If you do choose still to eat it, you will have to do so with a spoon...
A Word about Mozzarella
It is important to buy the right type!
Although pizzas can be and are made with many different types of cheese, mozzarella is one of the most common and popular. When you are buying mozzarella cheese to top a pizza, always ensure that you buy specific pizza mozzarella cheese, which is fairly firm and sold in blocks. The soft balls of mozzarella sold in brine are not suitable for making pizza.
Green Bell Pepper and Black Olive Pitta Bread Pizza
Green bell pepper and black olive pitta bread pizza ready to serve
Ingredients
1 pitta bread
2 heaped tsp tomato sauce
¼ green bell pepper
5 or 6 pitted black olives
2oz pizza mozzarella cheese
Method
In all of the recipes on this site, the procedure will begin by taking two heaped teaspoons of the cooled tomato sauce and spreading it evenly on the top of the pitta bread. Leave a narrow gap around the edge to form a mini crust and prevent the sauce spilling over in to the baking tray.
Slice the green bell pepper to a thickness of around a quarter inch. Cut the black olives in half, lengthways. The mozzarella cheese should be sliced and chopped in to small strips around one inch by an eighth of an inch.
Lay the green bell pepper strips and halved black olives on top of the tomato sauce as shown in the image. Top with the mozzarella cheese strips. You may wish to add black pepper at this stage but it is much better to do so after the pizza is cooked.
The pizza should now be placed on a baking tray or sheet and in to your oven, preheated to 375F/190C/Gas Mark 5 for ten to twelve minutes, dependant upon how crisp you like your base. Remove the tray from the oven wearing oven protecting gloves and use a fish turner to plate your pizza for service.
Tomato and Mushroom Mixed Cheese Pitta Bread Pizza
A simple recipe but still a classic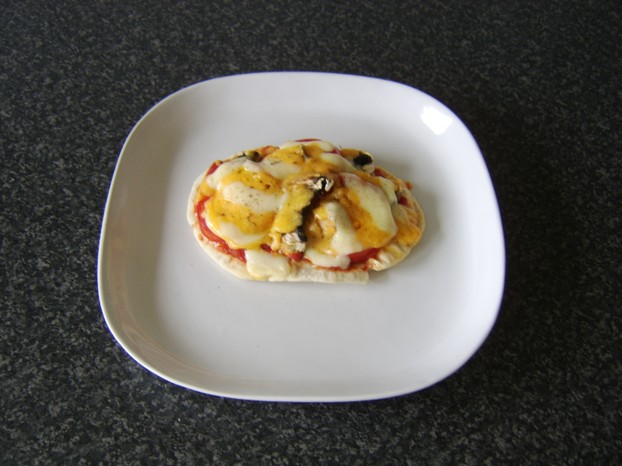 Tomato and mushroom is a very simple but classic pizza combination
Ingredients
1 pitta bread
2 heaped tsp tomato sauce
½ medium tomato
1 medium closed cup mushroom
1oz pizza mozzarella cheese
1oz cheddar cheese
Method
The tomato sauce is spread over the pitta bread. The tomato and mushroom are both finely sliced before being arranged alternately on top of the tomato sauce.
The mozzarella is chopped as before, while the cheddar is coarsely grated. The cheddar is scattered on the pitta bread first, followed by the mozzarella.
Again allow ten to twelve minutes in a preheated oven to 375F/190C/Gas Mark 5 before serving the pizza seasoned with freshly ground black pepper.
How Many Pizza Recipes Can You Handle?
Take a look at some of these super pizza recipe books!
Beef Link Sausage and Red Onion Pitta Bread Pizza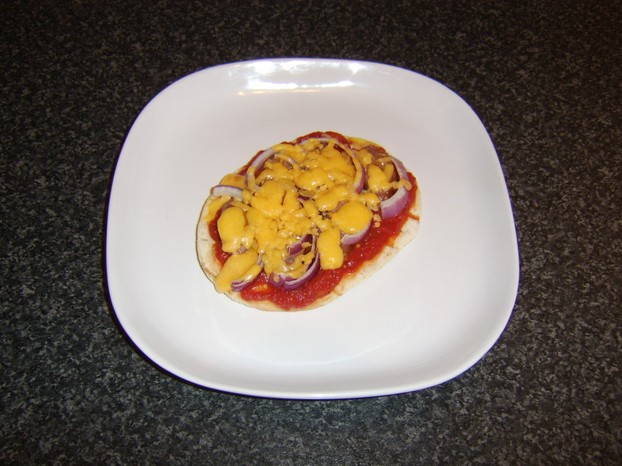 Sliced beef link sausages and red onion are topped with cheddar cheese
Ingredients
1 pitta bread
2 heaped tsp tomato sauce
2 beef link sausages
¼ red onion
2oz cheddar cheese
Method
The beef sausages firstly have to be cooked by slowly shallow frying them in a little vegetable oil. Do not prick them, simply cook them very slowly for around twenty minutes, turning occasionally. They should not burst if they are cooked on a low enough heat. It is cooking them too quickly that causes the skins top burst. Plate the sausages, cover them and allow them a half hour to cool.
Slice the sausages at a forty-five degree angle. This affords larger, more attractive slices. Slice the onion and separate in to strands. Arrange both on top of the tomato sauce spread pitta bread. You may not require all of the sausage meat - any excess should be considered chef's privileges...
The cheddar cheese should be grated and very carefully spread over the pitta bread pizza last of all, before placing it on the baking tray and in to the preheated oven for ten to twelve minutes.
Freshly ground black pepper at the time of service is virtually an essential for this pitta bread pizza, though it is always a good idea to leave the ultimate decision to the diners.
Yellow Bell Pepper, Tomato and Basil Pitta Bread Pizza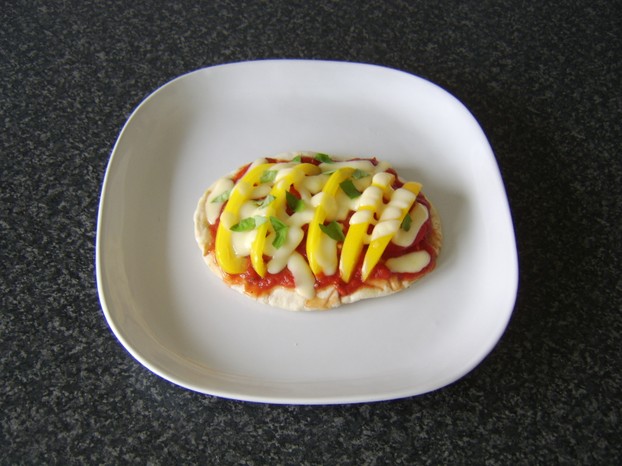 A clean and simple yellow pepper and tomato herb pizza
Ingredients
1 pitta bread
2 heaped tsp tomato sauce
¼ yellow bell pepper
½ medium tomato
2oz mozzarella cheese
Method
This is a very clean tasting and simple pitta bread pizza recipe. Perhaps you may wish to try an option like this until you are used to the concept? It is simply a few slices of tomato and yellow bell pepper, topped with mozzarella cheese, prior to being baked for the usual ten to twelve minutes, at the 375F/190C/Gas Mark 5 temperature in the preheated oven.
The torn basil leaves are optional and are added after the pitta bread pizza is cooked but they really do add a final and special touch to this topping option. If you are not a great fan of basil, try simple parsley or perhaps that great Italian herb, oregano.
Kids and Ketchup - Get them Involved!
Pitta bread pizzas are an excellent way to introduce children to cooking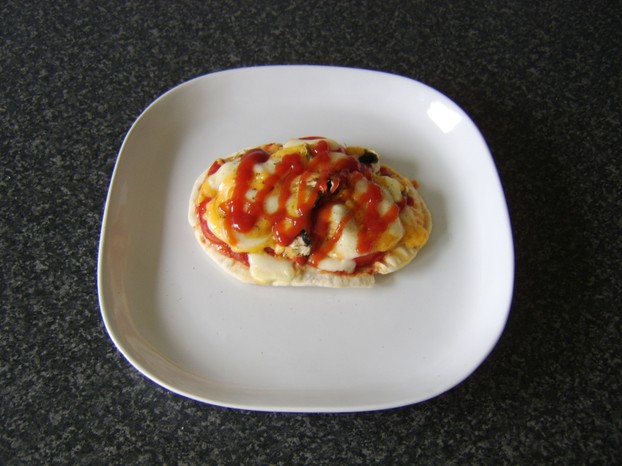 There's a lot worse in the world than ketchup...
There can be little doubt that pitta bread pizzas will appeal to children, so why not get them involved in the preparation? Obviously, keep them away from the sharp knives and hot pans or trays but encourage them to choose their own toppings and help lay them in place. It is an excellent and fun way to help kids learn to eat proper food, rather than the fast food, "Substances," they may by society have been conditioned to prefer.
Ketchup on a pitta bread pizza? Not every time but it is enjoyable on occasion - this author certainly enjoyed the preparation pictured above!
---
Disclosure: This page generates income for authors based on affiliate relationships with our partners, including Amazon, Google and others.