Low Carb Ham and Egg Pie
Easy recipe with negligible carb count. Eat hot or cold with salad and a zingy dressing. Adapt anyway you like.
Easy and Quick for Low Carbers on the Go
Crustless Ham & Egg Pie
This meal has evolved from a basic pancake recipe that I discovered in "Natural Health & Weight Loss" by Barry Groves. I make the pancakes almost daily for sandwiches, pizza bases and many other quick and easy meals. This one has slightly more ingredients and is delicious for breakfast or lunch served with salad. It is equally tasty eaten cold and is ideal for packed lunches and picnics.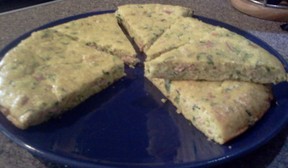 Ingredients for Low Carbohydrate Ham & Egg Pie
Serves 4 or 2 hungry people
Ingredients
4 tablespoons almond flour/ground almonds
4 tablespoons of parmesan cheese (any hard cheese will work) grated/shredded
4 medium eggs
2 ounces (50 grams) of ham, chopped
1 tablespoon of chives chopped
1 tablespoon of parsl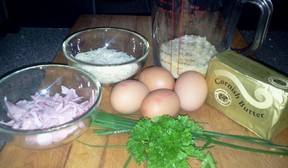 ey chopped
Salt and pepper to taste
1/2 ounce butter for frying
Ham and Egg Pie - Method
Method
Preheat oven to 350F/180C/Gas Mark 4
Mix all the ingredients together.
Heat pan well on top of stove before adding butter.
When butter melted and bubbling tip mixture into pan and cook for a few minutes.
Transfer to oven and bake for approximately 15 minutes until golden.
Allow to cool slightly. Remove from pan and cut into slices.
Eat.
Carbs: negligible. Calories: who cares.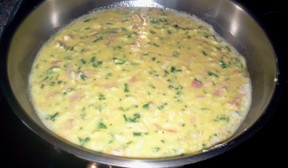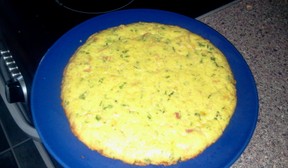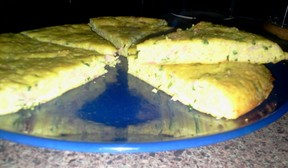 Natural Health & Weight Loss
Barry Groves
Barry Groves' Basic Pancake Recipe:
Barry Groves' basic recipe:
1 tablespoon of almond flour/ground almonds
1 tablespoon grated parmesan cheese
1 large egg.
Mix and fry.
Why Do We Eat Low Carb?
My partner and I endeavor to stick to a low carbohydrate way of eating because last year he was diagnosed as being pre-diabetic and after a few weeks of going LC, he was declared clear. I find I have far more energy and also that eating low carb has cured my minor but chronic back pain.
"Natural Health & Weight Loss" has many other useful low carbohydrate recipes as well as a huge amount of information backed by scientific evidence about the benefits of low-carb eating. Barry recommends a daily intake of around 60 grams of carbs per day, which leaves a lot of scope for such deliciousness as chocolate mousse!
For more suggestions and variations see Low Carb Pancake Recipe
---
Disclosure: This page generates income for authors based on affiliate relationships with our partners, including Amazon, Google and others.