Portrait Photography Tips
by GonnaFly
Learn how to take better portrait photos with these portrait photography tips. Also includes photos to illustrate each tip.
Tips for taking better portrait photographs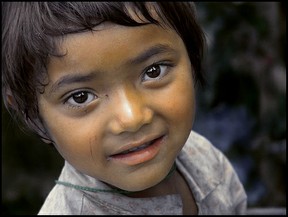 There are really no hard and fast rules with portrait photography. It depends on the effect you want. However, there are some general rules for better portraits. A wedding photographer friend gave these portrait photography tips at one of our homeschooling co-op meetings. 
Lighting is the most important thing to consider when taking any photo. A good portrait will always draw your eyes to the person in the photograph (particularly to his eyes). But your compostion is also important. These portrait photography tips will focus on these two areas. I am including some fabulous photos from the creative commons area of Flickr to illustrate these tips better. Please click on the thumbnail pictures to see bigger versions.
The image above is from Sukanto Debnath on Flickr.
~ Portrait Photography Tip ~

Avoid having the face in shadows
* When shooting indoors, get your subject to look towards natural light.
* Portrait photos against a window
If you are inside taking a photo up against a window in the day time, always use a flash. Make sure that you are on a slight angle to the window to avoid the flash reflecting off the window.
* Portrait photographs against a bright background
When you are taking a photo outside, try to avoid taking photos in the shade where there is a bright background. If you can't avoid it, then use a flash.
* Avoid direct sunlight on the face
It's best to avoid direct sunlight on the face to avoid shadows - from hats, nearby trees or buildings, or even the subject's nose. When you can't avoid these shadows, it is usually best to use a fill-flash, although sometimes you can make it work without.
~ Portrait Photography Tip ~

Use lighting so as to get an eye sparkle
* Sparkle in the eyes
Try to get a sparkle of light in the eyes of your subject. A sparkle in the eyes brightens up the whole photo and draws attention to the eyes. This is achieved by having your subject look towards the light.
~ Portrait Photography Tip ~

Try backlighting
* Use backlighting
You can get a good effect by placing the sun or light source behind the subject (backlighting), however you will always need to use a flash. It's very important to make sure that the sun is NOT shining into the lens or it may spoil the photo and may damage the lens. You might have to shade the lens with your hand.
~ Portrait Photography Tip ~

Watch backgrounds
* Avoid busy backgrounds
Busy (cluttered) backgrounds and busy clothes  take the eye away from the subject. So avoid using them unless they add to the photo. Plainer backgrounds and clothes will make your subject stand out. Take special care to place any items in the background in the right position. You probably don't want any poles or trees growing out of the top of your subject's head!
* Blur the background
Blurring the background will make your subject stand out more than when the background is sharp. You can do this by zooming in – the closer the zoom, the blurrier the background will be.
~ Portrait Photography Tip ~

Get your subject to look into the photo
* Look into the frame, not out of it
When taking a photo of your subject looking to the side, it's best to leave some space to the side that they are facing. They should be looking into the photo and not off the side.
~ Portrait Photography Tip ~

Move your subjects close together
* More than one subject
When taking pictures of two or more people together, it looks much better to move them in, nice and close!
~ Portrait Photography Tip ~

Don't use a wide angle lens
* Avoid using a wide angle lens for portrait photography
Wide angle (35mm) lenses tend to distort the face and make the nose look bigger. Try to avoid this by zooming to at least 50mm ... unless this is the look you want. Even though wide angle doesn't give the face a realistic look, you can use it to give a good effect, especially on babies and baby animals.
~ Portrait Photography Tip ~

Practice makes perfect!
---
Disclosure: This page generates income for authors based on affiliate relationships with our partners, including Amazon, Google and others.