Primitive, Contemporary Folk Art for the Stout Heart
by Margaret
When your home has to stand out in a crowd, out in the woods we rely on primitive art, folk art, and contemporary art that is weather ready!
Primitive Art from the Woods!
Contemporary Art meets Primitive Art
One of the first things a city slicker notices about living in the woods is the amazing and funny contemporary art and primitive art that is seemingly everywhere!
Just when you least expect it, driving down a road and BAM!   THERE is a piece of folk art of some sort, ready for you to take notice.
Living out in the woods takes a special type of people.  Here we have renegades, fugitives from the demands of city life, misfits, sportsmen, and hardy folk.  Amongst this crowd are folks who use art to denote their location, identify their property, and basically give visitors and friends a unique landmark to find them by.
The most important requirement of these primitive folk art creations is that they are sturdy in all weather.  
Primitive Art can be a Sign!
Multi-Use Folk Art!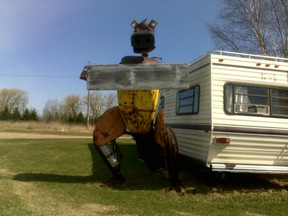 The best folk art is actually contemporary art in disguise!  Practical and frugal woodsmen get double duty from anything they can.  Not only did this guy use the vehicles that provided body parts, he also gets to use it as a sign for current activities or a roadside invitation!  The theme for these contemporary artists is reuse, reuse, reuse and THEN recycle.  As near as I can tell, they don't throw away ANYTHING that might find another life in a primitive folk art form!
Folk Artists Combine Symbols
No sense in wasting a good symbol!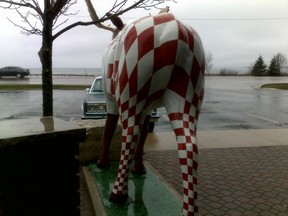 Folk artists manage to combine symbols in a memorable way!  Not only is this Big Boy identified by a REALLY BIG MOOSE,  the artist actually dressed this moose like Big Boy!  Folk artists, here in the woods, are a practical people. And now we know that a tail WILL fit in those baggy checkered pants!
Everyday Creatures are Folk Art
When you spend time with them, they DO become Folk Art!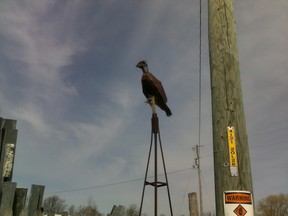 Very primitive folk art, and yet contemporary art, is often taken from the everyday life of woods folk.  Fishermen in this area know that cranes and egrets are frequent fishing companions. These fabulous birds will sit next to a fisherman all day, waiting to have some 'throw-away' fish tossed their way for a free and effortless meal.
Pity the poor fisherman with a bad catch.  The birds will use their pointy beaks to break into the protective buckets and steal the good fish, if the fisherman can't provide them a sufficient meal.
Traditional Folk Art or Contemporary?
Natives provide inspiration too!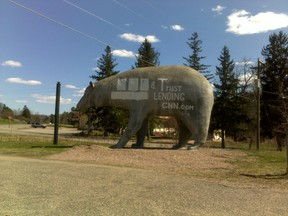 Much of the folk art is a contemporary version of traditional native folk art.  For example, we are all acquainted with the native American bears.  
Since bears are pretty popular and still hard to find in this 'neck of the woods', it is no surprise that on occasion a contemporary version of the bear 'marks the spot.'
Folk Art Moose
An admirable folk art subject!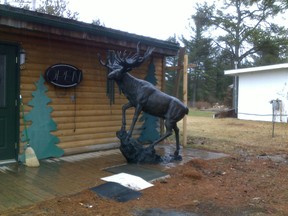 While the moose above is funny and even ridiculous, the successful reintroduction of moose in this area is a celebrated success. 
Those who have a special affinity for the moose often use them in their primitive folk art to personalize their cabins, their businesses, their property.
---
Disclosure: This page generates income for authors based on affiliate relationships with our partners, including Amazon, Google and others.