Review of Cuisinart food processor
by KayLaura
I just got the 11-cup Pro Custom 11 Food processor and I'm in love!
Twelve years ago my husband and I received a Cuisinart Food Processor as a wedding gift.  I am ashamed to admit that I didn't see the value in the gracious gift.  Besides, we didn't receive many of the absolute necessities to beginning a married life together, such as eating utensils or pots and pans.  So we exchanged the food processor and I have lived without it.  Do you know what a Cuisinart food processor is?
My mom didn't have one while I was growing up so I never saw how easy they make your kitchen life.  But my mother-in-law had one and after just a few dinners at her house and watching how easy they make food preparation, I dreamed of the day I would be able to get one...again.
In the meantime, I was given a hand held food chopper by Pampered Chef from my sister and that proved to be quicker than hand cutting, dicing and chopping, although sort of a pain to clean between the blades.  And it didn't do a great job of chopping tomatoes and didn't have a very large chopping capacity, so it was really mostly used for chopping onions.  But I was happy to have it, for a while.
Pampered Chef Food Chopper (2585)

Our most popular kitchen tool ... and with good reason! Durable, stainless rotating blades uniformly chop veggies, nuts and cooked meats in seconds. Chop onions without a ...

Only $33.00
KitchenAid Pro Food Chopper, Black

Now you can chop anything from nuts and garlic to vegetables, herbs and even chocolates with ease! The Food Chopper by KitchenAid comes equipped with an ergonomic handle and ...

Only $19.99
Zyliss Easy Chop Food Chopper with Smart Base

Zyliss has set the standard for top quality food choppers and this go-to chopper is no exception! The precision 18/10 stainless steel blade operates like 5 knives in one. It ...

Only $21.99
About 5 years into our marriage I bought a small, cheap, 1 cup chopper that did a good enough job for simple things such as small batches of salsa.  And because my family wasn't very big at that point, and it wasn't in the budget to buy a big food processor, I managed with it well enough.  But pretty soon the 1 cup capacity just wasn't big enough and I would have to empty it three or four times to get the quantity needed.  It started taking more time to use it than not to.  Also, the blade on the cheap brand that I could afford at that time had a difficult time chopping hard nuts and fruits so I had to skip on those recipes.
Proctor Silex 72500RY 1-1/2-Cup Food Chopper

Product Features Compact food chopper reduces prep time in the kitchen 1-1/2-cup-capacity transparent work bowl; stable base Pulse function offers exceptional control over ...

Only $15.99
Cuisinart DLC-4CHB Mini-Prep Plus 4-Cup Food Processor, Brushed Stainless Steel

Kitchen style! A brushed stainless finish adds a touch of elegance the MiniPrep Plus 4 Cup Processor is now a fashionable fit for any kitchen. Includes the tools to perform ...

Only $49.95
Black & Decker HC306 1-1/2-Cup One-Touch Electric Chopper

You'll use this handy 1-1/2 cup, 70 watt chopper to quickly chop onions without shedding a tear, as well as for chopping many other recipe ingredients. With one speed and ...

Only $69.99
Cuisinart CH-4DC Elite Collection 4-Cup Chopper/Grinder, Die Cast

More convenient than ever, the Cuisinart Elite collection 4-cup chopper/grinder effortlessly handles a variety of food preparation tasks such as chopping, grinding and ...

Only $59.95
Hamilton Beach 72600 Fresh Chop 3-Cup Food Chopper

Whether you're making cakes, pies, salads, or sides, this Hamilton Beach food chopper makes it easy to chop up to 3 cups of onions, garlic, carrots, celery, nuts and much ...

Only $50.0
By the time I had three children and was preparing a lot of food all the time, I really started wishing I had kept that Cuisinart Food processor I got for my wedding.  When visiting my mother-in-law I saw how convenient it was for chopping things fast to make delicious homemade salsas, dips and soups.  The blade is super sharp (be extra careful of that and consider buying the blade and disc holder to prevent accidents).  It cuts up even hard foods like nuts and seeds and hard fruits like dates with no problem.  In it you can make a delicious, creamy guacamole dip using my easy recipe: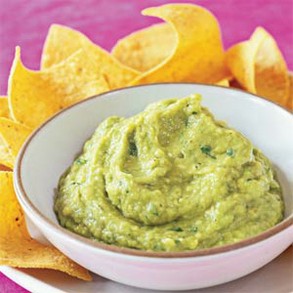 Easy, creamy homemade guacamole dip
Easy, Creamy, Homemade Guacamole Dip
2 soft, ripe Haas Avocados, pitted
1 T. lime juice
1 t. Garlic salt
1 T. sour cream
 Cut the avocado in half lengthwise.  Remove the pit easily by holding that half in your hand and with your other hand striking the pit with a sharp knife.  The knife will sink into the pit and you can pry it loose from it's bed.  Scrape both sides of the fruit with a spoon to remove all the flesh and put into your food processor.  Add the other ingredients.  Put the lid on the food processor and turn it on.  The longer you leave it on the more creamy the guacamole will be.  Or use the chop mode on your food processor to give your guacamole a more chunky texture.  Add more garlic salt or table salt to your specific taste desirability.  You can also throw in a sweet bell pepper to give it a pop of color and additional delicious flavor.
Here's another delicious recipe to use with your Cuisinart Food Processor:
Cuisinart Food Processor Parts
Twelve years and five children later, I finally got the food processor I'd been wanting for so long and was able to retire my small 1 cup and hand held chopper! I got the Cuisinart DLC-8S Pro Custom 11 Food Processor. 
The Cuisinart food processor parts and accessories are:
the steel blade,
dough blade,
three slicing and shredding discs and
a spatula.
it is such a great product that it even comes with a 5 year full motor warranty and a 3 year limited entire unit warranty.  It is a powerful machine!  So great for slicing and dicing vegetables and fruits, shredding cheese, mincing garlic, and even making dough!  And the 11 cup capacity is perfect for my family!  No more making several batches of the same thing in order to come up with the quantity I need for my family and for my entertaining guests.
Do You Own a Cuisinart Food Processor?
I have been in heaven as I toss all sorts of fruits and veggies into my food processor and cut my dinner prep time in half!  Plus, I've found a new use for it...MAKING BABY FOOD!   My baby is 8 months old and whenever we have leftover chicken or meat or pork I toss it in my Cuisinart food processor and it chops it up into tiny pieces that I can save in the refrigerator and later add to his pureed foods.  What a easy and cheap way to add protein to his diet, without the preservatives of the prepared baby foods in the store.  I do the same with apples, bananas, and other fruits and have saved a bundle on not having to buy the expensive little containers of baby food anymore. 
And it cleans up very easily.  Everything can go in the dishwasher!  It has found a permanent place on my counter and I would rate the Cuisinart brand Food processor a 5 out of 5.  I plan on buying one for my daughters when they get married.  The Cuisinart Food Processor has become a kitchen essential, right along with eating utensils and pots and pans.
---
Disclosure: This page generates income for authors based on affiliate relationships with our partners, including Amazon, Google and others.