Easy Cake Ball Recipe; No-Bake Cake Pops Dessert
by KayLaura
With just 3 ingredients and a half hour you've got yourself the delicious treat the whole country is crazy for!
These yummy little treats are all the rage right now!  Specialty stores are popping up all over the place that make and sell these delicious little goodies.  This is a super easy cake ball recipe, that requires no baking.  It's like a cake-pop-for-dummies recipe and it is dangerously delicious!
They are really easy to make if you have a Food Processor like the one I love from Cuisinart.
For more delicious recipes and uses for your Cuisinart Food Processor:
Ingredients
You only need 3!!!
1 package of Oreo cookies
1 8 oz.brick of Cream Cheese
1 package of brown or white Almond Bark for dipping (see my "Tips" below for more details on almond bark)
Directions:
1. Dump the entire package of Oreo cookies into your food processor and crush until cookies are completely reduced to crumbs.  This is another great recipe I use my Cuisinart Food Processor for and it turns out perfectly!  If you don't have a food processor you can try and crush the cookies in a blender.  Don't remove the cream filling!  It needs to be the WHOLE cookie and all the cookies in a normal size package of Oreos.
2. In a separate bowl, soften cream cheese in microwave for about 1 minute on half power.  It just needs to be soft.  Don't let it burn.
3. Combine cookie crumbs and cream cheese in a bowl with a spoon.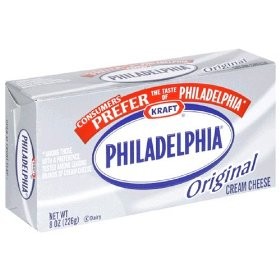 cream cheese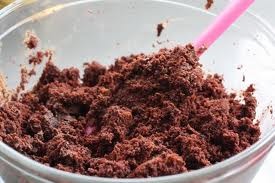 combine ingredients
4. Using the combined "dough", form balls by rolling dough in your hands and placing on baking sheet.  You don't bake them.  Instead, after you have used all your dough to form smooth balls to the size you desire, place baking sheet in fridge so the balls can harden.  About 15 minutes.  Will make about 26 1 inch balls.
5. While the balls are hardening in the fridge, put the package of Almond Bark in a bowl and heat in microwave for 90 seconds on half power.  Remove and stir then continue heating another 30 seconds on half power and repeat until almond bark is completely melted.  Be careful not to let it cook too long or on full power or the almond bark will scorch and will be clumpy instead of smooth like you will need it for dipping.
Time to Dip!
When the balls have sufficiently hardened, remove from fridge and it's time to dip them.  You will dip them in the melted almond bark.  After dipped, place them on a sheet of wax paper to cool.  Top with sprinkles, crushed nuts or different colored icing to make them extra pretty!
You can use a popsicle stick to make a cake pop on a stick or you can just use a toothpick to dip the ball and remove it after you've set it on the wax paper and it is just a cake pop without a stick.
The Sky's the Limit!
Have fun as you think of new and creative ways to decorate your no bake cake pops!  Perfect for any birthday party or holiday celebration.  They even make a very thoughtful and inexpensive gift for someone.  They will think you slaved over them! 
I love this easy cake ball recipe!
TIPS FOR SUCCESS!
1.  Try different flavored Oreo Cookies for different flavored cake balls.  The mint or peanut butter or double stuffed would be delicious!
2. The 8 oz. brick of cream cheese is equivalent to a 1/2 lb. section if you buy your cream cheese in bulk from Costco or somewhere like that (it's cheaper that way)
3. Almond Bark is not sold in every grocery store.  I've only found it year round at Walmart and it is cheapest there too.  It's only about $2.50 at my Walmart in San Diego and it will melt down to make a huge bowl of dippable chocolate.  It's much easier to work with than melting chocolate chips and much cheaper than buying "melting chocolate."  The white almond bark is definitely easier than melting white chocolate chips which are sooo difficult to work with.
4. If you buy both white and brown almond bark and dip some balls into each, as you place the dipped ball onto the wax paper, let the "extra" chocolate drip onto the other cake pops to decorate them.
5. Almond bark sets in a matter of minutes and forms a nice firm, shinny coating and is perfect for dipping anything--even strawberries, pretzels and other goodies!
6. Another great melting product is called Wilton Candy Melts.  You can buy them at Michaels Craft store or on Amazon.com and it is just as inexpensive as the Almond bark and comes in all different colors so you can get really creative! 
Click on the link below to browse or buy them on Amazon:
Wilton Candy Melts 14-Ounce, Yellow

Versatile, creamy and easy-to-melt wafers are ideal for all of your candy making-molding, dipping or coating. Their delicious taste can be varied with our Candy Flavors. Also ...

Wilton Lavender Candy Melts

The finest melting candy you can find! Made from premium ingredients for superior melting and great taste! Try molding, dipping, dripping, and more. Available in a variety of ...

Wilton Candy Melts 14-Ounce, Orange

Versatile, creamy and easy-to-melt wafers are ideal for all of your candy making-molding, dipping or coating. Their delicious taste can be varied with our Candy Flavors. Also ...
Ad
---
Disclosure: This page generates income for authors based on affiliate relationships with our partners, including Amazon, Google and others.