Review: Queensland, Australia Romantic Destination - Ravensbourne Forest Chalets
by wrylilt
If you're in North Eastern Australia and want that perfect honeymoon location, with privacy and quality, Ravensbourne Chalets are the place to go.
The Ultimate Romantic Destination
Ravensbourne Chalets are located in a luxurious rainforest area just an hour and a half from Brisbane. I was fortunate enough to receive paid accomodation there as a honeymoon gift and I was surprised at how well laid out, romantic and relaxing the setting was.
Out of town and located in a lovely area they're definitely worth the trip and you won't be disappointed when you reach this wonderful destination.
Ravensbourne Chalets also offer wedding and reception services with discounts on honeymoon packages.
About the Cabins
The open plan cottages have richly varnished timber walls and are neat and easy on the eye. The green roofs and timber blend well into the surrounding landscape with sliding doors onto a small verandah that overlooks beautiful scenery. They also include a car port. Each cabin is placed at a discreet location so you won't be running into neighbours when ever you turn a corner.

The cottages feature modern items including:
Large bed with hanging curtains.
Log fireplace.
Fully self contained kitchen.
Spa bath.
Heated towel rails.
Television, DVD player and DVD library.
Reverse cycle air conditioning.
Hooded BBQ
.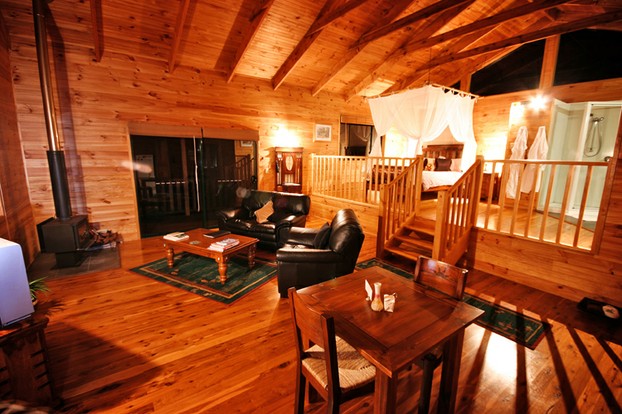 Lovely timber cabins with modern amenities.
Other Great Features
Breakfast, Lunch & Dinner hampers.
Luxurious massages.
Weddings and wedding receptions.
Quiet walking paths.
Setting: Ravensbourne National Park
Ravensbourne National Park is a lovely area for quiet relaxation. It's contains two lakes as well as short walks through rainforest and eucalyptus forests.
The two closest towns are Hampton and Esk, both of which are lovely small country towns with friendly local shops and cozy little eateries. 
Driving through Ravensbourne is quite scenic and also provides lovely views that you'll rarely match anywhere else.
In the local area (from half an hour to 45 minutes drive) you'll find such attractions as antique shops, the black forest hill clock centre, Danish flower art, Highfields chocolate cottage, French Decor & furniture, Sunday markets, golf courses, swimming pools, tennis courts, and several wineries.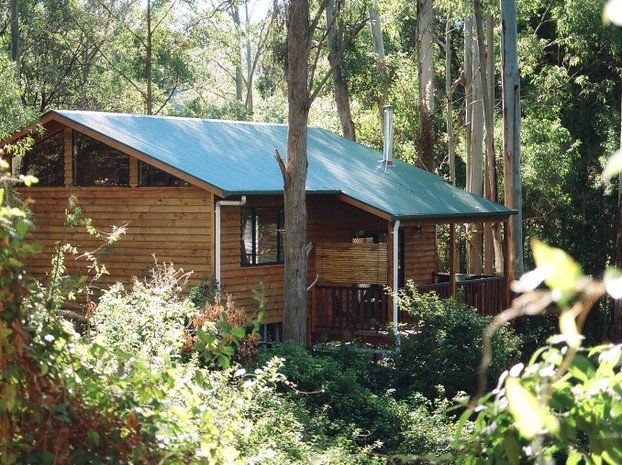 Lovely rainforest setting, with each cabin private and secluded.
My Personal Review
After spending the night in one of the most expensive hotels in the city for the first night of our honeymoon I was quite unimpressed. Upon arrival at the Ravensbourne Chalets I was pleasantly surprised at this amazing romantic destination.
The cabins appear almost never used - everything is fresh and clean and every small thing is thought of - including robes and slippers. All the little touches make it feel much more upper class than the average hotel and leave the couple able to concentrate on each other without any fuss about anything else.
Compared to what you'll pay for some of the higher end accommodation this is quite reasonable and you definitely won't regret it. I'm hoping that I can go back someday soon! 
---
Disclosure: This page generates income for authors based on affiliate relationships with our partners, including Amazon, Google and others.