SAD Light - Philips GoLite Blu HF3332
A look at the Philips GoLite Blu HF3332 and its role in Light Therapy and SAD.
A Quick Introduction to Light Therapy
As the days remain short, I find that I have to take advantage of any sunlight that appears in these winter months.  Unfortunately for people who suffer from Seasonal Affective disorder, more is required to make it through the day.
Seasonal Affective Disorder(SAD) is a condition that afflicts around 15-20% of the population of countries that experience winter with a severe reduction in sunlight hours.  It brings on symptoms of depression, an inability to function as normal, lethargy,overeating and more.  The condition tends to run for up to six months from September to March.
Light therapy has been found to be as effective if not more effective than antidepressants for the treatment of this condition.  It is useful to about 85% of the people who suffer from the condition.  For the others, psychotherapy, an increase in their Vitamin D intake (Thanks Brl) or antidepressants should help.
Light Therapy is the exposure of one's face to a light equivalent to at least ten times the brightness of a normal domestic light.  It is used in more than just SAD, light therapy can also be used in skin conditions such as eczema and psoriasis - This form of light therapy usually involves the use of UV light.  Light Therapy is also used to help newborns born prematurely who may have jaundice and it is used to help people with sleep disorders.
In SAD, the UV portion of light is stripped out as it can be dangerous to the retinas of the eye.  However, it has to be bright enough to mimic sunlight.  So preferably a light that provides 10000 Lux is to be used, to keep therapy down to the lowest time required to get the full benefit.
The Philips GoLite Blu HF3332
Light Therapy Device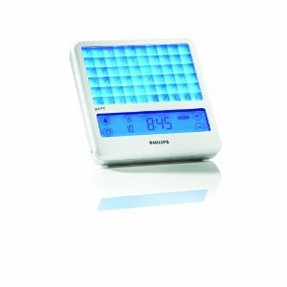 This is one of the devices that lots of people use to combat their symptoms during the dreaded winter months. 
It is pretty compact so can be used anywhere.  As it has a rechargeable battery, it can even be used in your vehicle (The safety of this approach however may be questionable!).
In terms of recharging the unit, you should be ready to go after 3 hours of charging which is great and then you get to use it for 3-4sessions of 20-30 minutes before you need to charge it again.  However it has been found that charging the unit for 8 hours before initial use is probably more appropriate to get things going. After that initial charge, the three hours should be sufficient.
The session need only be 15 - 30 minutes long once a day.  After a few weeks, the difference should be clear.  In addition, if you are having problems with your sleep, you might even find that those go away as well!  Not bad, eh?
More on the HF3332 Light Therapy device
Blu Light
The Blu light aspect of this device simulates a clear sunny day with blue skies ahead.  At least that is the theory.  You know the feeling you get when out in the sunlight, maybe having a walk thorough the park or even just walking round the block.  There is a sense of contentment and joy that this device seeks to copy.
It certainly works!
The goLite BLU range
Rechargeable or Not?
Philips goLITE BLU Light Therapy Device

Start feeling better now. "After a week with the goLITE, my wife happily announced that her 'summer husband' had returned." "I feel great: more energy, more positive and ...

Only $349.96
Philips Hf3321/60 Golite, White / Blue

The philips golite blu energy light is a portable light therapy device which is designed to help you increase your energy level naturally and fight winter blues in as little ...

Only $298.95
Green or Blue Light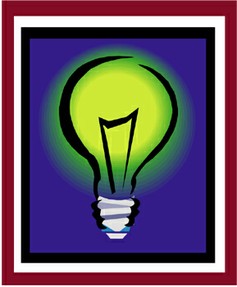 There is some research to the fact that green light may be better at least in the case of sleep disorders but so far, actual people are finding relief with the blue light as well.  Sometimes, personal experience is more relevant than any scientific studies.  Unfortunately, I say this as a scientist myself because I know studies can be tweaked (Shall we say!) to point in the direction a company or media want it to point.  
Remember light therapy works through the eyes in the case of SAD, so every minute or so, take a look into the light for a few seconds.  Most of the time however the unit should be to your side.
Length of Use
The device comes with numerous LED lights.  These are fairly sturdy so unlikely to stop working.  In fact, Philips says the lights should remain useable for 50 years with a 30 minute use each day.  Enough time to pass it down to your children, I would say! At least in theory, it does only come with a 2 year guarantee so maybe they are uncertain?
Cons of the HF3332 Device
The biggest issue people tend to have with it is the price.  Unfortunately, anything good comes at a price.  There is the option of searching for the older modes, including those made by Apollo which Philips bought out.  These may be cheaper.  
The thing to take into consideration is how much better will you feel with this device and if it makes six months of the year a lot more bearable, I think it is definitely worth it.
The other concern is the battery.  For all the 50 years, the lights may work, the battery is not likely to last that long. Unfortunately, the Philips Website does not mention exactly how this would be rectified if it became a problem.  Within the first two years however, they should sort it out for you.
The last thing I must mention is 
KEEP a HOLD of the MANUAL!!
It is difficult to change settings without this wonderful book.
Overall, this is a great buy and you will probably join the majority of people who love this system.  Some even use it all year round to feel good all the time.  Not a bad idea!
---
Disclosure: This page generates income for authors based on affiliate relationships with our partners, including Amazon, Google and others.