Samsung Galaxy S2: A Review of My New Smartphone
by ronpass
I bought a Samsung Galaxy S 2 phone after my iPhone 3 died. Here is my review based on using Samsung's new i9100 Android phone. I share why I am delighted with this smartphone.
Samsung Galaxy S 2 - An Honest Review Based on My Use of this Great Smartphone
Fast, Readable and Easy to Use 16GB Smartphone
When my iPhone 3 died I decided to buy a Samsung Galaxy S2 smartphone on the recommendation of my 23 year old son.  He had been raving about the Samsung Galaxy S 2 and reckoned it was fast, fun and super friendly.   He had already worked his way through multiple Nokia and Sony Ericsson models (how unlucky can you be to lose your phone so many times!).
My son kept showing off the features of his new Samsung smartphone and told me his mates were dumping their iPhones and switching over.
What I was looking for is a smartphone that was fast, easy to use and highly readable. I wanted easy access to my email in a font size that I could read.   I also wanted a quality camera because I take lots of photos on my business trips (mainly to the Gold Coast at the moment!).
I got a lot more than I had bargained for - I love my new Samsung Galaxy S2 (love at first sight, even before I have explored its endless features).
Samsung Galaxy S2 - Super Fast Smartphone
Dual Core Application Processor Speeds Up Multi-Tasking
Sometimes I wonder, life is fast enough - but if you want to multi-task, watch videos, play mobile games or quickly access the Internet, the speed of the Samsung Galaxy S2 is a great bonus. 
After I purchased the Samsung S2, the salesperson synched my Gmail in seconds and now I just press the Gmail button and the latest emails are instantly available.  The speed of Internet access is something I really value - it saves me heaps of time and frustration.
Of course when I got my Samsung home, my son had to show off its features (and his knowledge), so he asked me for the "password key" for our Wireless Intranet setup at home and in seconds I was connected via the Samsung Galaxy S2.
I'm not into mobile phone games (or any electronic games for that matter), but my son is and he is excited about the range and speed of Android Games he can now access through the Samsung Galaxy.  One in particular he raves about is called "Word" which I understand is an electronic form of Scrabble.  He was telling me that he and four mates were watching the Rugby and simultaneously playing "Word" (Scrabble) with each other.  He said that there were 20 games of scrabble going on simultaneously as they watched the Rugby and sent text messages to their absent mates - Gen "Y" multi-tasking at its best.
[Important Note for Aussies and New Zealanders: The Queensland Reds beat the NZ Crusaders in the Super Rugby Final on July 9th - Watch out All Blacks in the forthcoming Rugby World Cup! - C'mon Queensland and Australia!!!]
Samsung Galaxy S2 - Readability is Superb!
My Favorite Feature
Readability of the Samsung Galaxy S2 is superb.  This is a super aspect - I can read the text on the screen!  The large screen (4.3") is enhanced by superb technology ("Super Amoled" for the techies) to give a very rich, colorful and enticing display.  The enlarged screen is offset by a super-slim design which makes it still pocket-size, easy to handle and comfortable to use.
What I like most is the larger font provided as the default so that you don't have to click through to be able to read the display.  Of course, you can always see even larger text by just tapping the screen and spreading your fingers.  An added nifty feature is that once you hit the "Upper Case" arrow, the whole alpha display switches to upper case (so you are in no doubt as to which "case" you are in).
Samsung 8 MP Camera with LED Flash
Camera features include auto focus
I take a lot of photos and I love the quality and detail of the Samsung Galaxy S11 camera with its auto focusing and built-in automatic flash which enables detailed pictures even in poor light.  Apparently fast scene switching is made possible by the new technology ("Android Gingerbread" for the techies).
What I haven't tested yet is the 2MP front-facing camera which enables switching quickly to self-portraits (for profiles, for example).
There is also the whole world of video to explore with my Samsung Galaxy.  Well apparently I'm in for a super experience - full HD recording (with 1080p) with instant playback of my HD video enhanced by the vivid screen display. 
I'm looking forward, too, to creating and uploading podcasts for my Internet marketing.  The speed of the Samsung Galaxy S2 should be an added bonus here as well.
I have included a few photos taken with the Samsung 8 MP Camera by way of example.  They are framed by the ceiling of the balcony of my 19th floor hotel room.  The photos were taken overlooking Surfers Paradise Beach (from about 300 metres away) at sunrise, as the morning darkness gave way to the sun's rays.
Photo taken from my hotel room with the Samsung S2 8 MP Camera
The detail from the self-focusing camera is amazing (this from 300 metres)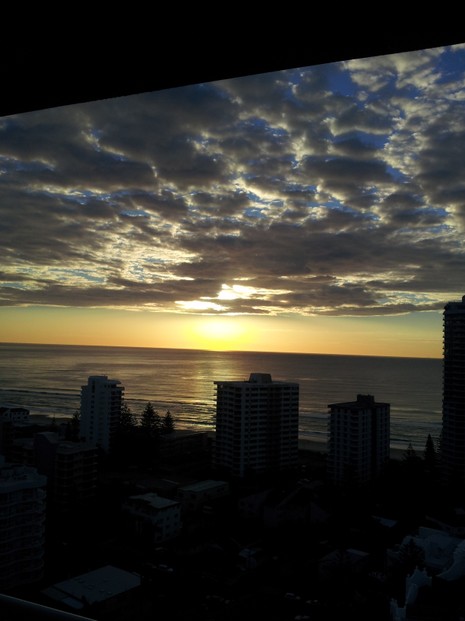 Sun Breaks Through Dark Clouds at Sunrise at Surfers Paradise
Samsung Galaxy S2 8 MP Camera
Samsung Galaxy S2 Camera
8 Megapixels camera with flash (LED) and auto-focus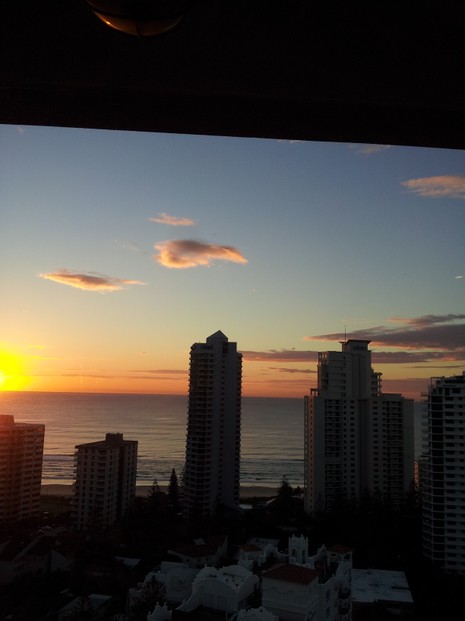 Sunrise Over Surfers Paradise (taken from 19th floor, 300 metres from the beach)
Samsung Galaxy S2 Camera Captures Sunrise
Early morning darkness suffused with light over Surfers Beach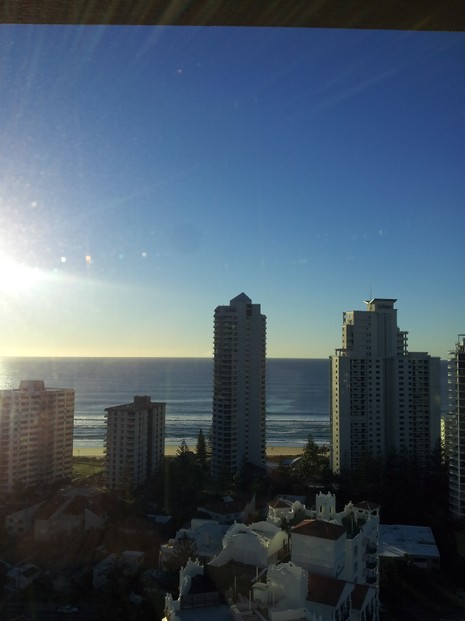 Sunrise at Surfers Paradise
Samsung Galaxy S2 - auto focusing camera
Samsung Galaxy S2 - Super Fast Smartphone Available on Amazon
For a fast, readable and easy-to-use mobile phone that will enrich your life and reduce frustration!
---
Disclosure: This page generates income for authors based on affiliate relationships with our partners, including Amazon, Google and others.