Sealy Soybean Foam-Core Crib Mattress
by SunnySmile
Find out if Sealy Soybean Foam-Core Crib Mattress is the right baby mattress for your little one. A detailed review of features.
Sealy Soybean Crib Mattress
The Sealy Soybeam Foam-Core Crib Mattress is one of the best-selling baby mattresses. Its popularity is driven by several key benefits:
It is both safe and comfortable
Lightweight design and easy manipulation
Value for money is great if you compare it with similar products
Sealy Soybean Foam-Core Crib Mattress Review
Safety
Sealy is a serious company, which adheres to strict safety standards. Its foam is CertiPUR-US certified. This means that it was tested against various harming substances such as PBDEs, phthalates, formaldehyde and so on. 
Both cover and binding are easy to wipe. This is helpful in preventing allergens from coming into contact with the baby's skin.
Firmness
Related to safety, firmness is one of the most important features you need to look into when purchasing a baby mattress. This is because a firm mattress is key in reducing the risk of SIDS, i.e. Sudden Infant Death Syndrome. You can rest assured that this Sealy crib mattress has been manufactured with great care in order to deliver against this benefit.
Lightness
This baby mattress weights only 8.3 pounds. This is great in terms of how easy you can change sheets, which is a feature busy moms highly appreciate.
Soybeans
As suggested by the name of the product, the company used soybeans in order to produce the foam. This shows respect for the environment, as the material is eco-friendly, decomposing quickly and having very low ecological footprint.
Guarantee
You need to make sure you register your purchase with the company, because Sealy offers a great gurantee. Your mattress comes with lifetime workmanship and materials guarantee. Isn't this reassuring?
Company
I always take a look at the company when purchasing almost any good. Is this a respectable company that is committed to serve its clients well?
Sealy Mattress Company has been active since 1881 and is rated A+ by Better Business Bureau. This is a good indication that the company is in business for the long terms and that it values quality.
Consumer Experience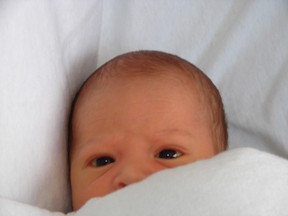 Going through the Amazon.com consumer reviews, most of them are very positive. The mattress performs very well and moms like the benefits mentioned above. The product has been a bestseller for a long time, as it is a quality product that keeps babies happy.
Any Watch-Outs?
You should be aware that despite its name, the mattress is not entirely made of soybeans and therefore it is not fully eco-friendly. However, this is not something Sealy specific, as it holds true for all soybean mattresses.
Conclusion
Is This The Right Baby Mattress For You?
Sealy Soybeam Foam-Core Crib Mattress is a high quality bestseller product. Many parents felt reassured that they buy a safe mattress for their little one. On top, it is comfortable, more eco-friendly than similar products and the producer offers a great lifelong workmanship and materials warranty. 
Other Great Deals
Other Products To Consider
Graco Premium Foam Crib and Toddler Bed Mattress

The Graco Premium Foam Crib and Toddler Bed Mattress is the perfect mattress choice for your baby's crib or toddler bed. Designed to fit any standard/full-size crib and toddler ...

$49.99 $33.99
Milliard Crib Mattress and Toddler Bed Mattress | Hypoallergenic + Waterproof Encasement | 27.5"x...

Milliard Crib Mattress The Milliard Foam Crib Mattress offers the perfect combination of comfort and support, promoting a healthier and more restful sleep for your little one. Y...

Only $46.99
Safety 1st Heavenly Dreams White Crib Mattress, Lightweight, Water Resistant, White

Set baby down for a peaceful night of pleasant dreams with our Safety 1st Heavenly Dreams crib and toddler bed mattress. The high-density thermo-bonded core offers plenty of fir...

Only $54.99
My First Crib Mattress, Memory Foam Crib Mattress, Removable Waterproof Cover, Plush, Hypoallergenic

Our My First infant baby crib mattress is so comfortable for your baby we often hear from customers asking if we make the crib mattress in an adult mattress size! The CertiPUR-U...

$119.99 $86.95
Dream On Me Spring Crib and Toddler Bed Mattress, Twilight

Your baby will curl-up in comfort on the Twilight Spring Coil Mattress by Dream On Me. Constructed with quality materials and workmanship this mattress is manufactured with prid...

$45.99 $39.99
Sealy Soybean Foam-Core Infant/Toddler Crib Mattress - Hypoallergenic Soy Foam, Extra Firm, Durab...

Parent-tested and approved, this crib mattress uses renewable soybeans to create a foam core that provides exceptional durability and firmness for both babies and toddlers. With...

$99.31 $98.96
---
Disclosure: This page generates income for authors based on affiliate relationships with our partners, including Amazon, Google and others.