Sean Connery The Real James Bond
The life and times of one of the greatest James Bond actors ever. Sean Connery is the quintessential James Bond.
Sir Thomas Sean Connery
An overview of Sean Connery's beginnings
Sir Thomas Sean Connery was born in the Fountainbridge region of Endinburgh, Scotland on August 25, 1930. Connery grew up in a low class impoverished environment. Connery was the son of a Truck driver. In an attempt to make something of himself, Connery, joined the Royal Navy in 1946.
After only serving for three years, Connery was released because of medical issues with stomach ulcers. After leaving the Royal Navy, Sean Connery, was the prospect of a wide assortment of jobs. He worked as a laborer, lifeguard, a model, a lorry driver, and even a coffin polisher(not the most desirable job in the world). It was because of his drive and determination that led Sean Connery into bodybuilding as a hobby. Connery even represented Scotland in the 1953 Mr. Universe contest and earned a 3rd place!
Sean Connery, later began appearing in various stage productions while working for the South Pacific touring company. Connery's calling did not make it self clear to him until after his first television debut in 1956.
Sean Connery
At 75 Years Young
Sean Connery
Dr. No
The Movie that Made Sean Connery
The Beginning of James Bond
Before and After
Most people know Sean Connery as the greatest and most quintessential James Bond. This was not the case during his audition with the James Bond creator Ian Fleming. Fleming described Connery as everything that James Bond was not. At the time, Fleming did not want Connery to have any part of his movie let alone the lead role. Regardless of Fleming's opinions of Sean Connery, he was cast for the role as Secret Agent 007 in the first Bond film Dr. No. The film was debut in 1962.
Other actors that where possible candidates for the role such as Roger Moore, Cary Grant, and Rex Harrison turned down the opportunity because of the films low budget. Even with out these big names in the film, 'Dr. No' was a huge success for Fleming. It was because of the public's positive reaction to Sean Connery that he was later cast a the famous James Bond in three more movies over the next five years( Goldfinger, From Russia, With Love , Thunderball , and You Only Live Twice , and Diamonds are Forever).
After playing the same role of Agent 007 for the past five years Connery decided to quit the role. He no longer wanted to be just known as only James Bond. Due to Connery's resignation, the role of the famous James Bond was up for grabs. It was soon filled by George Lazenby. However, he only lasted for one movie. He resigned because he believed that he could not live up to the expectations that Connery had set before him. Connery later made his triumphant return as Bondonce again in 'Diamonds Are Forever.' It was not until 1983 that Sean Connery played his last and final role as James Bond in 'Never Say Never Again'. Never Say Never Again was Sean Connery's final goodbye to James bond.
Connery's Later Achievements
Connery would later appear in future block-buster movie titles such as Highlander, The League of Extraordinary Gentleman, Finding Forrester, Entrapment, The Avengers, The Rock(one of my favorites, reminds me of James Bond), Dragonheart, First Knight, Just Cause, Rising Sun, Medicine Man, Indiana Jones and the Last Crusade, and The Untouchables.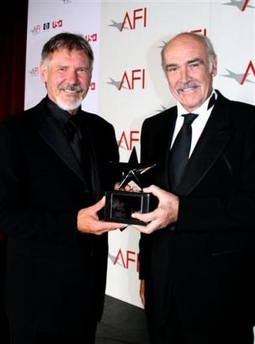 Shortly before Connery would announce his retirement from the silver screen he would receive the Lifetime Achievement Award from the American Film Institute on June 8th, 2006. It was not until the following year that Sean Connery would confirm his retirement on June 6th, 2007.
Other Great Sean Connery Links
Find out more about Sean Connery
The Best of Sean connery
Sean Connery is one of the greatest actors to ever grace the big screen. Here is a list of Sean Connery movies that made him an all time move star.
The Quintessential James Bond
The beginning of a legend. Sean Connery and how he set the standard for the character 007. Sean Connery is the quintessential James Bond..
---
Disclosure: This page generates income for authors based on affiliate relationships with our partners, including Amazon, Google and others.