Sesame Street Elmo Birthday Cake & Cupcake Ideas
by Tehreem
Sesame Street Elmo Birthday Cakes will be fabulous for 1st, 2nd and 3rd birthdays. Learn a lot of Fun Ways to decorate your cake.
Have a Fun Elmo Party!
Remember... Elmo Loves You!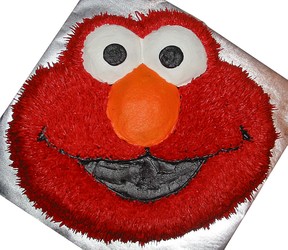 Sesame Street were something it was pointless living without when we were kids. Now the trait has passed on to our kids and they love Sesame street even more. The first ABC's and 123's of our life were taught by yellow bird, Elmo, Abby Caddabby, Cookie Monster and other sesame street characters.
If you are planning to have an Elmo themed party with your child's special day coming over, then you dont have to look anymore for all the stuff you will need. This page will provide you with amazing ideas on how to make a delicious and fabulous cake at home. The kid will love Elmo staring at him on his birthday!
If you know how to mix a cake batter then nothing more is difficult in preparing a cake. Everything else you will find here. Cake Toppers, Edible Images, Elmo Pans, Cupcake Decorations, everything can be found here without having to shop for hours. Order all the products online and have them delivered at your doorstep.
Elmo Cake Ideas
C is for Cake!
A cake can be designed simply or can be made more big and differently designs. It depends on your creativity but the end result for both is always good. Also, ordering a cake at a bakery will appeal you more but the value of the cake will increase pretty much if you decide to make it with your own hands for your child.
Use some of these ideas to base your cake on:
Make an Elmo faced cake by using the cake pan featured below. This cake pan by Wilton is highly recommended by online buyers and is guaranteed for its good quality.
Make a single tiered cake and top it up with Edible cake images available easily. These images will be easy to use and wont require much work to be done. All you will have to do is prepare any shape of the cake, cover with icing and place the image over it.
Another option for decorating single tiered cakes is to use cake toppers. Toppers in shape of spoons and forks are also available. Kids love to eat with these and they also look good on the cake.
Double or Multi tiered cakes can also be beautifully decorated with Toppers, Rings or you can use fondant cutouts or cake painting.
Elmo Cake Ideas
Find the most awesome Elmo cakes ever
Elmo Cake
An Elmo cake for a fabulous party
Elmo Gift Cake
A gorgeous Elmo cake for a kid's birthday.
Elmo Face Cake
This cake was made for an Elmo lover. Sugarpaste and Buttercream are used to decorate a chocolate cake.
Elmo Fondant Cake
A fabulous Elmo cake. Fit for baby showers and birthdays.
Elmo Cake
Two tiered stripped Elmo cake for a 2nd birthday.
Easiest Elmo Cake Ever
Learn How to Make Elmo Cake by Using Template
Elmo Cake Decorations
Cake decorating made easy
Sesame Street Elmo Spoon Cake Topper

Perfect item for the Elmo fan, Not only does it make a great cake topper but the guest of honor can use it as a spoon. Made of plastic and measures approx 5.5 inches.

Sesame Street Elmo and Abby Playground Cake Decorating Kit

Create your own fun birthday cake with this movable figure of Elmo and Abby on the playground!

Sesame Street Elmo Number 2 Birthday Cake Candle
Party Supplies - Sesame Street Cake Toppers
Elmo Cupcake Ideas
Elmo loves to eat!
Cakes can always be replaced with or presented with cupcakes. Matching cakes and cupcakes look beautiful placed together and kids easily get excited on seeing them. Themed cupcake stands are easily available now a days to place your cupcakes on. All you need to do is use Elmo themed baking cups to make cupcakes in and decorate with cupcake toppings.
Cupcake rings can be used to decorate the cake.
Cupcake stand to place your cupcakes on will look great placed on the table.
Decoration will be really fun if you use fondant for decoration. Fondant is just like a play doh for adults!
Icing frosting or cupcake decorations will make your cupcakes tasty and beautiful.
Spell out the name of child and a birthday message by Elmo for making your kids birthday special.
Elmo Cupcake Decorations
Elmo icing, cupcake stand, baking cups and cupcake rings
Elmo Cupcakes
Video tutorial on how to make elmo cupcakes
What Should You Use To Decorate Your Cake?
Learn how to decorate your cake
Use the following tips to decorate your Elmo cakes and cupcakes
Fondant: Fondant will always give a neat look to your cake or cupcake. Fondant rings can be cutout to place on cupcakes. It can be molded easily to make characters. Cutters help a lot to cutout flowers, hearts and other patterns from it.
Frosting: Frosting is a good option for small cakes but is messy to use on big cakes. But it always gives a good result if handled carefully and used expertly.
Sugar paste: Sugar paste takes in colored dyes and produces really good combinations of colors. A unique, funky stylish cake can be decorated with sugar paste. It also retains well in extreme weather conditions.
Elmo themed fondant is featured below. This fondant by Fondarific is of great quality and is highly liked and recommended by buyers and users online.
Elmo Themed Fondant
Red, yellow and white Fondarific Buttercream Fondant
Learn How To Make Elmo Using Fondant
You might also like
Pirate Ship Cake
Instructions for making a pirate ship cake with template, pictures and recipe...
Minecraft Cakes and Cupcakes
Turn the most popular video game into a birthday party celebration! This pa...
---
Disclosure: This page generates income for authors based on affiliate relationships with our partners, including Amazon, Google and others.