Shopping in Paris: Printemps department store
by fanfreluche
Printemps is my favorite Paris department store. Printemps is a hidden gem, not as famous as Les Galeries Lafayette, but it should be on your list next time you visit Paris.
Printemps, the other Paris department store
Printemps is my favorite Paris department store. Printemps is a hidden gem, not as famous as Les Galeries Lafayette, but it should be on your list next time you visit Paris. I love window shopping at Printemps: fashion, perfumes, jewelery, food. And don't miss the beautiful architecture! Come shop with me at Printemps, the other famous Paris department store on Boulevard Haussmann!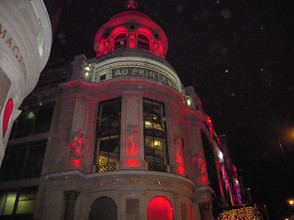 Printemps store Paris
Where is Le Printemps in Paris
64, bd Haussmann 75009 Paris
Shopping in Paris: a side note about clothing sizes in France
or: no you did not put 50 pounds overnight!
Always try the clothes before buying, don't just relay on the size tag. Also know that there is inconsistency between brands when it comes to converting French sizes (example: 46/48) to what they call here international sizes (XS to XXL). For some brands XXL will be a 46/48, but for others it will be a 44/46.
If you are not a "brindille" (French for twig: skinny girl) you will find out that shopping for clothes in Paris is like entering another dimension where no one wears anything over a size 16 (unless they like to dress in shower curtains). A dimension where size 16 is called XXL (even 3XL) and ignored by most of the hipster, most fashionable and trendiest brands. Finding anything cool if you have more than bones and skin can be difficult. But not impossible.

Clothing sizes in France is totally different than clothing sizes in the USA. The XL tag you see hanging on the best ever dress you've seen? It is not XL, it is at best Medium. French have a way of telling you that anything bigger than chopsticks is overweight. Not fun.

Personally I usually fit L/XL, 14/16 in North American sizes. In French sizes I fit 46/48 and 46/48 is often located in the "Plus Size" section here!!


Some of the interesting brands you will find at Le Printemps
Moulin Roty
The famous French brand of beautiful and colorful puppets, baby comforters, squeaky toys, rattles, musical toys and so much more.
Lou Paris lingerie
Quality lingerie but still affordable. Note that it is difficult to find the bigger cup size in most French designers lingerie brands.
Sud Express
One of my favorite brand. They have very nice, silky soft tees and pullover. The brand makes XL sizes and le Printemps always have the XL sizes available. So every season I make a run there to check out the new Sud Express collection. Note that their XL is about a Large US.
Berlingot
Cute baby clothes and soft toys. Not cheap but they have some cute things
Photos: Printemps store on Haussman Blvd in Paris
A memorial to Printemps employees fallen for their country
Not to be missed and unusual, this memorial to all Printemps employee who died during the wars.
Eating at le Printemps
Because shopping sure makes me hungry
If like me you don't really have to money to afford the overly expensive Parisian "carte" (menu) you can grab a reasonably priced lunch at Café Be in Le Printemps when you are done shopping. Although it is not "cheap" in regards to North American standards, you can still get something whitout having your wallet complaining. They offer sandwiches, quiches, salads and that sorts of thing. Plus the usual desserts and pastries. And coffee. It's located in the Home Store section, Floor 3, and I like it because it is rather a quite spot.
Now if you want something really really different, and overly expensive, there is the famous Ladurée who has a salon in Le Printemps. Indulge yourself with a tea or a coffee in a Napoleon III salon. And then buy an assortment of their famous macaroons that made their renown! Laduree is located in the main "Women's Store", street floor.
---
Disclosure: This page generates income for authors based on affiliate relationships with our partners, including Amazon, Google and others.