Smurfs Costumes
by Christene
New Smurfs Halloween costumes for babies, toddlers, kids, and adults.
I'm just right age to remember the 1980s animated TV series. I watched the cartoon every Saturday morning. I still have it's catchy theme song in my head 3 decades later. La la la-la la-la...

The Smurfs we know and love; Papa Smurf, Smurfette, Clumsy, Brainy, and Grouchy, are back in a new 3D movie. Gargamel and his cat Azrael are, of course, featured in the movie as well. There's also a new smurf named Gutsy who's sure to be a hit. How can you not love a Scottish Smurf with side burns and a kilt. ;)

With the resurgence for 80s culture it's no surprise these little blue guys (and gal) are making a comeback. I'm sure we'll be seeing some of them on our doorstep this Halloween. Maybe it will be you! :)
2011 Movie Trailer
The Smurfs
1981 Cartoon
The Astro Smurf
Smurf Costumes
Smurfs are little blue anthropomorphic creatures that live in a small village hidden away in a forest. Adult Smurfs are no more than "three apples tall". They have a pear shaped body, an oval head, and a short stubby tail. As far as we know all naturally born Smurfs are male. Smurfs are named after their personality or profession.


Smurf Bunting Costume
$19.99
Size: 0-9 Months

Costume includes a soft blue and white bunting with a fabric fastener, and an incredibly cute Smurf hat.
Smurf Infant/Toddler Costume
$24.99
Sizes:
6/12 months
2/4T
Costume includes a soft blue and white romper with attached shoe covers and a small, round tail and a white Smurf hat.
Deluxe Kids Smurfs Costume
$37.95
Sizes:
Small (4-6)
Medium (8-10)
Large (12-14)
Costume includes blue and white jumpsuit, white hat, blue mittens and white shoe covers.
Deluxe Smurf Adult Costume
$59.99
Sizes:
Standard
X-Large

Costume includes bright blue shirt, matching mittens, white pants, shoe covers and a white smurf style hat.
These are your basic Smurf Costume. They're perfect if you want to be Clumsy or Grouchy Smurf. For Brainy you can add large round glasses (Harry Potter style). If Gutsy is your favorite put on fake sideburns and add a short kilt to the costume.
Smurfette Costumes
There's only one Smurfette!
Did you know Smurfette was originally created by Gargamel to cause trouble for the Smurfs? He made her with blue clay and magic. At first she wasn't very attractive. She had messy black hair and a big nose, and a plain dress. Papa Smurf later turned her into a real Smurf. She became nicer, and her appearance totally changed into the Smurfette we all know and love. She was the only female Smurf for years, until Sassette who was also created from clay. Then Nanny Smurf appeared, though we aren't sure where she came from.




Smurfette Infant/Toddler Costume
$24.99
Sizes:
6/12 months
2/4T
Costume includes a blue romper with an attached white dress, attached shoe covers, and a matching white hat.


Smurfette Child Costume
$29.99
Sizes:
Small (4-6)
Medium (8-10)
Costume includes a soft blue top with attached white dress, a pair of matching blue pants, and a white hat.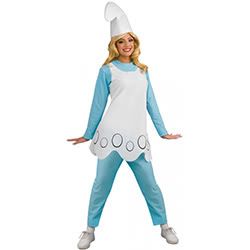 Adult Smurfette Costume
$49.99
One size fits most.
Costume includes white dress featuring oval accents and attached blue sleeves, blue pants, and a white smurf hat.
If you have blonde hair you are all set. If not, add a blonde or yellow wig and you are good to go.
Papa Smurf Costumes
Papa Smurf is the village leader and father figure of the Smurfs. He is perpetually 542 years old. He has white beard and moustache and, unlike the other Smurfs, wears a red hat, pants, and shoes.
Honestly the Papa Smurf costumes that are out there right now look more like garden gnomes to me. Or, a really skinny Santa Claus. I just can't promote them. If newer ones come out that are better quality I will share them with you here.
The only Papa Smurf piece I think worth showing you is the latex mask you see below. You can wear it with a blue shirt, red pants, and red shoes. Smurf mitten hands are easy to find if you want to complete the look.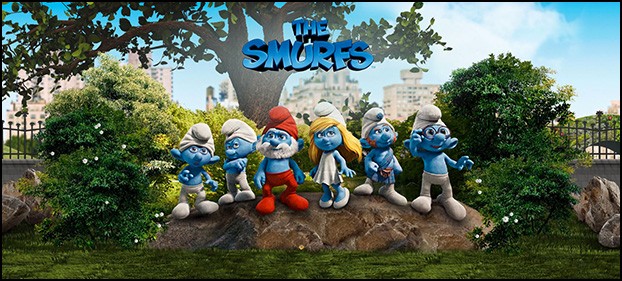 The Smurfs
More Costume Ideas here on Wizzley
---
Disclosure: This page generates income for authors based on affiliate relationships with our partners, including Amazon, Google and others.