Sony NSX-32GT1 32-Inch 1080p 60 Hz LED HDTV Featuring Google TV, Black
by jimmeriah
Top Marks in Internet Connectivity with the Sony NSX-32GT1 has proven to be one of the best!
The discerning customer knows that watching television these days goes far beyond just simply turning the set on and sinking down into an easy chair for an evening's viewing of sitcoms and football games. Today's television viewing generation demands a whole lot more from the TV-viewing experience: stunning 1080p resolution displays of their favorite Blu-Ray movies, full Internet-ready capabilities, and ability to interface with multiple other home entertainment components is just the beginning.
Sony has long been a leader in the industry, supplying the public with quality entertainment products for decades now, and the Sony NSX-32GT1 LED HDTV is no exception. It's quite remarkable to find such quality in a relatively cheap model. Starting on the outside, the user is presented with a user with a clean, sleek bezel supported by a minimalistic chrome support stand. The 32" display provides clear viewing at true 1080p resolution with incredibly deep black levels that are unmatched in any discount LED or LCD television in the marketplace. The remote is a sight to behold, with simplified, intuitive controls and a full QWERTY keyboard to simplify your viewing experience.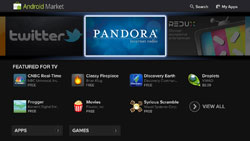 Redefine Your TV Experience.
Personalized Internet Radio Stations
However, where the Sony NSX-32GT1 really shines is on the inside. The powerful Google TV engine running on top of Intel processors gives you the complete TV viewing experience you've been waiting for. With full access to the Android app store, you can browse and download thousands of applications for your device without leaving the comfort of your living room. Get personalized internet radio stations 24 hours a day, seven days a week via  Pandora Radio. Keep up on your social networking with built-in Twitter and Facebook support, or check out the latest on-demand movie releases on Netflix. And of course, you can always make use of Google's integrated search engine to instantly search and find the online information you're looking for.
Extra Features
Being connected is not only important for the online world; the Sony NSX-32GT1 also boasts a range of connectivity features to interact with your other home entertainment components. It fully supports Dish Network HD DVRs for viewing of your previously-recorded content. You can connect your composite, component or HDMI cables easily from your stereo, DVD, Blu-Ray, or other media sources. As well, a digital audio out is supplied for crisp, clear signals for your 5.1 surround sound system. All of your USB-enabled MP3 players, digital cameras, or other USB storage devices like external hard drives can be plugged into one of the four USB 2.0 inputs as well to provide full access to your music, video, and photo libraries. For the network gurus out there, the DLNA and UPnP enabled devices on your home storage network are also supported, giving you seamless connections to all of your networked digital media.
The Sony NSX-32GT1 is truly one of the best televisions for sale in the marketplace today. You can feel secure knowing that the powers of Google and Sony have teamed up to produce what may be the world's most feature-rich, Internet-ready television, hands down.
From Youtube User ChanHdTV
Customers Opinion On This Item
---
Disclosure: This page generates income for authors based on affiliate relationships with our partners, including Amazon, Google and others.