HDTV Buying Guide
by Nina
There are different brands of HDTVs in the market. Because it is an investment, you have to make sure that you will buy the best HDTV model for your home.
HDTVs are serious investments because you will be spending hundreds to thousands of dollars on it. Because there are different brands of high definition televisions in the market, you would want to invest in the best one for your home. There are a lot of consumers who think that buying an HDTV is as simple as choosing the size, model and price. However, there are many other factors that should be considered to make sure that you are getting your money's worth. Here are a few tips in buying HDTVs.
Make Sure It's HDTV
One of the best ways to know if the television you are interested in is HDTV is by finding out what its pixel ratio is. A minimum of 1280 x 720 pixels means it is HDTV and not EDTV (enhanced definition) which offer lower resolutions. You may also want to make sure that the television set has at least one HDMI connection port which supports 1080p and HDCP. These will allow you to plug in a Blu-Ray or HD-DVD player.
HDTVs were considered as expensive, luxury items. However, it has become one of the must-have living room appliances today. Because there are high definition televisions today that cost $600 or less, it has become more affordable to consumers. In addition to that, it is easy and inexpensive to apply for HDTV programming from different cable companies. Most cable operators today offer HDTV channels and this is why you should make sure your HDTV is compatible with it.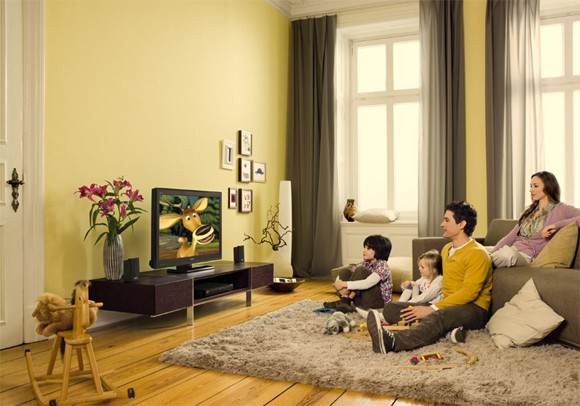 Family Watching on an HDTV
Plasma, LCD or LED?
There are different types of HDTVs – Plasma, LCD and LED. Plasma TVs were the only flat-panel models in the market when HDTVs were first introduced. However, many manufacturers have stopped making plasma TVs particularly because of the rise in the popularity of LCD TVs. There are also companies that are focusing on making plasma-based 3D TVs. Plasmas strengths include overall picture consistency. Unlike CCFL or LED, it does not suffer from color shifts or reduced saturation or contrast when viewed at wider angles. This means you don't have to be front and center to enjoy watching on your plasma. Also, its fast-pulsing pixels are well-suited for reducing detail loss particularly in fast motion action films or live sports. If you want a big screen in your living room, plasma is perhaps the right HDTV for you.
LCDs have advantages over plasmas which is why it is preferred by more consumers today. LCD TVs features a variety of screen sizes, brighter picture and better energy efficiency. LED television sets provide even greater energy efficiency and are usually thinner than CCFL-based LCDs, particularly edge-lit LED TV models. However, the downside of LEDs is that it has picture uniformity issues such as blooming. This happens when lighter parts bleed into darker pictures, reducing its overall black levels.
Resolution
If you want your HDTV to have the most detailed picture, you should make sure it has a 1080p resolution or 1920 x 1080 pixels. This resolution remains the standard for high quality home theatre HDTV set. There are many factors that affect a television's picture detail including distance, the quality of the video material and the quality of your eyesight. If you are viewing it from a distance of 12 feet, you will not be able to distinguish the difference between a 720p and 1080p display. This is true even with a 20/20 vision. It is important to have a 1080p resolution with bigger screen sizes as larger numbers of smaller pixels make smooth and sharp images. However, this might not be very important for screens that are smaller than 40 inches as you will have to sit very close to the television set to notice the small details. These past few years, 1080p has become the standard resolution and no longer has a highly expensive price tag. If it is within your budget, you should purchase a 1080p HDTV.
Go Widescreen
There are a lot of consumers who do not consider the size of HDTV before purchasing it. While it makes sense to purchase one with a standard4:3 aspect-ration screen, keep in mind that the trend is towards widescreen formatted programming. You should also choose between having bars on either side of a program that is non-widescreen to correct it or zoom it to fill the screen. However, these will squash and widen the people and objects on the screen. It would be better to invest in high definition televisions that are compatible with most of today's trends when it comes to programming.
Consider the Quality of Sound
You should not forget the sound quality of the HDTV. It would not make sense to have HDTVS if it has low sound quality. You may want to get one that has Cineplex-like surround sound if you have a receiver and speaker system at home. It is also a good idea to consider home theatre systems which feature built-in DVD players. If you are planning on buying a Blu-Ray or HD-DVD player though, consider getting a separate receiver and speaker system. Also, use the optical or digital audio sound outputs from your HDTV cable, satellite or video game box when connecting it to the receiver. This makes sure you have the best possible sound while watching on your HDTV.
Updated: 12/21/2011, Nina
---
Disclosure: This page generates income for authors based on affiliate relationships with our partners, including Amazon, Google and others.