Simple Maple Syrup Recipes
by Nina
Maple syrup is not only used as a sweetener in breakfast and dessert recipes. It is also used in a variety of recipes to make it even more flavorful.
Maple syrup is most commonly used as a sweetener but there are a lot of recipes that use it to make a variety of dishes more interesting. If you are looking for simple maple syrup recipes to try particularly for the holidays, here are a few simple ones that are sure to impress your family and friends.
Buy Maple Syrup Online
Butternut Mountain Farm, 100% Pure Maple Syrup From Vermont, Grade A, Amber Color, Rich Taste, Al...

At Butternut Mountain Farm we are committed to the natural sweetness, flavor nuances, and versatility of maple syrup. Our maple syrup is carefully selected to ensure that the pr...

$22.42 $14.94
365 Everyday Value, Organic Pure 100% Grade A Maple Syrup, Dark Color Robust Taste, 32 Fl Oz (Pac...

Tapped from certifi­ed organic maple trees, our Dark Maple Syrup is robust with strong notes of maple. Your waffles will thank you.

Only $18.99
Award Winning Escuminac Extra Rare Maple Syrup 16.9 fl oz (500ml) Canada Grade A - Amber Rich Tas...

The Escuminac handcrafted maple syrups are pure, harvested and bottled at the maple farm by the maker, Martin Malenfant. All delicious they will make the perfect sweet gift. The...

Only $23.95
Coombs Family Farms Maple Syrup, Organic, Grade A, Dark Color, Robust Taste, 32 Fl OzOnly $25.14
Organic Maple Syrup - 32 Oz. Jug - 100% Pure Canadian Maple Syrup - Small Family Farm Sourced - G...

100% Pure Organic Maple Syrup from Canada Nothing compares to the delicious "home sweet home!" taste of genuine Canadian maple syrup: 100% pure, certified organic Canadian maple...

Only $23.99
Coombs Family Farms Organic Maple Syrup, Grade A Amber Color, Rich Taste, 16 Fl Oz

Grade A Amber Color, Rich Taste organic maple syrup is slightly darker than Golden, Delicate and is known for its smooth maple flavor. This distinctive taste is produced mid-sea...

Only $13.73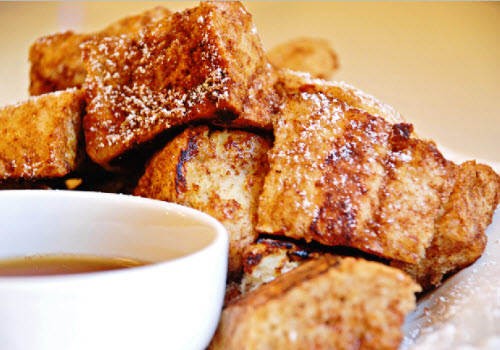 Baked French Toast with Maple Syrup
Baked French Toast Casserole with Maple Syrup
For your ingredients, you will need 1 loaf of French bread, 8 large eggs, 2 cups of half-and-half, 1 cup of milk, 2 tablespoons of granulated sugar, 1 teaspoon of vanilla extract, ¼ teaspoon if ground cinnamon, ¼ teaspoon of ground nutmeg, maple syrup and a dash of salt.
First, slice the French bread into 20 slices. Each should be at least 1-inch thick. Butter a flat 9 x 13 inch baking dish and place the slices in a couple of rows. It is fine to overlap the bread slices. In a large bowl, combine the half-and-half, milk, sugar, vanilla, nutmeg, cinnamon, salt and eggs. Use a whisk to blend the ingredients but make sure it does not turn too bubbly. Pour the mixture over the bread slices. Make sure that all slices are covered evenly with the mixture. You can also spoon some of the milk and egg mixture in between the slices. Cover the baking dish with a foil and put it in the refrigerator overnight.
The following day, preheat your over to 350 degrees Fahrenheit. Put the Praline Topping over the bread (ingredients and recipe for the Praline Topping below) and bake it for 40 minutes or until it is puffed and lightly golden. Serve it with the maple syrup.
For the Praline Topping, you will need ½ pound of butter (or 2 sticks), 1 cup of packed light brown sugar, 1 cup of chopped pecans, 2 tablespoons of light corn syrup, ½ teaspoon of ground cinnamon and ½ teaspoon of ground nutmeg.
To make the Praline Topping, combine all the ingredients in a medium-sized bowl and blend well. It is enough for one recipe of Baked French Toast Casserole.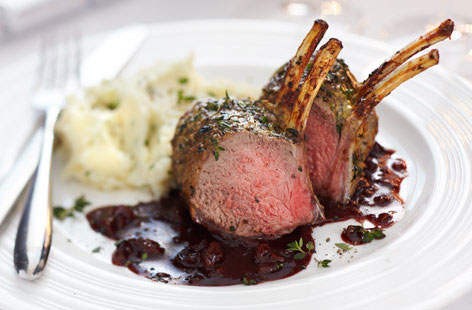 Mustard Lamb
Mustard and Maple Syrup Coated Lamb with Wild Garlic Choux Potatoes
The ingredients that you will need for the choux potatoes are 175 g or 6 oz. of softened unsalted butter, a small handful of shredded wild garlic, 110 g or 4 oz. of plain flour, 2 eggs (beaten), 175 g or 6 oz. of potatoes (mashed) and  vegetable oil for frying.
For the lamb, you would need 250 g or 9 oz. of boned lamb loin (fully trimmed), 1 tablespoon of chopped rosemary, 1 garlic clove (lightly crushed), baby carrots, 2 tablespoons of sherry vinegar, 110 ml or 4 fl. oz. of beef or lamb stock, 15 g or 1 oz. of butter, 150 g or 5 oz. of brioche, 1 tablespoon of fresh parsley (chopped)., 1 tablespoon of maple syrup and 1 tablespoon of Dijon mustard.
To make the choux potatoes, line a baking tray with cling film. In a medium-sized bowl, mix the 110 g of butter with the wild garlic. Combine it well. Spoon the butter and wild garlic mixture into a sheet of parchment paper and roll it up into a cylinder. Chill it in the fridge until it sets. Heat the remaining butter in a saucepan. Once the butter has melted, add the flour and stir it constantly. Set it aside. Beat the eggs one at a time before adding in the mashed potatoes. Season it with salt and pepper. Spoon the eggs and potato mixture into the baking tray and chill it in the fridge.
Heat a deep-fat fryer to 170 degrees Celsium. Because hot oil can be dangerous, you should not leave the fryer unattended. Flour your hands and shape the potato mixture around a slice of butter to form a ball. Fry the choux balls for 2 to 3 minutes or until it is golden brown. When cooked, set it aside and allow it to drain in kitchen paper. Do this with all the potato and butter mixture.
To cook the lamb, preheat the oven to 200 degrees Celsius or 400 degrees Fahrenheit. Heat an oven-safe frying pan until it is hot. Add the oil, lamb, rosemary and garlic clove. Make sure to seal the lamb on each side to keep the flavor from getting out. Add the baby carrots to the pan and coat it well in the oil. Roast the lamb in the oven for 6 to 8 minutes for medium or cook it to your desired doneness. It should be turned halfway through its cooking time. Remove the lamb from the frying pan and set aside to rest. Return the frying pan to the heat and deglaze it with vinegar. Add the stock and simmer it for 5 minutes. Remove the garlic clove and rosemary before whisking in the butter.
Preheat your grill. Blend the brioche, rosemary and parsley in a food processor. In a small bowl, mix the maple syrup and mustard. Brush it over the lamb. Press the breadcrumb mixture firmly onto the lamb and grill it for at least 2 minutes. Serve it by arranging the carrots on the plates. Drizzle its sauce on the plates and slice the lamb. Place the lamb slices over the sauce and put the choux potatoes around the lamb.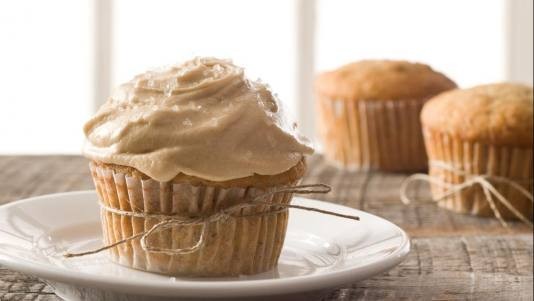 Banana Cupcakes
Banana Cupcakes with Maple Brown Butter Frosting
The ingredients you will need for this yummy dessert are 1 cup of mashed bananas, 1 tablespoon of lemon juice, 1 ½ cup of flour, 1 teaspoon of baking soda, ¼ teaspoon of salt, ¾ stick butter, 1 cup of sugar, 1 large egg, 1 teaspoon of vanilla and ¾ cup of buttermilk. For the icing, you need 1 stick of butter, 3 cups of confectioner's sugar, ¼ cup of milk and 3 to 5 tablespoons of maple syrup.
In a small bowl, combine the bananas and lemon juice. In another bowl, mix the flour, salt and baking soda. Butter and sugar should also be creamed in a separate bowl until it is light and fluffy. Beat the egg and add vanilla. While mixing, add the flour mixture and buttermilk. Beat in the bananas and mix until it is well blended. Bake it at 275 degrees Fahrenheit for an hour. You will know that it is cooked by inserting a toothpick. If it comes out clean, the cupcakes are cooked. Place the cupcakes in the freezer for 30 minutes.
In a saucepan, melt the butter at medium temperature until it is golden brown. Beat the butter, sugar, milk and maple syrup with wire whisk until smooth. Top the cupcakes with the icing and add sliced bananas and cinnamon.
Updated: 12/21/2011, Nina
---
Disclosure: This page generates income for authors based on affiliate relationships with our partners, including Amazon, Google and others.