Tips in Buying Stainless Steel Cookware Sets
by Nina
Stainless steel cookware sets are a popular choice for consumers because of its durability and appearance. Most households have it because of its many advantages.
Stainless steel is perhaps the most common type of cookware material. In fact, you will most probably find stainless steel cookware sets in most households. Stainless steel is an alloy of metals – steel, carbon and chromium. It is called stainless steel because it has the ability to resist corrosion and this is one of its main advantages. However, it is not a good heat conductor which is why it is best to use one that has aluminium or copper core. This will help cook food evenly as you will avoid having hot spots on the cooking surface.
Buy Stainless Steel Cookware Sets Online
Cuisinart Multiclad Pro Cookware Set (8-Piece)

Cuisinart Multiclad Pro Cookware Set (8-Piece)

$200.00 $129.99
Cuisinart MCP-12N Multiclad Pro Stainless Steel 12-Piece Cookware Set

The kitchens of France were the inspiration behind the elegant Cuisinart MultiClad Pro Stainless Cookware collection. Cuisinart has included everything you need in this spectacu...

Only $214.99
Cuisinart 77-7 Chef's Classic Stainless 7-Piece Cookware Set

Cuisinart 77-7 7PC Chefs Classic Stainless Cookware Set - Cuisinart 77-7

Only $70.42
T-fal Stainless Steel Cookware, Multi-Clad, Dishwasher Safe and Oven Safe Cookware Set, Tri-Ply B...

T-fal Stainless Steel Cookware, Multi-Clad, Dishwasher Safe and Oven Safe Cookware Set, Tri-Ply Bonded, 12-Piece, Silver, Model E469SC. Cook with confidence when using this T-fa...

$149.18 $131.99
Cuisinart 77-11G Chef's Classic Stainless 11-Piece Cookware Set

A great go-to assortment of cookware must-haves! This essential set makes it easy to prepare multiple dishes at once. It includes a terrific, large stockpot for making hearty pa...

Only $118.99
T-fal Stainless Steel with Copper Bottom Cookware Set, Pots and Pans Set, 13 Piece , Silver

T-fal Stainless Steel Cookware Set, Pots and Pans with Copper-Bottom, 13-Piece, Silver, Model C836SD. A nice alternative to nonstick and lighter in weight than cast iron, T-fal ...

$149.88 $131.99
Stainless Steel with Aluminum or Copper Core
Stainless steel cookware sets are not good at retaining heat which is why it is best to make sure it has aluminum or copper core, as mentioned. Heat conductivity is perhaps its only disadvantage as it is more durable and does not wear down fast as other cookware. The cookware should have these materials on the base and side walls on the pan for even cooking. There are also cooking pans that include aluminum and copper in its base.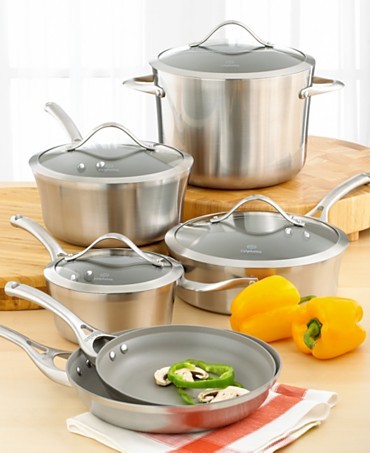 Calphalon Stainless Steel Cookware
Get 18/10 Stainless Steel for the Best Quality
It is important to take a look at the types of metals used to make the stainless steel cooking pans to make sure it will last. You may want to look for 18/10 cookware. This means it contains 18 percent chromium and 10 percent nickel making it durable. Chromium protects the cookware set from stains and rust while nickel gives it a glossy shine. The higher the numbers are, the more corrosion-resistant the cookware is.
Handles and Lids
The quality of the metal in your stainless steel is important. However, you may also want to make sure that it has sturdy handles and lids. You will find this useful as it will allow you to easily lift heavy casseroles or stews. The lids should be cool to touch and easy to grip. The lids should also fit securely on the cookware while allowing steam to get out.
Buy in Set or Individual Pieces?
There are a lot of consumers who buy cheap stainless steel cooking pans over sets. However, it will be more cost efficient to buy it in sets as it will include most pieces you will need in your kitchen. When buying stainless steel cookware sets, get one that includes the basics such as a sauté pan, a sauce pan and a stock pot. You may also want to find a set that has skillets and steamers as you will be able to use these in a variety of recipes.
Cleaning Tips for Stainless Steel
Because you will be spending probably hundreds of dollars on it, you need to know how to clean your stainless steel cookware properly. The best way to clean stainless steel is by hand washing it in hot, soapy water. It is also important to dry it with a soft cloth before storing it. Experts are divided as to whether or not it is safe to place the cookware in a dishwasher. If you use a dishwasher, make sure to remove it after the washing cycle and dry it by hand to prevent spotting.
You may notice white residue on the cookware if your tap water has high calcium content. To remove the white spots, fill the pan or pot with 1 part vinegar to 3 parts water. Bring it to a boil. Allow it to cool before draining. Wash it thoroughly with hot, soapy water before drying.
If you need to remove burned-on food, fill the pan with warm, soapy water and let it sit for an hour. Put it back on the burner and boil the water for at least 10 minutes. Allow it to cool before scrubbing with a nylon pad. Wash it again with hot, soapy water. Rinse it well.
To keep your stainless steel cookware set looking new, use non-abrasive cleaners for general cleaning. You should avoid using metal scouring pads as it will scratch your cookware. Instead, use a nylon or plastic pad or brush. Also, chlorine bleach or ammonia-based cleaners should not be used.
How to Use Your Stainless Steel Cookware Properly
Stainless steel cookware should be preheated before cooking any food. You can add the oil once the cooking pan has been preheated. When the food has browned, there are bits that will get stuck on the bottom of the pan. These are deglazed as it adds flavor to the dish and is used in sauces. To deglaze the pan, add a small amount of stock or wine to pull the bits off the pan and into the dish.
It is best to buy stainless steel cookware sets with handles that are fastened to the pan. This is useful particularly if you will be placing it in the oven. It will not melt unlike a plastic covered handle.
High-end brands of stainless steel cookware are triple-ply. It is more expensive than brands that clad only the bottom of the pan but it would be worth investing in it. This is because three-ply pans are more durable because of its thick core of pure aluminum on the bottom and sides of the cookware.
Updated: 12/21/2011, Nina
---
Disclosure: This page generates income for authors based on affiliate relationships with our partners, including Amazon, Google and others.