Natural Facial Scrubs for Different Skin Types
by Nina
Facial scrubs are one of the most important skin care products. Instead of spending a lot of money on it, you can make your own homemade facial scrubs at home.
Exfoliation is an important part of an individual's skin care routine. However, there are a lot of people who do not use it as often as they should. Facial scrubs are essential as it helps to keep the skin looking smooth and clear. It also brightens the complexion almost instantly.
How do facial scrubs work? Exfoliation is a process that involved removing dead skin cells on the surface of the skin, revealing a healthier and younger-looking skin underneath. Facial scrubs also encourage new skin cell production. You will definitely benefit from this skin care product no matter what your age is. Using exfoliators once a week will help keep the skin looking young and healthy.
The frequency of the use of face scrubs depends on your skin type. People with dry or normal skin can exfoliate once a week while those with oily or combination skin can do it once or twice per week. Facial scrubs are not recommended for people with sensitive skin or bad acne problem. If you have acne-prone skin, you can use facial scrubs but be very gentle with exfoliation. Exfoliating at least once a week will help keeping the pores clear and preventing acne breakout.
There are a lot of facial scrub products in the market today. It can be difficult to know which one to get for your skin type particularly because of the chemicals the products contain. It is a good thing natural ingredient such as fruits and grains can be used to make homemade facial scrubs. Besides being safer as it is all natural, natural face scrub recipes are also more cost efficient than buying expensive skin care products.
Buy Facial Scrubs Online
L'Oreal Paris Go 360 Clean, Deep Exfoliating Scrub,Natural Apricot Beads, 6-Fluid Ounce

Deeply cleans skin and unclogs--pore by pore--without overdrying. Removes all traces of oil, dirt, and makeup. Pores look visibly smaller and skin smoother.

Only $33.0
Citrus Facial Scrub - 2 oz - Scrub

WHY IT WORKS: We blend natural ingredients such as oats, orange peel, ground almonds and ground spices with rose petals to create this luscious facial scrub that's gentle ...

Neutrogena Deep Clean Invigorating Foaming Scrub, 4.2 Ounce

Deep Clean Invigorating Foaming Scrub Deep Cleans and leaves skin feeling energized and amazingly refreshed and exhilarated. This dermatologist-tested gel scrub lathers into a ...

Only $12.99
St. Ives Fresh Skin Invigorating Apricot Scrub, 10 Ounce

Exfoliates to reveal smooth, radiant skin. Oil free - with 100% natural exfoliants. Great for face and body! Non-irritating. Dermatologist tested. 100% natural extracts. From ...

$5.79 $4.87
Olay Professional Pro-X Advanced Cleansing System

Leading dermatologists and Olay skin scientists have partnered to establish the Olay Professional Alliance. Through this partnership, Pro-X was created to bring you prescribed ...

Only $45.99
Dry Skin
To treat dry skin using a facial scrub, you will have to gently exfoliate and moisturize. Besides using a good facial moisturizer, you also have to drink more water to treat your skin from inside out.
Here is a simple natural scrub recipe that you may want to try particularly if you have extremely dry skin. It uses olive oil which helps in keeping the skin moisturized. Honey helps retain the moisture the olive oil gives while the cucumber keeps the skin from producing too much oil. The sugar gently exfoliates the skin while avocado is a good source of vitamins.
In a small bowl, mash the avocado with a spoon. You will only be using half of the avocado. Remove the skin and seed of the avocado before mashing it using the bottom of the spoon. Make sure it has a smooth texture with few lumps. Next, dice the cucumber into very small pieces. You will need 2 inches of the cucumber in length. Remove the skin before dicing it. Dice it into very small pieces and dice it as you did with the avocado. You may want to do this in a small bowl to keep the cucumber juice.
Mix the ingredients in a small bowl. Add 1 tablespoon of white sugar and 1 tablespoon of honey to the mashed avocado and cucumber. Make sure to combine the ingredients well. Add a few drops of olive oil at a time. Continue adding the olive oil slowly but make sure that the oil has been mixed properly with the mixture before adding more. You will know that it has enough olive oil when its consistency has become smooth. Make sure not to add too much olive oil. You want the facial scrub to have a paste-like and not watery consistency.
Apply the facial scrub to the face and other dry areas of your body. Apply it liberally and rub it in with clean fingertips using circular motions. Leave it on the skin for up to 15 minutes.
Rinse the facial scrub using warm water. Next, scrub the skin with a soft washcloth and warm water. Because the homemade scrub might be too moisturizing, it might be difficult for you to remove it. When you feel that your skin no longer has scrub residue, pat it dry with a clean, dry towel.
It is important to moisturize your freshly scrubbed skin. You may want to apply a very light moisturizer instead of a heavy one. The facial scrub has moisturizing properties so there is will be no need to over moisturize it. Your skin will look and feel different after using the scrub but the results will continue within the day.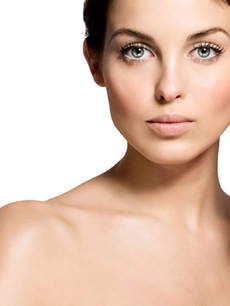 Glowing Skin
Normal Skin
The advantage of normal skin over dry and oily skin types is that it is well balanced and there is a variety of skin care products that can be used with it. A good homemade facial scrub for oily skin is one that has honey which traps the moisture and baking soda which is good in removing dead skin cells.
For this recipe, you will only need honey and baking soda. In a small bowl, combine 1 teaspoon of honey and ¼ teaspoon of baking soda. Apply it to clean skin in small circular motions. Leave it on the skin for a few minutes but you can rinse it right away with warm water. There are people who are uncomfortable using baking soda on the skin. This is true particularly if you have sensitive skin. Honey is a gentle facial scrub so you can remove baking soda if your skin is not suited to it. Honey is great on the skin because it is anti-bacterial and has slight acidity which makes it more effective in exfoliating. It is also a humectant which means it traps moisture, leaving the skin clean but hydrated.
Oily Skin
Facial scrubs for oily skin contain ingredients that will clean the pores and keep the skin from producing too much oil. For this natural facial scrub recipe, you will need oatmeal, baking soda and water. The oats will remove dead skin cells on the surface while the baking soda will effectively get rid of dirt and oil.
In a small bowl, mix 2 teaspoons of oatmeal with 1 teaspoon of baking powder. Combine it well before adding a small amount of warm water. Stir it continuously until it has a paste-like consistency. To test its consistency, pinch a small amount between your fingers. You will know that it is ready when it can be easily spread between your thumb and forefinger.
Clean your face to remove excess dirt and makeup before using the facial scrub. Scoop about a teaspoon of the facial scrub and apply it to your face. Gently rub it in circular motions. You may want to focus on the parts of your face that suffer from dry skin such as the cheeks, chin and around the nostrils. Rub it for at least 30 seconds. Apply more oatmeal facial scrub as necessary.
Use warm water to rinse your face. You should make sure there is no scrub residue left on your skin. Pat it dry with a clean towel and apply an oil-free moisturizer. This will keep the skin hydrated without making it too oily. People with oily skin it is unnecessary to use a moisturizer but it will help in keeping the skin oil-free and balanced.
Updated: 12/22/2011, Nina
---
Disclosure: This page generates income for authors based on affiliate relationships with our partners, including Amazon, Google and others.