Spam-Free Classified Ads
by JoyLynskey
Learn a few helpful tips and tricks to prevent yourself from being spammed after placing free online classified ads.
A major concern of many individuals after placing a free classifieds ad is that they end up receiving a ton of spam and unwanted calls after the ad has gone live. Unfortunately, there are an array of ways that spammers use the information listed in your ad to contact you, even though on most free classified ads sites this type of behavior is forbidden. However, with a few techniques and tools, you can help prevent these unwanted solicitations from happening.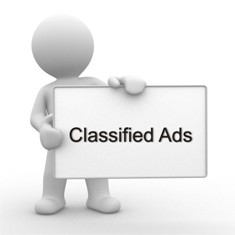 Spam-Free Classified Ads
Use an Alternate Email Address
There are several free email programs such as Yahoo!, Gmail and Hotmail that will allow you to create an email address that you can use specifically for your classifieds ad replies. This will ensure that your personal email address doesn't end up on a spammer's list. Consider creating a username that implies you don't want any sort of spam, such as [email protected]
This is certainly the best option if you are posting many classified ads to different sites.
Use a Disclaimer
Be up front about what you will not allow, but try to do this with as minimum words as possible, as you'll want the majority of your classified ad to be about your product, event, service or whatever you are offering. For example, place a disclaimer stating "No marketers, solicitors or advertisements."
Although many free classified sites provide these disclaimers for you, it may be the safest bet to display your own. In this manner you can avoid those spammers who simply ignore the sites rules. At the worst, as long as you are using a spam address to help filter it, you should not have to worry much anyway. If you need to, you can always spam flag it from within your email client.
Register with the National Do Not Call Agency
The National Do Not Call Registry allows you the freedom to choose whether you want telemarketing calls or not. Once you've registered your numbers, telemarketing companies, aside from local charities and political organizations, cannot legally call you once your phone number has been in the registry for 31 days.
If you happen to get calls before the 31 days, firmly let the caller know that you are registered with the Do Not Call Registry and that you would like your number removed. Hearing the phrase "Do Not Call Registry" is usually enough to have the telemarketers back off and remove your number. Also consider signing up for a free phone number with Gmail. Gmail offers a free numbers to users, who can screen and route calls to their own phones.
Best Free Classified Ad Site for Spam-Free Safety
---
Disclosure: This page generates income for authors based on affiliate relationships with our partners, including Amazon, Google and others.