Swiss Army Watches: Which are the Best?
by LazyBoy
Swiss Army watches have an amazing reputation. Read this to find out if it is deserved and which are the best.
Swiss Army Watches have developed an amazing reputation for being tough and reliable. Have they earned it or just piggy-backed on the name? This review round-up shows that these watches are in fact really rugged as well as good looking. Whether you want to buy a Swiss Army watch for yourself or as a gift, you won't be disappointed. 
Why Swiss Army Watches Are So Amazing
One thing you can't do is fake a legacy of quality - well, you can try but you will soon get found out. Swiss Army has been around for years as a highly trusted brand of knives that dates back a good number of years. The same attention to detail and quality that has made the knife become almost completely ubiquitous around the world has also been put into making great watches.
Moreover, Switzerland as a country, has a real interest in maintaining its reputation for quality. This the watch industry and government ensure that manufacturers adhere to certain standards if they want to have a coveted "Swiss-made" certificate for their watches.
Wenger Men's 72801 Analog Display Swiss Quartz Brown Watch

Swiss made men's watch with scratch-resistant mineral crystal case. Swiss quartz movement accurate to 1/10 of a second per day. Features luminous hands and markers that recharge...

Only $59.10
Wenger Field Chrono Large Swiss Quartz Men's Watch, Silicone Strap, Black

The Wenger Field Chrono Large Swiss Quartz Men's Black Watch with Silicone Strap features a black dial with luminous arabic numerals and hands, date display at 4 position, brush...

Only $82.44
Wenger Men's AquaGraph watch #79076

Swiss quartz movement, Dress watch, Diver, White luminous hands, Silver-tone luminous hour markers, Analog date display, White numbers and indices, Polished stainless steel silv...

Only $84.97
What defines Swiss Made?
Swiss Made
is a label used to indicate that a product was made in Switzerland.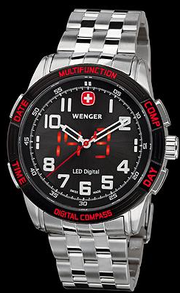 A fine example of a Wenger Swiss Army...
The history of Wenger
Wenger
is one of two companies that have manufactured Swiss Army knives. Based in Delémont, Wenger was acquired by rival Victorinox in 2005.
The History of Swiss Army Watches
Although most people think of the term "Swiss Army" this really is just a brand and not the name of a company or manufacturer. The traditional makers of Swiss Army knives were two companies, Victorinox and Wenger. 
Victorinox was established in 1884 and soon after its foundation began to make knives for the Swiss Army. About 20 years later it started to use the logo of a Swiss cross (like the country's flag) overlaid on a shield, that has since become so famous and that now makes the knives instantly recognisable.
Wenger is the other main producer and it came onto the scene at about the same time. It also started supplying knives to the army and in 1909 the Swiss Army formally split its orders between the two firms. 
The firms were both quite late to the world of watchmaking, starting production as late as the 1980s, but in doing so they were able to call upon both a fine tradition of watchmaking in the Swiss cantons were they were based as well as on their own skill and reputation for precision manufacturing. 
Popular Swiss Army Watches
Among the most popular and well-know Swiss Army watches are the various "battalion" series made by Wenger.
The Swiss Military Classic Field watch offers both stylish (and classical) looks with great reliability. It has a tough crystal face, a leather strap and is water resistant to 100 meters (or 330 feet). It is also affordable as you can usually buy it online for less than $100.
My favourite though is a far tougher watch and also one that has much cooler looks. This is the Swiss Raid Commando. It usually comes in all black, and is incredibly solid. These are well made watches, make no mistake. They can easily put up with the daily knocks and bashes that they may be exposed to. It also has really masculine looks. As I said, my favourite of all time, but perhaps a little too bold for many.
---
Disclosure: This page generates income for authors based on affiliate relationships with our partners, including Amazon, Google and others.