The Berlin Kindercafe Scene
by LazyBoy
Berlin is a great city to visit with kids, not least because they have a very civilized invention, the Kindercafe, where kids can play and parents can talk.
Berlin for Kids
A great place for family holidays
Berlin is easily one of the friendliest cities to take children if you are planning on a family-friendly city break. The first thing you will notice about the place is how generally child-friendly it is. In parts of the city such as Prenzlauer Berg (a trendy neighbourhood in the east of the city) you will virtually be swamped by small children where ever you go. They rush about on small run-bikes and crowd the pavements with their little scooters. 
The parks are inviting and filled with exciting climbing frames and challenging toys. The hight and unprotected nature of some of the them might make health and safety officials in other parts of the world tear their hair out, but in Germany there seems to be an attitude that kids should have fun and learn to take sensible risks. I'm sure there are a few more grazed knees and broken arms in Berlin than elsewhere, but the kids certainly learn to climb soon.
In just about every restaurants you will see kids. There is none of the English or Irish attitude that children (and their families) should be sent to a special room around the back. Every restaurant you visit will be more than happy to provide a high chair and a special kids meal or menu.
But it is still sometimes a real pleasure to visiting a special kindercafe where you can just hang out, let the kids have fun and still enjoy a decent cup of coffee. The Berlin Kindercafe is a sort of mixture between a soft play area and a grown up coffee shop. The kids get to play around the back, or with toys and bikes, while the adults get to enjoy the feeling of being in something other than a grubby soft-play area of the sort that many of you must be familiar with.
Some more on the Berlin Kindercafe scene
A Few of Our Favourite Berlin Kindercafes
There is no shortage of lovely Kindercafes in Berlin. In fact, most nice cafes and restaurants will even have a small play area or a box of toys to keep kids entertained. But if you're looking for a specific cafe then here are a few of our favourite ones.
Das Spielzimmer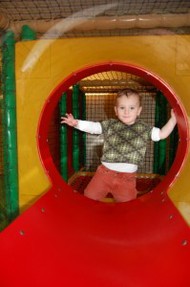 This translates to "the playroom" and it really is. It has a great adventure area in the back (but still indoors) that slightly older kids can play in. It has a ball pool, slides and plenty of space for the kids to climb up and run around. Out front, near the adults tables, there is a small area for the crawling babies with a low wall so they can't escape or get underfoot. It is crowded on weekends, especially in winter, but it is busy for a reason; it really is one of the nicest play areas in Berlin's eastern district of Prenzlauer Berg
Onkel Albert
Another one of our favourites is Onkel Albert (uncle Albert). This is much more low key, without the same amount of space for kids to run or climb, but it is pleasant and has a lovely local neighbourhood feel to it.
Kitzkind
Kitzkind (which sort-of translates as "neighbourhood child" is in the middle of a great park and playground called Helmholzplatz. In summer you can let the kids run around outside and play on the many bikes and tricycles that are all over the show. In winter you can head indoors to escape the cold and let the kids play in the wide sandpit that runs almost all the way around the interior. 
So if you are still thinking of a city break that is child friendly, put Berlin on your list.
---
Disclosure: This page generates income for authors based on affiliate relationships with our partners, including Amazon, Google and others.