Sydney Essentials: Circular Quay
by jblack
Circular Quay makes it wonderfully easy to tap into some of the best sights and attractions in Sydney.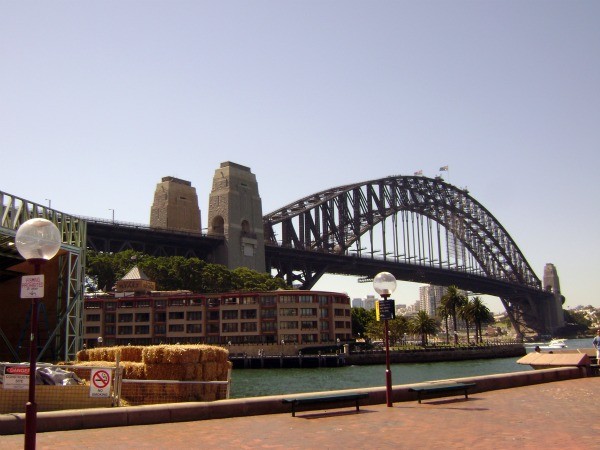 Sydney Harbour Bridge
By Larry Darter (Own work)
Circular Quay
Overview
Circular Quay, the focal point of Sydney Harbour, is located on the small inlet Sydney Cove.  From this vantage point visitors can take in some spectacular views of beautiful Sydney Harbour.  Given the generous number of lodging and dining options in and around the quay, it serves admirably as a base of operations for exploring many of Sydney's most popular sights and attractions.
To the east, pathways to the iconic Sydney Opera House and famed Royal Botanic Gardens beckon.  To the north, the majestic Sydney Harbour Bridge arches in the distance.   When in port, luxury cruise ships can be seen moored at the cruise terminal located at Circular Quay.  Just a short walk east across First Fleet Park, lies The Rocks, the oldest and one of the most intriguing parts of the city. 
Situated near the business district, Circular Quay is fittingly a hub for local transportation.  Harbour ferries leave from the docks every few minutes serving Sydney commuters and tourists alike.  At the southern end stands the Circular Quay railway station from where NSW City Rail light-rail trains transport shoppers, tourists, and office workers to the suburbs and other distant parts of the cities.  City bus stops and taxis are also nearby.
Sights and Activities Not to Miss
While personal preference and interests govern what a Circular Quay visitor wishes to experience, there are some things that no one should miss.  Five suggested sights and activities include;
With its pulsating, lively atmosphere, rich history, and breathtaking views, Circular Quay is a portal to near nonstop adventure for Sydney visitors.
For Further Reading
AUSTRALIA: A Romance Anthology

A romance anthology with over THIRTY original, never-before-seen stories from bestselling and award-winning authors. Each piece was written for this anthology to benefit firefig...

Frommer's Australia (Complete Guides)

Everything you need for a successful Australian vacation―in one intelligent guide. The Australian dollar has in recent years plunged in value against the U.S. dollar making Aust...

$22.95 $16.87
Fodor's Essential Australia (Full-color Travel Guide)

Ready to experience Australia? The experts at Fodor's are here to help. Fodor's Essential Australia travel guide is packed with customizable itineraries with top recommendations...

$24.99 $16.03
---
Disclosure: This page generates income for authors based on affiliate relationships with our partners, including Amazon, Google and others.